Welcome to the Dept of Medicine at BUSM & BMC
The Department of Medicine is home to internal medicine and medicine sub-specialty clinicians, researchers and educators of Boston University School of Medicine and Boston Medical Center. We train medical students, residents, and M.D. and Ph.D. fellows in general internal medicine and the subspecialty areas of internal medicine, as well as several interdisciplinary programs. The department is renowned for the impact of teaching and research programs, and for state-of-the-art clinical care to the patient population at BMC.
---
Top Headlines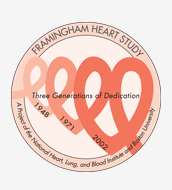 Framingham Heart Study Awarded $38M NHLBI Contract Renewal
The Framingham Heart Study (FHS), the nation's longest running cohort study with longitudinal analysis of cardiovascular disease, has received a contract renewal for an additional six years and $38 million dollars from the National Heart, Lung, and Blood Institute (NHLBI).
Read More.
Pulmonary Faculty Members Alan Fine and Suzy Sarfaty Introduce Newly Awarded T35 Grant to Support Medical Student Research

Dr. Lindsay Farrer featured on NBC 10 Boston: "DNA Kits Yield Different Results From Two Genetics Companies"
Dr. Farrer, Chief of Biomedical Genetics section, helps clarify the accuracy of DNA ancestry kits like 23 and Me and Ancestry.com. Read More.
Dr. Vasan Ramachandran delivers Kannel Memorial Lecture at national American Heart Association Conference
Dr. Ramachandran, chief of the Section of Preventive Medicine, was one of the keynote speakers at the 2019 Epidemiology, Prevention, Lifestyle & Cardiometabolic Health Scientific Sessions, hosted by the American Heart Association. Read More.