Research Week 2022 – Stephen Chang, MD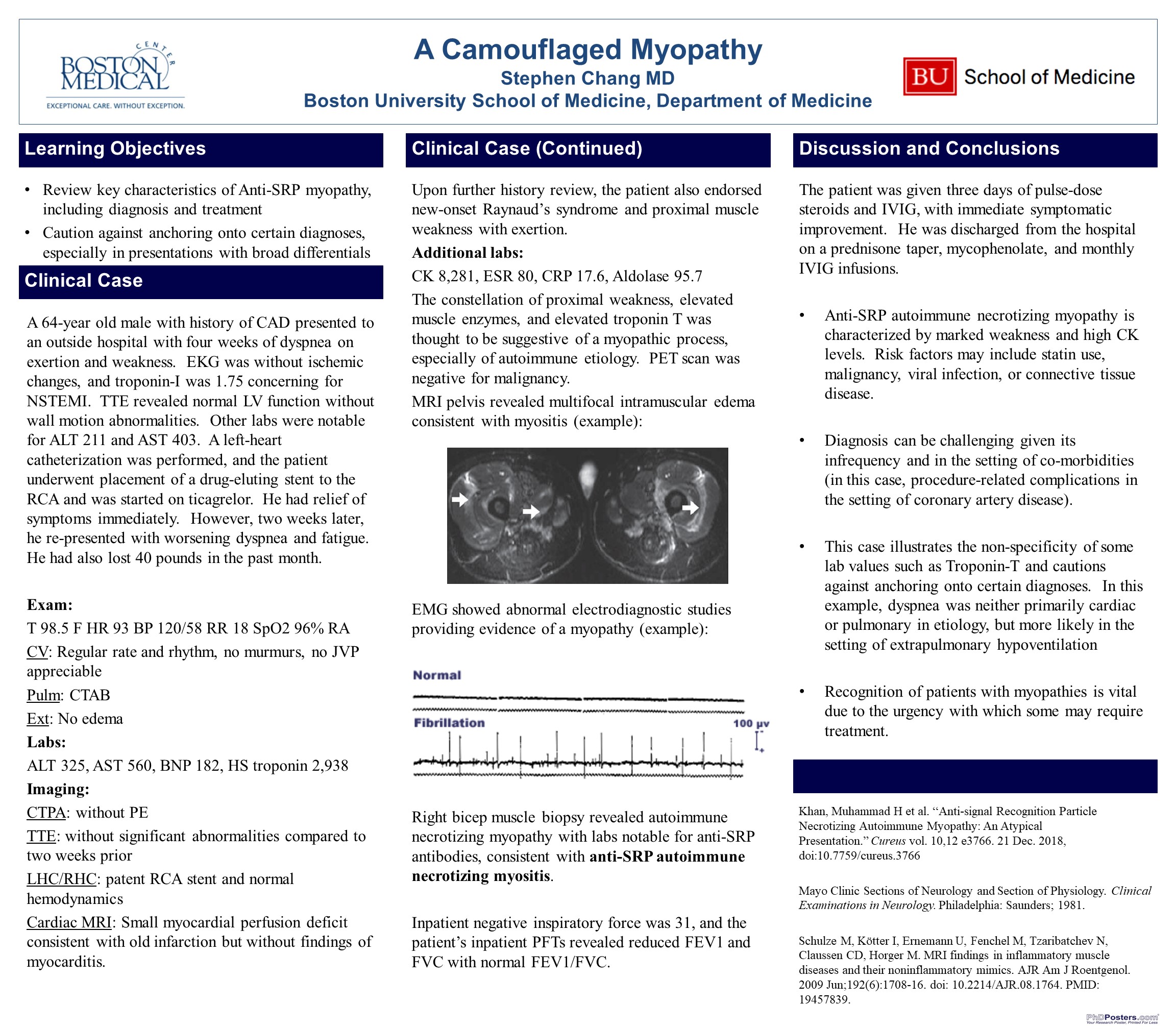 A Camouflaged Myopathy
Stephen Chang, Boston University School of Medicine, Boston, MA.
Learning objectives:
Review key characteristics of Anti-SRP myopathy, including diagnosis and treatment
Caution against anchoring onto certain diagnoses, especially in presentations with broad differentials
Case:
A 64-year old male with history of CAD s/p PCI LCx (2005, 2013) presented to an outside hospital with four weeks of progressive dyspnea on exertion, fatigue, orthopnea, and weakness.  EKG was without ischemic changes, however initial troponin-I was 1.75 concerning for NSTEMI.  TTE revealed normal LV function without wall motion abnormalities.  Other labs were notable for ALT 211, and AST 403 which was thought to be due to volume overload vs. statin-induced hepatitis.  A left-heart catheterization was performed revealing a calcified distal RCA, and the patient underwent successful placement of a drug-eluting stent to the RCA and started on ticagrelor.  He had relief of symptoms immediately after the procedure.
However, two weeks after the procedure he re-presented with progressive dyspnea and fatigue at rest.  He had also lost 40 pounds in the past month, and self-discontinued aspirin, furosemide, metoprolol, and ezetimibe.  On exam he was afebrile, with heart rate 80s, normotension, and without requiring supplemental oxygen.  He had no appreciable JVP or edema.  Repeat labs revealed ALT 325, AST 560, BNP 182, High-sensitivity troponin 2,938, D-dimer 1015, and UA with 3+ blood and 2+ protein.  A CTPA revealed no pulmonary embolus, TTE showed no significant echocardiographic abnormalities compared to two weeks prior, and an abdominal ultrasound revealed heterogenous liver echotexture without ductal dilation.  Although the patient was chest-pain free, high-sensitivity troponin remained elevated at >2800.  Repeat cardiac catheterization revealed a patent RCA stent and normal hemodynamics.  Cardiac MRI was notable for small myocardial perfusion deficit consistent with old infarction but without findings of myocarditis.  Additional labs revealed CK 8,281, ESR 80, CRP 17.6, LDH 802, Aldolase 95.7.
Upon further history review, the patient also endorsed new-onset Raynaud's syndrome and proximal muscle weakness with exertion, as well as hip flexor weakness.  The constellation of proximal weakness, elevated muscle enzymes, and elevated troponin T was thought to be suggestive of a myopathic process, especially of autoimmune etiology.  PET scan was without evidence of occult malignancy.  MRI pelvis revealed multifocal intramuscular edema consistent with myositis, and EMG showed abnormal electrodiagnostic studies providing evidence of a myopathy.  Right bicep muscle biopsy revealed autoimmune necrotizing myopathy with labs notable for anti-SRP antibodies, consistent with anti-SRP autoimmune necrotizing myositis.  Inpatient negative inspiratory force was 31, and the patient's inpatient PFTs revealed reduced FEV1 and FVC with normal FEV1/FVC.  The patient was given three days of pulse-dose steroids and IVIG, with immediate symptomatic improvement.  He was discharged from the hospital on a prednisone taper, mycophenolate, and monthly IVIG infusions.
Discussion:
Anti-SRP autoimmune necrotizing myopathy is characterized by marked weakness and high CK levels with disease activity that can be difficult to control.  The infrequency with which it is encountered, especially in patients with multiple medical co-morbidities, makes it a diagnostic challenge.  This case illustrates the non-specificity of some lab values such as Troponin-T and cautions against anchoring onto certain diagnoses.  Recognition of patients with myopathies is vital due to the urgency with which some may require treatment.