Research Week 2022 – Sara Shusterman, MD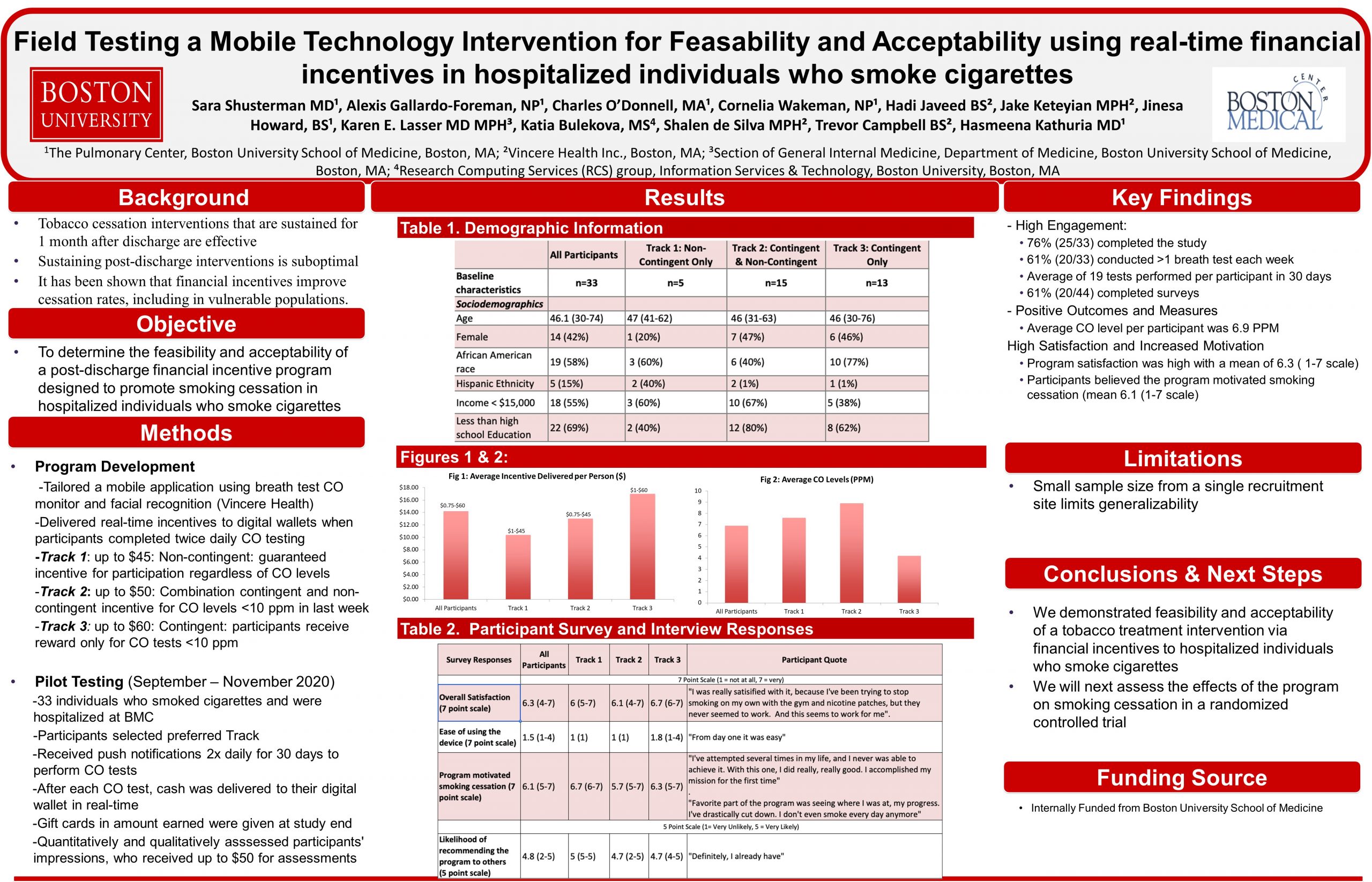 Feasibility and acceptability of a post-discharge real-time financial incentives program to promote smoking cessation among recently hospitalized individuals
Sara Shusterman, MD¹, Rodolfo Villarreal-Calderon, MD², Adrian Gunawan, MD¹, Alexis Gallardo-Foreman, NP¹, Charles O'Donnell, MA¹, Cornelia Wakeman, NP¹, Hadi Javeed³,Jake Keteyian³, Jinesa Howard, BS¹, Katia Bulekova, MS4, Shalen de Silva³, Trevor Campbell³, Karen E. Lasser MD MPH², Hasmeena Kathuria MD¹
Rationale:
Tobacco treatment interventions that begin during hospitalization and continue for 1-month are effective in promoting smoking cessation. Due to challenges with sustaining tobacco treatment post-discharge, effectiveness of such interventions are suboptimal. Studies demonstrate that financial incentives improve smoking cessation, including in vulnerable populations. We sought to determine the feasibility and acceptability of a post-discharge financial incentive program designed to promote smoking cessation in hospitalized individuals who smoke cigarettes.
Methods:  
Program Development:
We partnered with Vincere Health to tailor a mobile application that uses a breath test carbon monoxide (CO) monitor, facial recognition features, and smartphone technology to deliver real-time incentives to a participant's digital wallet after completion of each CO test. The tailored programs include: Track 1: Non-contingent (guaranteed) incentives for participation regardless of CO levels (up to $45); Track 2: Combination of non-contingent and contingent incentives for CO levels <10 ppm (up to $50); Track 3: Contingent incentives for CO levels <10 ppm (up to $60).
Pilot Testing:
From September to November 2020, we pilot tested the program with a convenience sample of 33 individuals who smoked cigarettes and were hospitalized at Boston Medical Center, New England's largest safety-net hospital. Individuals selected their track and received push notifications to conduct the CO test twice daily for 30 days. After each CO test, cash was delivered to each subject's digital wallet in real-time. Gift cards in the amount earned in their wallet were given at study end. We collected data on CO levels and engagement (number of tests performed by each participant). We quantitatively and qualitatively assessed participants' impressions of the program. Patients received up to $50 for completing assessments. The Boston University Institutional Review Board approved the study.
Results:
Participants had a mean age of 45 (25-74), 45% (15/33) were female, and 58% (19/33) were African American. Seventy-six percent (25/33) completed the study. Sixty one percent (20/33) conducted > 1 breath test each week with an average of 19 tests performed per participant over the 30 days. Sixty-one percent (20/33) completed surveys. Overall program satisfaction was high (1-7 scale; mean 6.3). Participants believed the program motivated cessation (1-7 scale; mean 6.1). Table 1 shows patient characteristics and outcomes stratified by track selection.
Conclusions:
We demonstrate the feasibility and acceptability of a tobacco treatment intervention via financial incentives to hospitalized individuals who smoke cigarettes. We will next assess the effects of the program on smoking cessation in a randomized controlled trial.