Research Week 2022 – Sara Aijaz, MD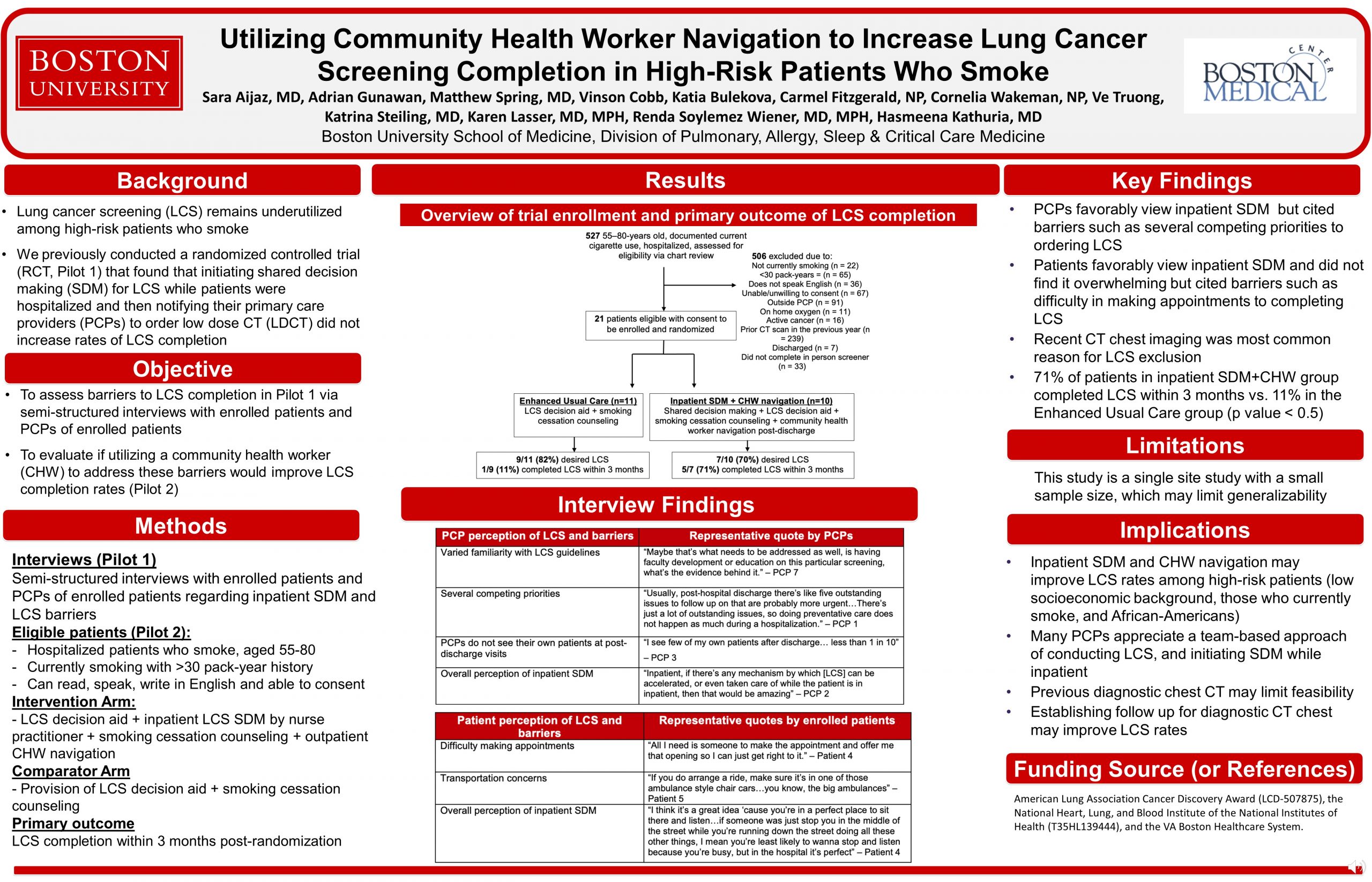 Utilizing community health worker navigation to increase lung cancer screening completion in high-risk smokers
Sara Aijaz, MD, Adrian Gunawan, Matthew Spring, MD, Vinson Cobb, Katia Bulekova, Carmel Fitzgerald, NP, Cornelia Wakeman, NP, Ve Truong, Katrina Steiling, MD, Karen Lasser, MD, MPH, Renda Soylemez Wiener, MD, MPH, Hasmeena Kathuria, MD
Abstract (400 words)
RATIONALE
Lung cancer screening (LCS) remains underutilized among those at highest risk of lung cancer death –individuals with low socioeconomic status, those who currently smoke, and African-Americans. Our previous pilot RCT (n=100) demonstrated that initiating inpatient shared decision-making (SDM) by a nurse practitioner for LCS (Inpatient SDM) and then notifying and encouraging primary care providers (PCPs) to place LCS referrals did not improve LCS rates. To understand barriers to LCS completion in Pilot 1, we conducted qualitative interviews with PCPs and patients. In a second pilot RCT, we evaluated if adding a community health worker to address these barriers could increase LCS rates among high-risk smokers.
METHODS:
We assessed barriers to LCS completion in Pilot 1 via semi-structured interviews with PCPs of enrolled patients (n=10) and a subset of enrolled patients (n=6). We conducted Pilot 2 to address our findings. Between February-October 2019, we randomized screen-eligible hospitalized smokers (n=21) to receive Inpatient SDM + CHW navigation to assist with barriers to LCS completion or Enhanced Usual Care (receipt of decision aid to review on their own and with PCP). Both groups received tobacco counseling. Primary outcome was LCS completion within 3 months post randomization.
RESULTS:
Qualitative interviews demonstrated that while most PCPs favorably viewed Inpatient SDM, competing priorities, varied familiarity with LCS guidelines, and not seeing patients at post-discharge visits were barriers to making LCS referrals. Patients discussed how inpatient SDM improved their knowledge. They did not find SDM discussions during hospitalization overwhelming. Participants cited difficulty making post-discharge appointments and transportation issues as barriers to completing LCS.
For Pilot 2, 439 patients were eligible for LCS by smoking status (>30-pack year) and age (55-80 years). Fifty-four percent (239/439) were excluded due to recent diagnostic chest CT, the most common reason for ineligibility (Figure). Twenty-one patients were enrolled in Pilot 2, of which 67% male, 67% African-American, and 81% Medicaid-insured.  Seventy-six percent (16/21) of enrolled patients desired LCS. Of those desiring LCS, 57% (4/7) completed LCS within 3 months in the Inpatient SDM + CHW navigation compared to 11% (1/9) in Enhanced Usual Care.
CONCLUSION:
Inpatient SDM + CHW navigation shows promise to improve LCS screening rates in marginalized patient populations, though factors such as prior diagnostic chest CT in inpatient settings limits feasibility. Establishing follow-up for recent diagnostic chest CT and CHW-navigation for LCS in other clinical settings may be an avenue to further facilitate LCS.
Presented at ATS conference as a poster presentation, 2021