Research Week 2022 – Sajni Tamby, MD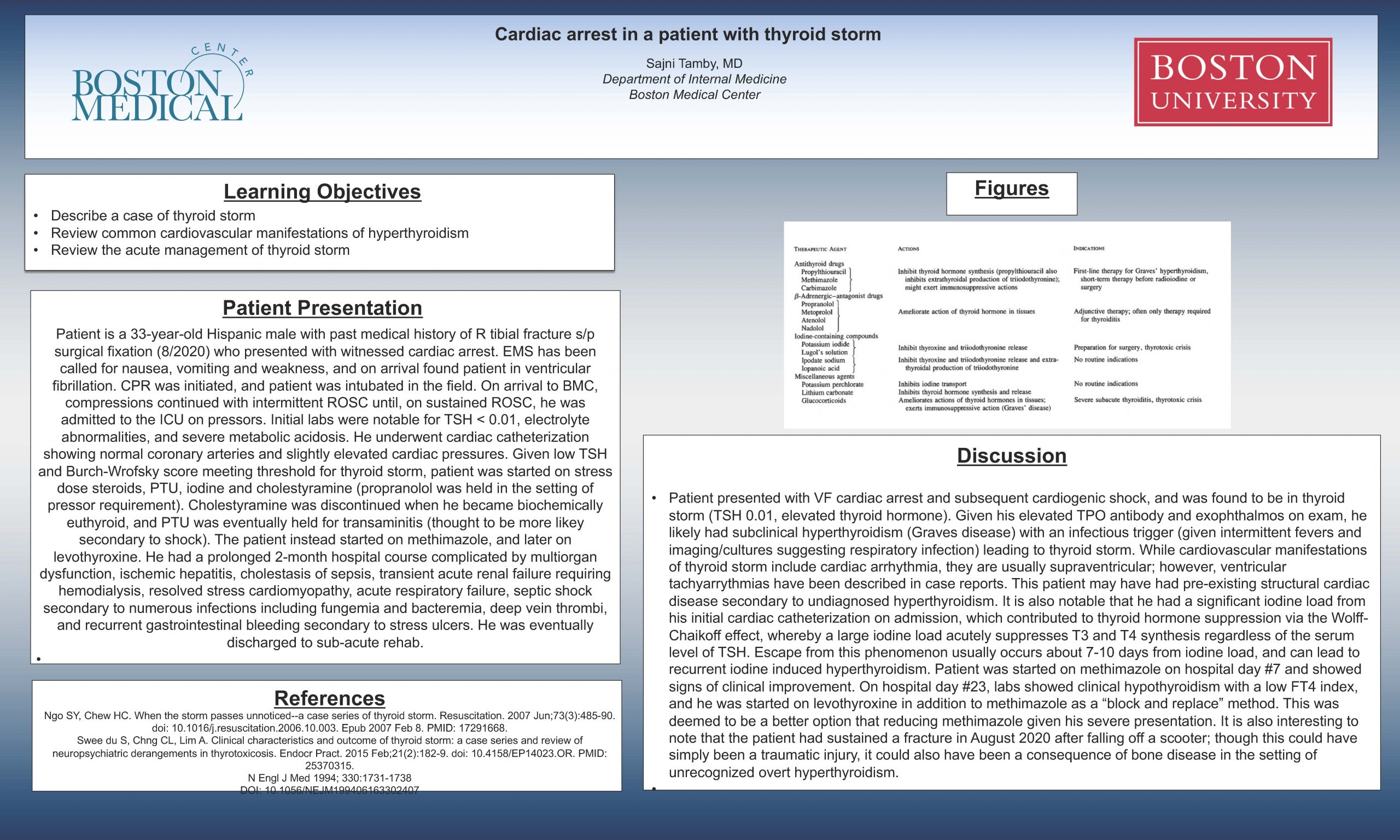 Cardiac Arrest in a Patient with Thyroid Storm
Patient is a 33-year-old Hispanic male with past medical history of R tibial fracture s/p surgical fixation (8/2020) who presented with witnessed cardiac arrest. EMS has been called for nausea, vomiting and weakness, and on arrival found patient in ventricular fibrillation. CPR was initiated, and patient was intubated in the field. On arrival to BMC, compressions continued with intermittent ROSC until, on sustained ROSC, he was admitted to the ICU on pressors. Initial labs were notable for TSH < 0.01, electrolyte abnormalities, and severe metabolic acidosis. He underwent cardiac catheterization showing normal coronary arteries and slightly elevated cardiac pressures. Given low TSH and Burch-Wrofsky score meeting threshold for thyroid storm, patient was started on stress dose steroids, PTU, iodine and cholestyramine (propranolol was held in the setting of pressor requirement). Cholestyramine was discontinued when he became biochemically euthyroid, and PTU was eventually held for transaminitis (thought to be more likey secondary to shock). The patient instead started on methimazole, and later on levothyroxine. He had a prolonged 2-month hospital course complicated by multiorgan dysfunction, ischemic hepatitis, cholestasis of sepsis, transient acute renal failure requiring hemodialysis, resolved stress cardiomyopathy, acute respiratory failure, septic shock secondary to numerous infections including fungemia and bacteremia, deep vein thrombi, and recurrent gastrointestinal bleeding secondary to stress ulcers. He was eventually discharged to sub-acute rehab.
Discussion:
Patient presented with VF cardiac arrest and subsequent cardiogenic shock, and was found to be in thyroid storm (TSH 0.01, elevated thyroid hormone). Given his elevated TPO antibody and exophthalmos on exam, he likely had subclinical hyperthyroidism (Graves disease) with an infectious trigger (given intermittent fevers and imaging/cultures suggesting respiratory infection) leading to thyroid storm. While cardiovascular manifestations of thyroid storm include cardiac arrhythmia, they are usually supraventricular; however, ventricular tachyarrythmias have been described in case reports. This patient may have had pre-existing structural cardiac disease secondary to undiagnosed hyperthyroidism. It is also notable that he had a significant iodine load from his initial cardiac catheterization on admission, which contributed to thyroid hormone suppression via the Wolff-Chaikoff effect, whereby a large iodine load acutely suppresses T3 and T4 synthesis regardless of the serum level of TSH. Escape from this phenomenon usually occurs about 7-10 days from iodine load, and can lead to recurrent iodine induced hyperthyroidism. Patient was started on methimazole on hospital day #7 and showed signs of clinical improvement. On hospital day #23, labs showed clinical hypothyroidism with a low FT4 index, and he was started on levothyroxine in addition to methimazole as a "block and replace" method. This was deemed to be a better option that reducing methimazole given his severe presentation. It is also interesting to note that the patient had sustained a fracture in August 2020 after falling off a scooter; though this could have simply been a traumatic injury, it could also have been a consequence of bone disease in the setting of unrecognized overt hyperthyroidism.
Ngo SY, Chew HC. When the storm passes unnoticed–a case series of thyroid storm. Resuscitation. 2007 Jun;73(3):485-90. doi: 10.1016/j.resuscitation.2006.10.003. Epub 2007 Feb 8. PMID: 17291668.
Swee du S, Chng CL, Lim A. Clinical characteristics and outcome of thyroid storm: a case series and review of neuropsychiatric derangements in thyrotoxicosis. Endocr Pract. 2015 Feb;21(2):182-9. doi: 10.4158/EP14023.OR. PMID: 25370315.