Research Week 2022 – Ralph Nader, MD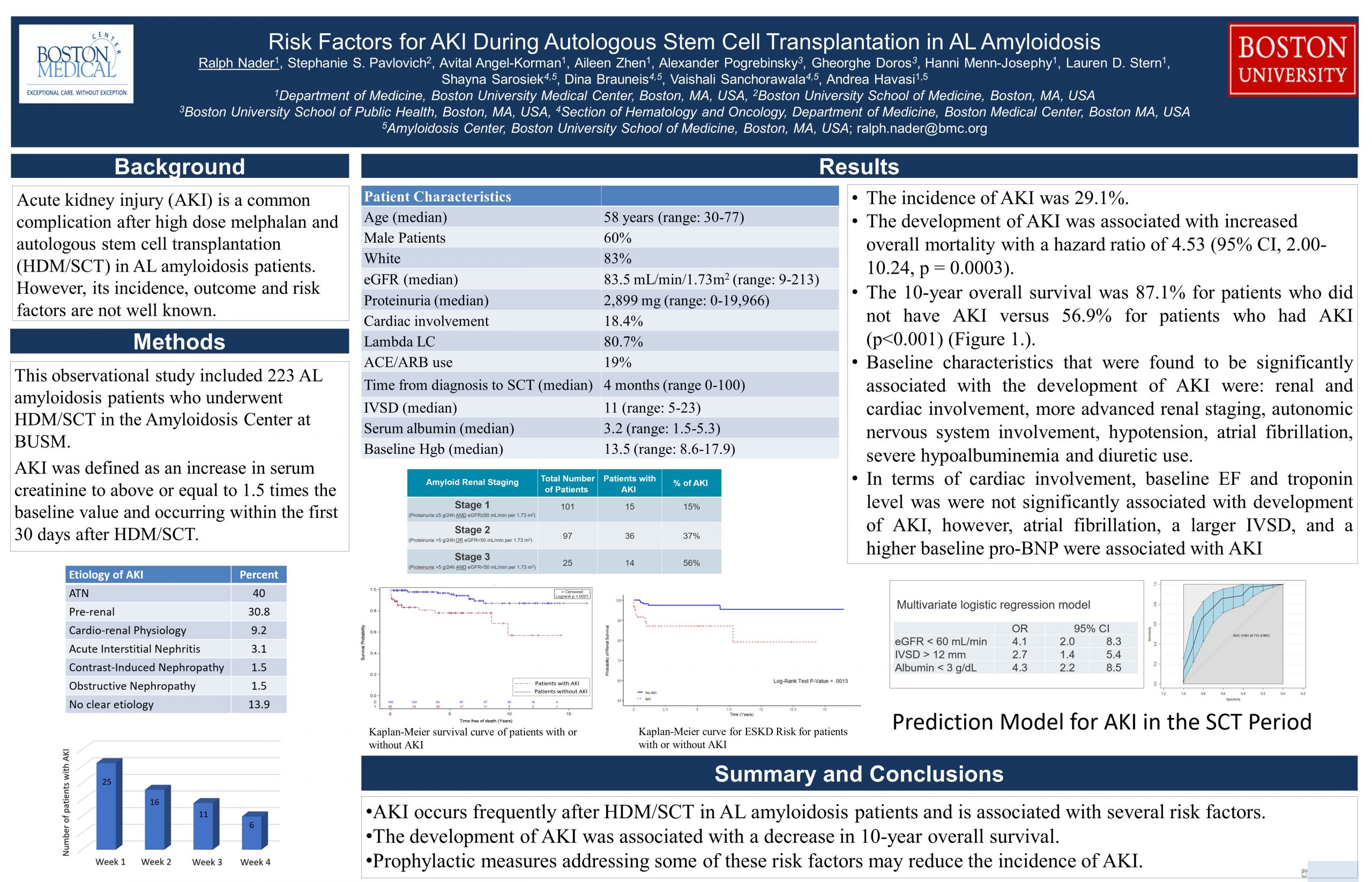 Risk Factors for AKI During Autologous Stem Cell Transplantation in AL Amyloidosis
Ralph Nader1, Stephanie S. Pavlovich2, Avital Angel-Korman1, Aileen Zhen1, Alexander Pogrebinsky3, Gheorghe Doros3, Hanni Menn-Josephy1, Lauren D. Stern1,
Shayna Sarosiek4,5, Dina Brauneis4,5, Vaishali Sanchorawala4,5, Andrea Havasi1,5

1Department of Medicine, Boston University Medical Center, Boston, MA, USA, 2Boston University School of Medicine, Boston, MA, USA
3Boston University School of Public Health, Boston, MA, USA, 4Section of Hematology and Oncology, Department of Medicine, Boston Medical Center, Boston MA, USA
5Amyloidosis Center, Boston University School of Medicine, Boston, MA, USA; ralph.nader@bmc.org
Background: Acute kidney injury (AKI) is a common complication after high dose melphalan and autologous stem cell transplantation (HDM/SCT) in AL amyloidosis patients. However, its incidence, outcome and risk factors are not well known.
Methods: This observational study included 223 AL amyloidosis patients who underwent HDM/SCT in the Amyloidosis Center at BUSM. AKI was defined as an increase in serum creatinine to above or equal to 1.5 times the baseline value and occurring within the first 30 days after HDM/SCT.
Results: The incidence of AKI was 29.1%. The development of AKI was associated with increased overall mortality with a hazard ratio of 4.53 (95% CI, 2.00-10.24, p = 0.0003). The 10-year overall survival was 87.1% for patients who did not have AKI versus 56.9% for patients who had AKI (p<0.001). Baseline characteristics that were found to be significantly associated with the development of AKI were: renal and cardiac involvement, more advanced renal staging, autonomic nervous system involvement, hypotension, atrial fibrillation, severe hypoalbuminemia and diuretic use.  In terms of cardiac involvement, baseline EF and troponin level were not significantly associated with development of AKI, however, atrial fibrillation, a larger IVSD, and a higher baseline pro-BNP were associated with AKI.
Conclusion: AKI occurs frequently after HDM/SCT in AL amyloidosis patients and is associated with several risk factors. The development of AKI was associated with a decrease in 10-year overall survival and kidney survival. Prophylactic measures addressing some of these risk factors may reduce the incidence of AKI.