Research Week 2022 – Michael Rossi, MD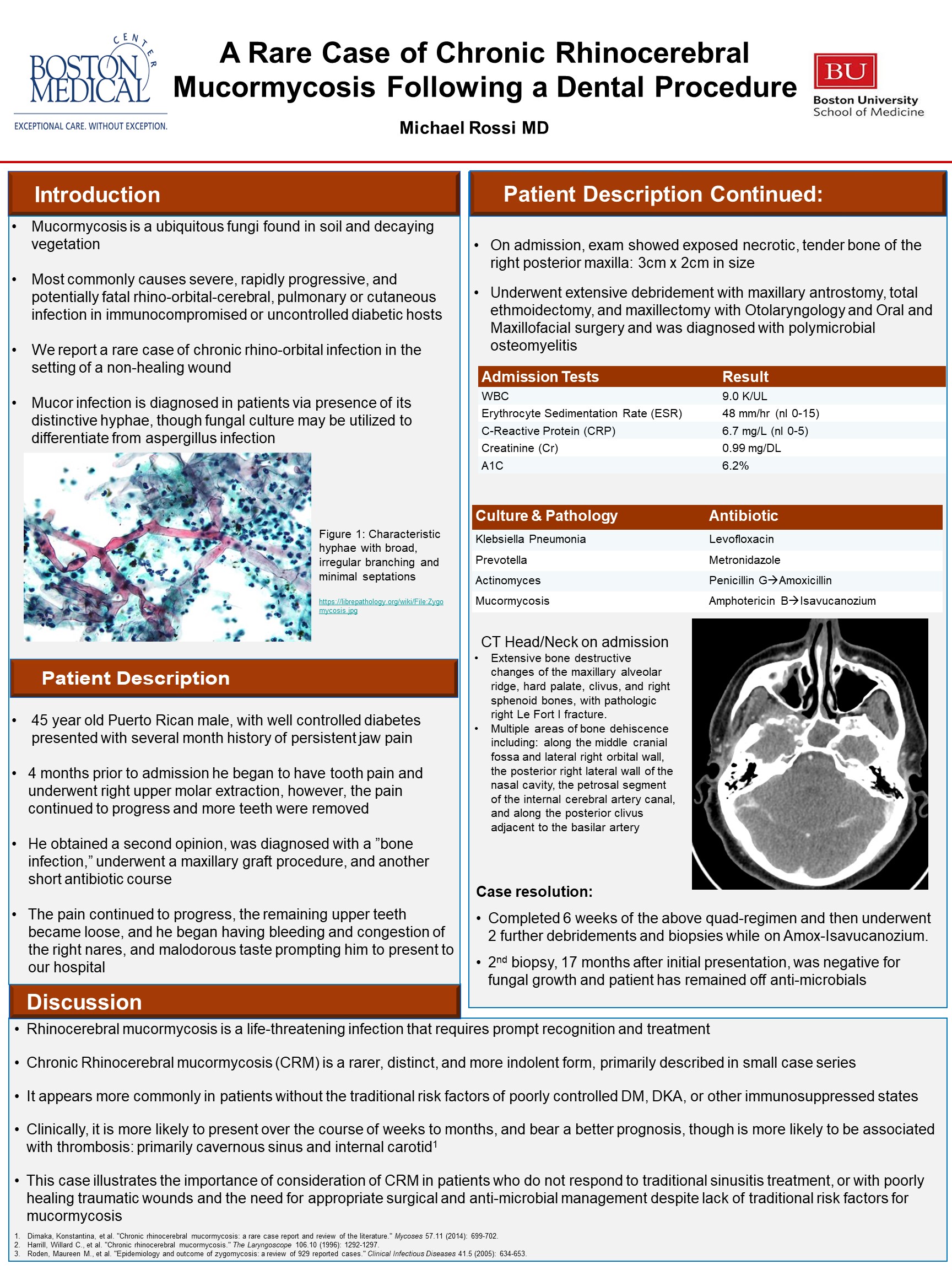 A rare case of chronic rhinocerebral mucormycosis following a dental procedure
A 45 year old Puerto Rican male, with a history of well controlled Diabetes (a1c 6.2%) presented with several month history of persistent jaw pain.
The patient was in his usual state of health in Puerto Rico, until 4 months prior to admission, when he began to have tooth pain.  He saw a dentist and underwent right upper molar extraction.  However, the pain continued to progress, he had 6 more teeth removed, and was given a short antibiotic course. He obtained a second opinion, was diagnosed with a "bone infection," underwent a maxillary graft procedure, and another short antibiotic course.  The pain continued to progress, the remaining upper teeth became loose, and he began having bleeding and congestion of the right nares, and malodorous taste prompting him to present to our hospital in Boston.
On admission, exam showed exposed necrotic, tender bone of the right posterior maxilla: 3cm x 2cm in size. Basic laboratory evaluation was otherwise unremarkable.  CT head/neck was obtained, which showed extensive bone destructive changes of the maxillary alveolar ridge, hard palate, clivus, and right sphenoid bones, with pathologic right Le Fort I fracture. Multiple areas of bone dehiscence were seen including: along the middle cranial fossa and lateral right orbital wall, the posterior right lateral wall of the nasal cavity, the petrosal segment of the internal cerebral artery canal, and along the posterior clivus adjacent to the basilar artery. A subsequent MRI showed skull base involvement without intracerebral involvement.
The patient underwent extensive debridement including maxillary antrostomy, total ethmoidectomy, and maxillectomy with Otolaryngology and Oral and Maxillofacial surgery.  Surgical cultures and pathology grew Klebsiella, several anaerobes, Actinomyces and Mucormycosis consistent with polymicrobial osteomyelitis and chronic rhinocerebral mucormycosis (CRM).   He was treated with Levofloxacin, Penicillin G, Metronidazole and Amphotericin B for 6 weeks and subsequently transitioned to Amoxicillin and Isavucanozium.  The patient had 2 further debridements and biopsies. The first biopsy of the clivus showed persistent mucormycosis infection for which he continued treatment and the second biopsy, 17 months after initial presentation, did not show any residual fungus and the patient has since remained off anti-microbials.
Rhinocerebral mucormycosis is a life-threatening infection that requires prompt recognition and treatment, while CRM is a rarer, distinct and more indolent form.  It appears more commonly in patients without the traditional risk factors of poorly controlled DM or other immunosuppressed states. Clinically, it is more likely to present over the course of weeks to months, and seems to bear a better prognosis.  This case illustrates the importance of consideration of CRM in patients who do not respond to initial sinusitis treatment and the need for appropriate surgical and anti-microbial management despite lack of traditional risk factors for mucormycosis.
Learning Points:
Rhinocerebral mucormycosis is a life-threatening infection that requires prompt recognition and treatment where as chronic rhinocerebral mucormycosis (CRM) is a rarer, distinct, and more indolent form, primarily described in small case series
It appears more commonly in patients without the traditional risk factors of poorly controlled DM, DKA, or other immunosuppressed states
Clinically, it is more likely to present over the course of weeks to months, and bear a better prognosis, though is more likely to be associated with thrombosis: primarily cavernous sinus and internal carotid1
This case illustrates the importance of consideration of CRM in patients who do not respond to traditional sinusitis treatment, or with poorly healing traumatic wounds and the need for appropriate surgical and anti-microbial management despite lack of traditional risk factors for mucormycosis