Research Week 2022 – Justin Battaglini, MD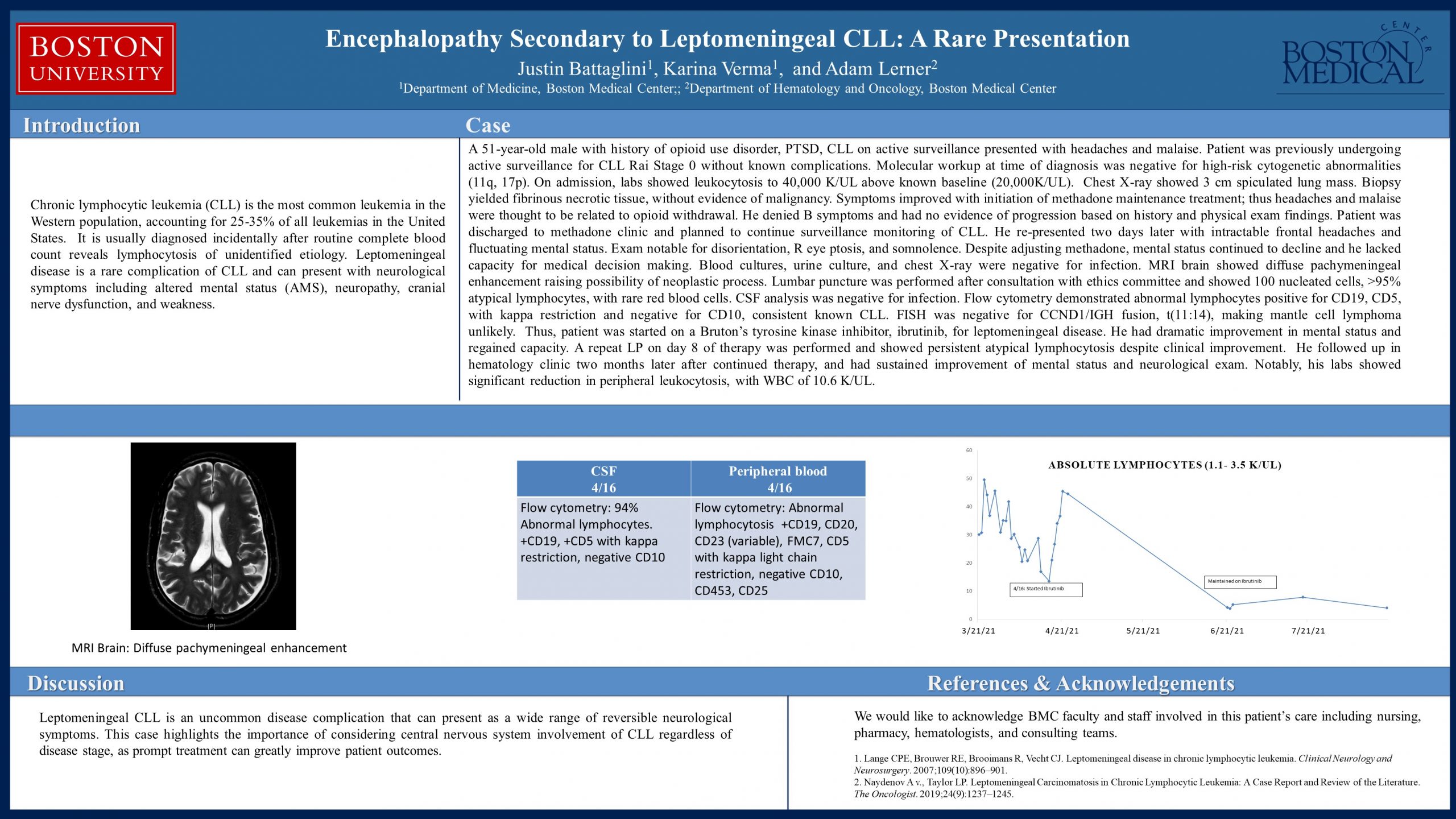 Title: Encephalopathy secondary to Leptomeningeal CLL: A Rare Presentation
Authors: Karina Verma, Justin Battaglini, Adam Lerner
Learning Objectives:
Leptomeningeal CLL is a rare presentation of the most common leukemia in the Western population
Consider LP in those with CLL presenting with AMS to assess for leptomeningeal disease as it is treatable
Introduction:
Chronic lymphocytic leukemia (CLL) is the most common leukemia in the Western population, accounting for 25-35% of all leukemias in the United States.  It is usually diagnosed incidentally after routine complete blood count reveals lymphocytosis of unidentified etiology. Leptomeningeal disease is a rare complication of CLL and can present with neurological symptoms including altered mental status (AMS), neuropathy, cranial nerve dysfunction, and weakness.
Case
A 51-year-old male with history of opioid use disorder, PTSD, CLL on active surveillance presented with headaches and malaise. Patient was previously undergoing active surveillance for CLL Rai Stage 0. Molecular workup at time of diagnosis was negative for high-risk cytogenetic abnormalities (11q, 17p). On admission, laboratory analysis was notable for persistent leukocytosis to 40,000 K/UL above known baseline (20,000K/UL).  Chest imaging showed 3 cm spiculated lung mass. Biopsy yielded only fibrinous necrotic tissue. His symptoms improved with initiation of methadone; thus headaches, abdominal pain, and malaise were thought to be related to withdrawal. He denied B symptoms and had no evidence of disease progression based on history and physical exam findings. Patient was discharged to methadone clinic and planned to surveillance of known CLL.
He re-presented two days later with frontal headaches and fluctuating mental status. Exam notable for disorientation, R eye ptosis, and somnolence. Despite adjusting methadone dosing, patient's mental status declined. A full infectious workup was negative. MRI brain showed diffuse pachymeningeal enhancement raising possibility of neoplastic process. Lumbar puncture was performed after consultation with ethics committee and showed 100 nucleated cells, >95% atypical lymphocytes, with rare red blood cells. CSF analysis was negative for infection. Flow cytometry demonstrated abnormal lymphocytes positive for CD19, CD5, with kappa restriction and negative for CD10, consistent known CLL. FISH was negative for CCND1/IGH fusion, t(11:14), making mantle cell lymphoma unlikely.
Thus, patient was started on ibrutinib for leptomeningeal involvement of CLL. Mental status greatly improved. A repeat LP on C1D8 of therapy was performed and showed persistent atypical lymphocytosis.
Patient was discharged on ibrutinib. In Hematology clinic, he was found to have sustained improvement. Notably, his labs showed significant reduction in peripheral leukocytosis, with WBC of 10.6 K/UL.
Discussion
Leptomeningeal CLL is an uncommon disease complication that can present as a wide range of reversible neurological symptoms. This case highlights the importance of considering central nervous system involvement of CLL regardless of disease stage, as prompt treatment can greatly improve patient outcomes.
References
  Lange CPE, Brouwer RE, Brooimans R, Vecht CJ. Leptomeningeal disease in chronic lymphocytic leukemia. Clinical Neurology and Neurosurgery. 2007;109(10):896–901.
  Naydenov A v., Taylor LP. Leptomeningeal Carcinomatosis in Chronic Lymphocytic Leukemia: A Case Report and Review of the Literature. The Oncologist. 2019;24(9):1237–1245.