Research Week 2022 – Emily Jones, MD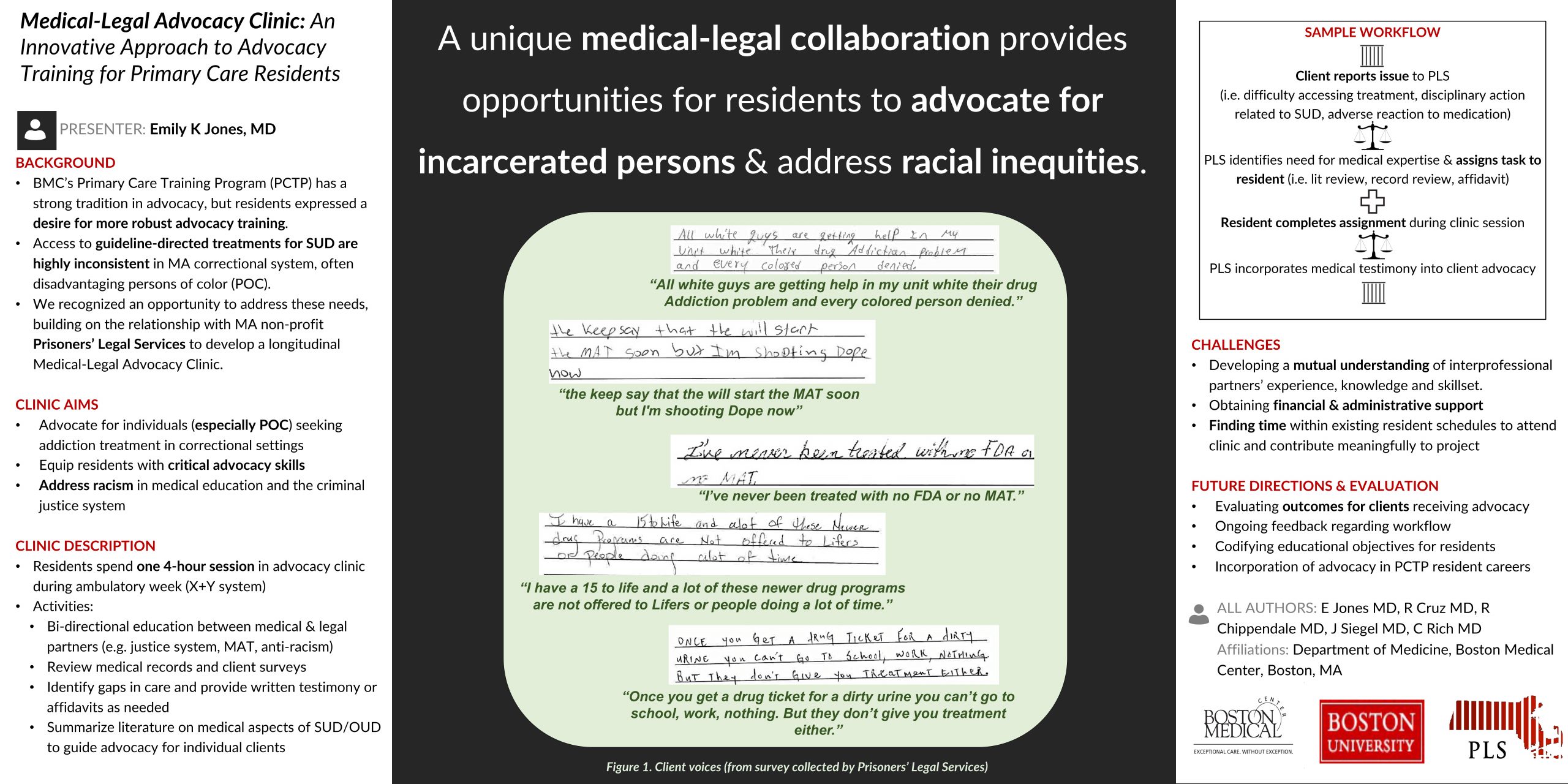 Title: Medical-Legal Advocacy Clinic: an innovative approach to advocacy training for primary care residents
Authors: Emily K Jones MD, Ricardo Cruz MD, Ryan Chippendale MD, Jenny Siegel MD, Catherine Rich MD
Description: Primary care physicians play an important role in advocacy for their patients and the communities they provide care for. Advocacy is recognized as an essential component of physician professionalism, and to address this competency the BMC Primary Care Training Program (PCTP) engages in an annual advocacy project for residents. As this becomes a core value within the program, residents have expressed a desire for more robust, longitudinal advocacy experiences.
Guideline-directed treatments for SUD are highly inconsistent within the MA correctional system, often disadvantaging persons of color (POC). Through frequent collaboration with  a community based organization, Prisoners Legal Service (PLS), we identified an opportunity for ongoing physician advocacy for incarcerated persons experiencing this issue. In response to this need, we developed a longitudinal medical legal advocacy clinic which incorporates a multi-faceted approach to improving access to evidence-based substance use disorder and mental health treatment for individuals currently involved with the criminal justice system.
Residents participate in this advocacy clinic during their ambulatory clinic week and spend 4 hours working on shared advocacy with PLS paralegals and attorneys. Residents review medical records and provide written testimony on medical aspects and potential gaps in care and contribute to written declarations to advocate on behalf of individuals for access to appropriate treatment. This innovation has an explicit antiracism focus – to ensure equitable access to substance use and mental health treatment for people of color who are often incarcerated but who infrequently given access to appropriate care. Residents participate in didactics led by medical and legal experts on topics including the advocacy process, anti-racist practices in law and medicine, and developing effective written and oral testimony.
Overall this innovative educational/advocacy intervention aims to:
Shift the approach of SUD/OUD as a criminogenic issue to understanding it as a chronic medical condition
Provide residents education on critical advocacy skills
Address racism in medical education and the correctional system
Provide individual advocacy for individuals seeking treatment for addiction, preventing discipline and exclusion from programming due to active substance use in correctional settings