Research Week 2022 – Charles Milrod, MD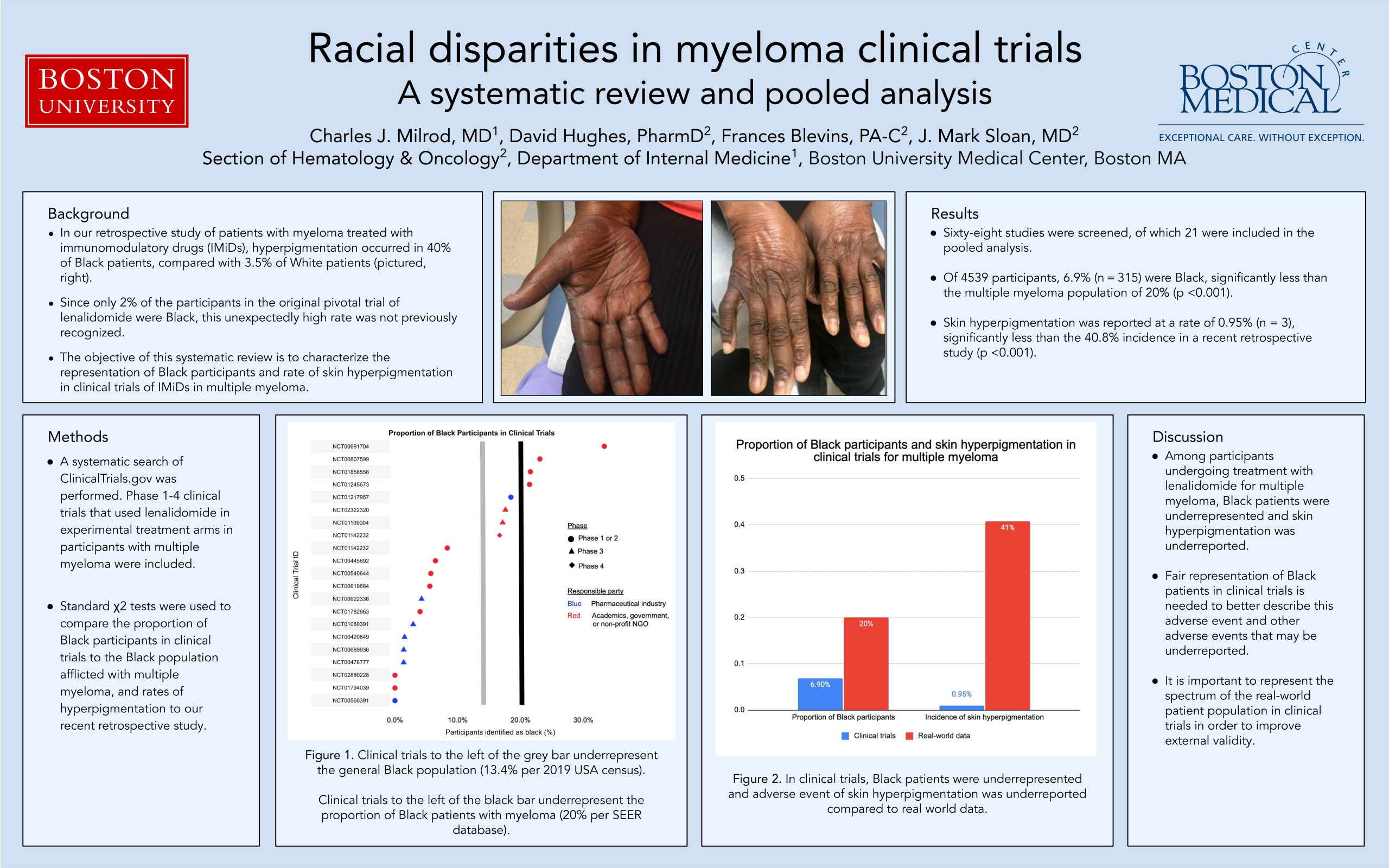 Charles Milrod
Underrepresentation of Black participants and adverse events in clinical trials of immunomodulatory medications for multiple myeloma: A systematic review and pooled analysis

Charles J. Milrod, MD1, Michael Mann, MD1, Fran Blevins, PA-C2, David Hughes, PharmD2,3 Adam Lerner, MD2, Vaishali Sanchorawala, MD2, J. Mark Sloan, MD2
1 Department of Medicine, Boston University School of Medicine and Boston Medical Center, Boston, MA 02118
2 Section of Hematology & Medical Oncology, Department of Medicine, Boston University School of Medicine and Boston Medical Center, Boston, MA 02118
3 Department of Pharmacy, Boston Medical Center, Boston, MA 02118
4 Boston University School of Medicine, Boston, MA 02118
Abstract
Background Adverse events affecting Black patients, such as skin hyperpigmentation, may be overlooked using existing clinical trial data on immunomodulatory medications. The objective of this systematic review is to characterize the representation of Black participants and rate of skin hyperpigmentation in clinical trials of lenalidomide in multiple myeloma.
Methods  A systematic search of ClinicalTrials.gov was performed from database inception to August 30, 2020. Phase 1-4 clinical trials that used lenalidomide in experimental treatment arms in participants with multiple myeloma were included. Clinical trials without ethnicity data were excluded. Study characteristics, ethnicity, and skin adverse events were extracted from each trial. Standard χ2 tests were used to compare the proportion of Black participants in clinical trials to the Black population afflicted with multiple myeloma, and rates of hyperpigmentation to a recent retrospective study.
Results  Sixty-eight studies were screened, of which 21 were included in the pooled analysis. Of 4539 participants, 6.9% (n = 315) were Black. The proportion of Black participants in trials was significantly less than the multiple myeloma population (p <0.001). Skin hyperpigmentation was reported at a rate of 0.066% (n = 3). The rate of hyperpigmentation was significantly less compared to a 40.8% incidence in a recent retrospective study (p <0.001).
Discussion Among participants undergoing treatment with lenalidomide for multiple myeloma Black patients were underrepresented and the adverse event of skin hyperpigmentation was underreported. Fair representation of Black patients in clinical trials is needed to better describe this adverse event and other adverse events that may be underreported.
Visual abstract below: