Delirium and potentially inappropriate medications among hospitalized older adults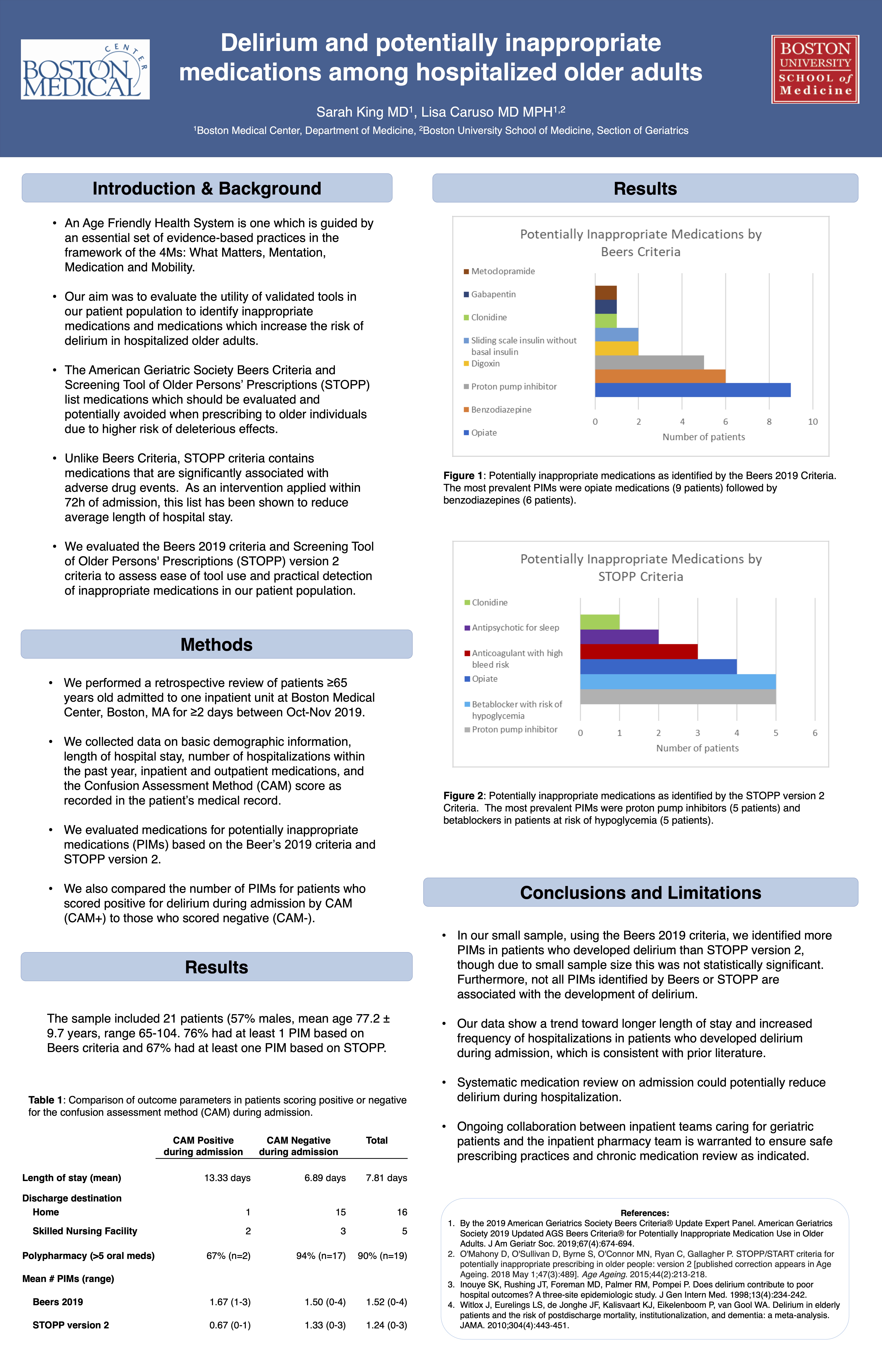 Sarah King, MD
Sarah King, MD , Lisa Caruso MD
1Boston University School of Medicine, Department of Medicine, Boston MA, USA 2Boston University School of Medicine, Section of Geriatrics, Boston MA, USA
Background: An Age Friendly Health System is one which is guided by an essential set of evidence-based practices in the framework of the 4Ms: What Matters, Mentation, Medication and Mobility. Our aim was to find a practical tool to identify inappropriate medications and medications which increase the risk of delirium in hospitalized older adults. We evaluated the Beers 2019 criteria and Screening Tool of Older Persons' Prescriptions (STOPP) version 2 criteria to detect inappropriate medications.
Methods: We performed a retrospective review of patients ≥65 years old admitted to Boston Medical Center, Boston, MA for ≥2 days between Oct-Nov 2019. We collected data on basic demographic information, length of hospital stay, number of hospitalizations within the past year, inpatient and outpatient medications, and the Confusion Assessment Method (CAM) score as recorded in the patient's medical record. We evaluated medications for potentially inappropriate medications (PIMs) based on the Beer's 2019 criteria and STOPP version 2. We also compared number of PIMs for patients who scored positive for delirium during admission by CAM (CAM+) to those who scored negative (CAM-).
Results: The sample included 21 patients (57% males, mean age 77.2 ± 9.7 years, range 65-104) and polypharmacy (>5 oral medications) was present in 90% of patients. 76% had at least 1 PIM based on Beers criteria and 67% had at least one PIM based on STOPP. 14% of patients were CAM+. The mean length of stay for CAM+ patients was 13.3 days vs 6.9 days for CAM- patients. The mean number of hospitalizations in the past year for CAM+ vs CAM- patients was 3.33 vs 2.50, though this was not statistically significant. The number of PIMs were not statistically different between CAM+ and CAM- patients, though there was a trend toward higher PIMs using Beer's criteria, but not using STOPP.
Conclusions: In our small sample, using the Beers 2019 criteria, we identified more PIMs in patients who developed delirium than STOPP version 2. Further exploration of the medications that differ between the Beers and STOPP criteria and their association with delirium is warranted.