A 2020 Pandemic Year in Review: BUSM Steps Up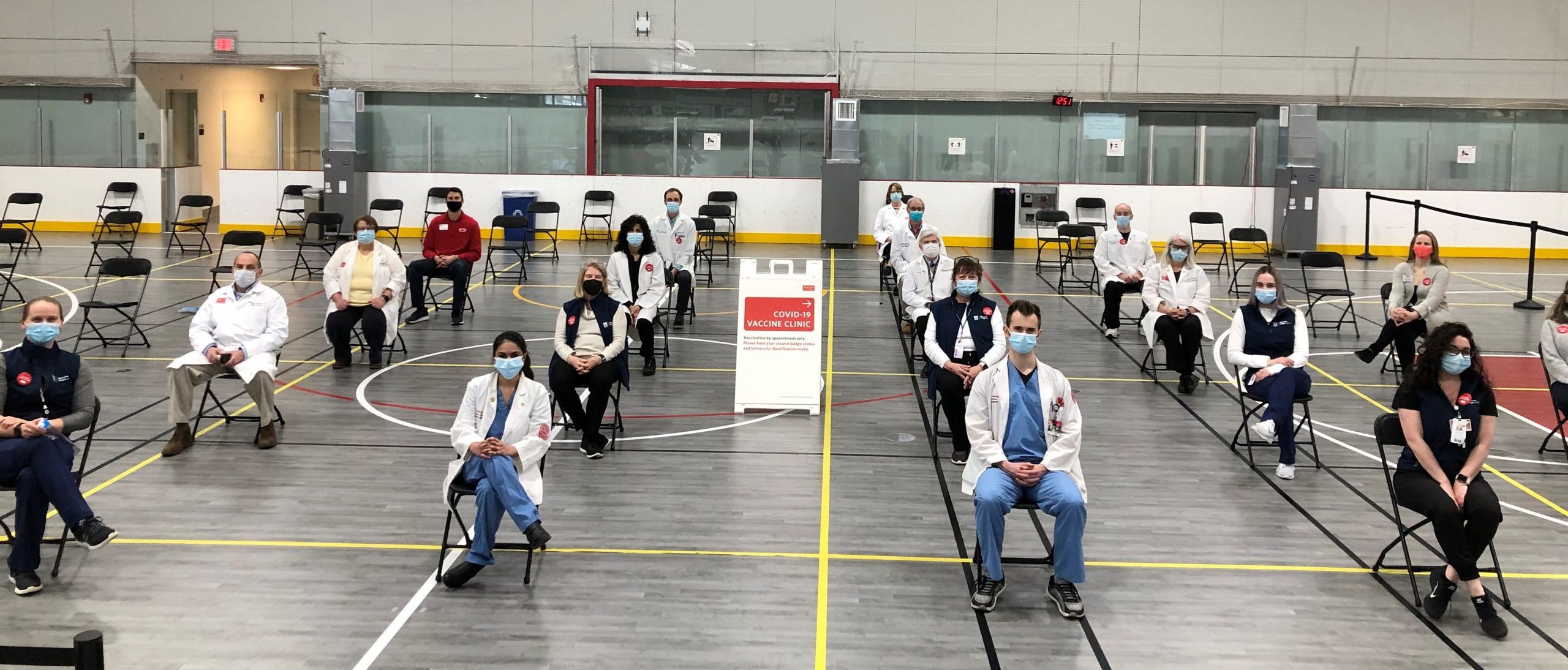 The year 2020 was like no other—it was business as usual for January and most of February, then everything changed in March. On top of the stress and isolation of a global pandemic, 2020 evolved into a year recognizing racial injustice and political turmoil. In the face of unprecedented adversity, students, faculty and staff at Boston University School of Medicine pulled together and continued its important mission of teaching, learning and discovery.
Members of the BUSM community cared for patients, developed rapid COVID-19 testing, stood up a genome sequencing lab, published important research findings, reinforced their commitment to antiracism and diversity, adapted to a Learn from Anywhere format, and so much more.
Students, faculty and staff embodied the principle of frontline medicine. Their resilience showed great perseverance, compassion and collaboration. As the pandemic surpasses the one-year mark, let's stop for a moment to acknowledge their accomplishments.
Clinical Faculty on the Frontlines
Clinical faculty are physicians at Boston Medical Center (BMC), community health centers and the VA. These resilient clinicians, in addition to planning curricula and educating students, have been on the frontlines of fighting this virus since it began.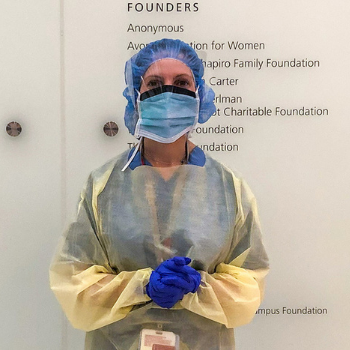 In April, at the height of the pandemic, we heard from five clinicians. They shared their experiences of working on the frontlines at New England's largest safety net hospital. One of the featured voices was Kristen Goodell, MD, associate dean of admissions, assistant professor of family medicine at BUSM and attending family medicine physician at BMC.
On top of her admissions responsibilities and working in the family medicine clinic, Dr. Goodell stepped up to help out with COVID-19 testing.
"I was just glad to be able to do something," she said. "I am not very good at doing nothing."
In July Dr. Goodell transitioned away from testing and back to her regular clinical role in family medicine. She said that much of her job now is discussing various COVID-19 experiences with her patients.
"The way that I interact with COVID now is focused on the impact it's continuing to have on people's lives," she said.
Many of Dr. Goodell's patients are struggling with issues like food insecurity, newfound unemployment, grief over the loss of loved ones, and countless other ways the coronavirus has impacted their lives.
Dr. Goodell said she worries about long-term effects of the pandemic when we begin resettling back into "normal life," especially for her fellow clinicians who have lost more patients than ever before.
"I think there will be scars," she said. "It really is kind of like a war."
Center for Regenerative Medicine
When the virus was making its way to the United States, coronavirus tests were in dangerously short supply. The Center for Regenerative Medicine (CReM) stepped in to change that.
George Murphy, PhD, associate professor of hematology & medical oncology and co-director of the CReM, met up with Christopher Andry, MPhil, PhD, professor and chair of pathology & laboratory medicine, and the two decided to develop their own clinically approved test.
With the help of more than 50 volunteers and colleagues across the Medical Campus, the team built a PCR test that detects RNA (or genetic material) that is specific to the virus and can detect the virus within days of infection, even those who have no symptoms. They were soon reporting results in less than 24 hours.
Richard Giadone, who was finishing up his PhD in Molecular and Translational Medicine at the time, stepped up to help out – despite the full workload leading up to his thesis defense.
"A big issue early on in the pandemic, as the state was slowly climbing this upward slope of the roller coaster nervously waiting for infection of the virus to peak, many hospitals needed to rely on commercial labs for their diagnostic testing," Dr. Giadone explained in a GMS Spotlight article. "Problematically though, there were massive backlogs – often having turnaround times of something like seven to 10 days."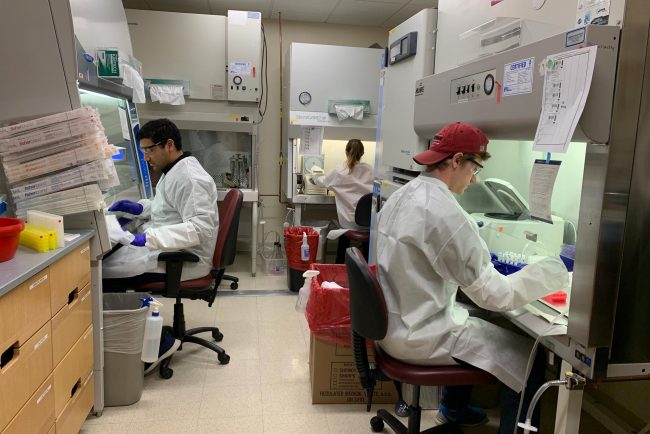 Dr. Murphy shared his immense pride with the team of trainees and volunteers who joined him in working around the clock to develop their coronavirus test.
 "These people and these brilliant trainees are capable of solving any problem," he said. "If there was a zombie apocalypse, I'm sure they would have solved that problem as well."
While developing protocols for running the test, the CReM also disseminated the test's blueprint with scientists around the world. Late night (and early morning) Zoom calls with researchers from Saudi Arabia to Israel, a worldwide COVID Slack channel for scientists and Twitter all became vital resources for sharing testing information.
"Everything was happening at light speed," Dr. Murphy said. "You couldn't wait for a publication to come out, because people were dying."
After two months of brute-force testing using any available tools and techniques, the CReM transitioned testing over to Pathology & Laboratory Medicine. Testing is done with automated machines, rather than piecemeal reagents and kits.
Now the CReM is working on stem cell modeling of COVID-19 and studying infection in organoid models of lung development.
"It's going to be interesting to see what comes next," Dr. Murphy said. "Every time we think that we have it encapsulated or understood, COVID gives you a new twist."
National Emerging Infectious Diseases Laboratories
In February scientists at BU's  National Emerging Infectious Diseases Laboratories (NEIDL) filed paperwork to enable them to bring the coronavirus into their facility. In March scientists began conducting research on live samples of the coronavirus – the first teams in Boston to do so. Within a matter of weeks, they tested thousands of drugs to determine if they were able to fight off the COVID-19 infection.
As one of only a handful of facilities in the country designed to research highly contagious and dangerous pathogens, the NEIDL is well equipped to keep the virus contained and researchers safe. Those working in the NEIDL are required to undergo careful training before they can work with viruses and pathogens.
"We're only as good as we are safe," said NEIDL Director Ronald Corley, PhD.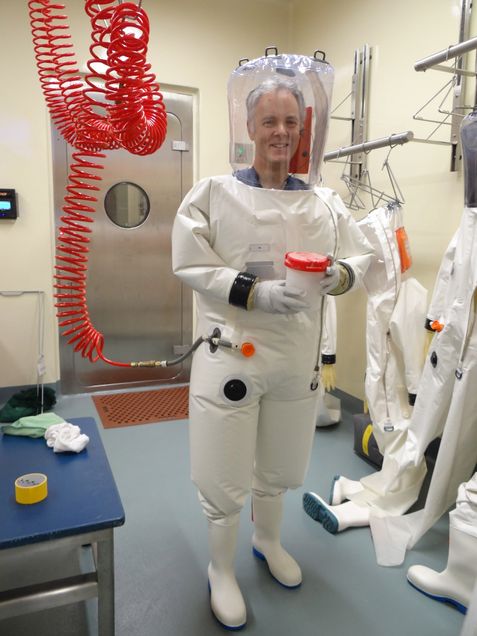 Nearly every scientist in the NEIDL turned their regular research programs into focusing on COVID-19-related research very early on.
"It was absolutely clear that the virus was spreading like wildfire, and was a serious issue," he said. "I've never seen anything like it."
Currently investigators at the NEIDL are studying every aspect of the virus – how it impacts cells, looking at models of the disease, testing of vaccines and the therapeutic side of COVID-19, and more.
The NEIDL also is home to BU's important genome sequencing efforts. In collaboration with BMC, the entire sequencing process was moved in-house, providing a faster turnround for results.
John Connor, PhD, associate professor of microbiology, says that genome sequencing became a reality due to a team-science approach and generous support from the Genome Science Institute, BMC and BU. The sequencing campaign grew out of a BMC/BUMC collaboration involving the Connor Lab; Karen Jacobson, MD, MPH, assistant professor of epidemiology; Tara Bouton, MD, MPH, assistant professor of medicine; and Cassandra Pierre, MD, MPH, MSc, assistant professor of medicine.
In this project viral genome sequencing was used to improve infection control within the hospital. This early work enabled a quick January pivot to include samples from BU's Clinical Testing Lab, as concerns arose about new variants of the virus. The material is sent over to the NEIDL, then analyzed and sequenced in a process that takes several days. All identifiers are removed by the testing lab before it is sent for sequencing.
"We are happy to be able to apply the power of whole genome sequencing to identify what virus variants are disappearing and flag those that are spreading," Dr. Connor said.
COVID Studies
Boston University has been at the forefront of COVID-19 research. To see the latest publications by our investigators, visit the COVID dashboard.
Studies have covered multiple facets of COVID-19 territory:
A team of BU researchers from the NEIDL, CReM and BU's Center for Network Systems Biology (CNSB) embarked on a months-long mission to answer questions related to COVID-19 and human lungs. After infecting lung cells with the SARS-CoV-2 virus, they tracked activity in those cells during the first few moments after infection.
As a result the team discovered there are at least 18 existing, FDA-approved drugs that could potentially be repurposed to combat COVID-19 infections shortly after infection. Their groundbreaking findings were published in the journal Molecular Cell and featured in The Brink.
Early on in the pandemic, the coronavirus was clearly spreading rapidly in nursing homes and long-term care facilities. A study in the Journal of the American Geriatrics Society by Drs. Thomas Perls, Lisa Caruso and Rossana Lau-NG found that long-term care facilities were a major driver of total COVID-19 deaths.
Drs. Pria Anand, Lan Zhou, Nahid Bhadelia, Davidson Hamer, David Greer and Anna Cervantes-Arslanian published a study in the journal Neurology in December, which found that neurologic complications were common even in moderate COVID-19 cases. The researchers found that the most common neurologic symptoms in the studied patients were altered mental status, fatigue and headache.
These are just a sampling of the many, many important studies published by experts in our community. Their work is featured in prominent publications like The Lancet, JAMA, Science, Health Policy and others. Check out the dashboard to stay up to date with all of the latest findings about COVID-19.
In the Media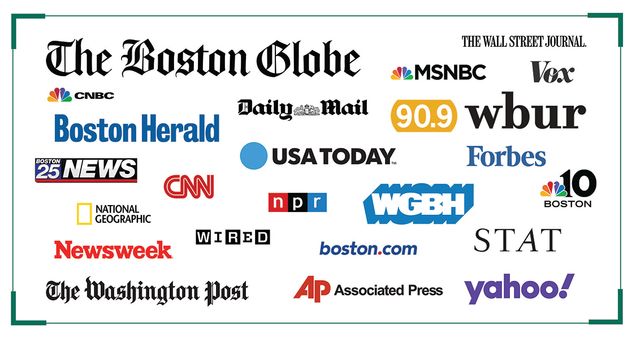 More than 155 BUSM faculty have been quoted as expert sources in local, national and international media stories pertaining to various aspects of the pandemic over the past year, from symptoms and testing to treatments and vaccines, and everything in between.
Antiracism
2020 was not only the year of the coronavirus, it also was the year of a movement, with national protests addressing the history of racial injustice in the U.S. After the death of George Floyd, millions took to the streets to peacefully protest police brutality against Black Americans.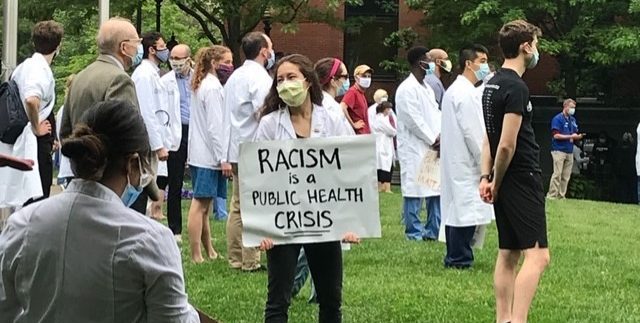 The establishment of the Boston University Center for Antiracist Research during the summer of 2020 was no coincidence. It was years in the making and aims to coalesce researchers across disciplines with the goal of identifying ways to understand, explain and solve racial injustice. With research, policy innovation and advocacy campaigns, the center hopes to build a more equitable and just society.
At the Medical School, Associate Dean for Medical Education Priya Garg, MD, says the MD curriculum is focusing its antiracism efforts on creating inclusive pedagogy, more diverse dermatologic images, and a glossary of terms aimed at providing equitable care.
The Medical Education Committee (MEC) formed the Racism in Medicine Vertical Integration Group in June 2019. Their mission was to provide a historical understanding of how racism impacts medical training, assess the current BUSM curriculum on race and racism, summarize the current literature on the topic and provide resources and recommendations to address race and racism in the curriculum moving forward.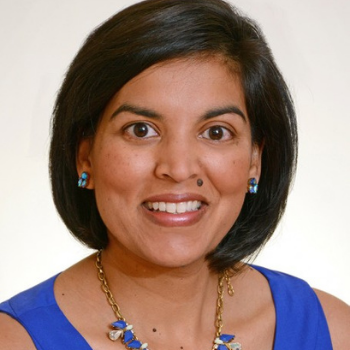 In summer 2020 the MEC released their report "Is race a risk factor? Creating Leadership and Education to Address Racism: An Analytical Review of Best Practices for BUSM Implementation."
"What we found was that in every course and clerkship, there were opportunities to really strengthen our antiracist presence," said Dr. Garg.
The report found that the way the BUSM curriculum described race was a problem and needed to emphasize that race is a social construct rather than biological.
"As a community, we've really come together to dialogue more about this," she added. "We've spent a lot of time ensuring that we are talking about gender and identity in appropriate ways so that the focus has been on gender, identity, race and appropriate terminology in the classroom."
As a medical school that is dedicated to equity and care without exception, BUSM is committed to being an institution that is anti-racist, diverse and equitable. This year BUSM produced a website of anti-racism resources, including current related research, recommendations for books, podcasts, videos and more.
Graduate Medical Sciences also has curated a list of resources for antiracism and social justice, with articles, books and other media to help future clinicians and scientists engage in learning and reflection on the experiences of people of color.
The Vital Role of BUMC IT
As we approach a year of working and learning from home, we continue to reflect on what remote learning and Learn from Anywhere (LfA) looked like for BUSM and GMS.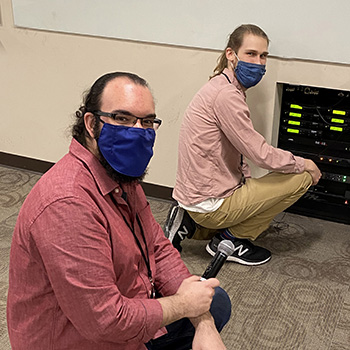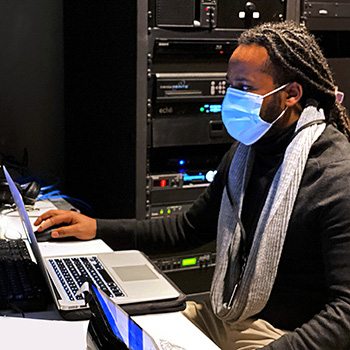 For some coursework was more easily adaptable to a virtual setting. For others, the transition was more challenging. How could bench research be done from students' homes? How do you teach dissection of a cadaver over a Zoom call?
Through creativity and determination, the BUSM community devised and adapted to new ways of teaching and learning virtually. With the help of new software and strategies, faculty continued the important work of educating the next class of physicians and scientists.
"I give so much credit to our educational and instructional technology staff, who were hard at work designing just-in-time training workshops and materials to support faculty transitioning to teach using Zoom," said Christopher Dorney, who transitioned to the position of interim executive director of BUMC Information Technology on the very day that the university moved to remote teaching.
Boston University announced the availability of Zoom to the community back in 2019, followed by the adoption of Microsoft Teams for online meetings.
"Little did we know how critical those strategic decisions would be months later, first for teaching, learning and working remotely, and later in support for the hybrid Learn from Anywhere modality," Mr. Dorney said.
While various technologies all played an important role in shifting the medical campus to remote education, Mr. Dorney says a critically important component was training. EdMedia created easy-to-use web forms for faculty to request training.
BUMC IT even built custom web applications to help with creating an LfA structure—InClassLfA and Student Room Scheduling. The former allows students to reserve seats in classes they wish to attend in person, and the latter allows students at both campuses to reserve study rooms.
"BUMC IT strives to help the community produce the best teaching and learning experience possible," Mr. Dorney said. "There are always ways to improve on that, and it is important we hear suggestions and get that candid feedback from those we work hardest to support. The faculty and students have been extremely patient and understanding during this time, and we are particularly appreciative of the sacrifices they have all made."
Facilities
In response to COVID-19 BU Campus Planning & Operations (CPO), including the BUMC Facilities group, established new cleaning and disinfecting protocols to ensure the BU community has a clean, healthy and safe environment for learning and working on campus. Throughout the pandemic custodians have been regularly cleaning and disinfecting surfaces focusing on high-touch areas (fixtures, light switches, handles, buttons, etc.), increasing the use of aerosol sprayers for large scale disinfecting and providing cleaning and disinfecting supplies for on-campus spaces.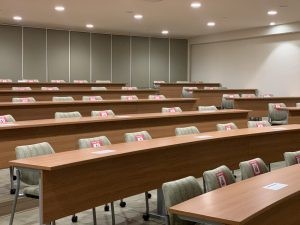 CPO also worked with Building Coordinators, Educational Media and Environmental Health & Safety (EHS) to reconfigure every indoor space on campus to ensure appropriate physical distancing and installed signage throughout all areas to reinforce the new protocols. In addition, CPO inspected all HVAC systems across the University in order to ensure they are operating as designed and accommodating increased air changes while maintaining the integrity of the systems and the environment they serve.
Lessons of Remote Learning
For Graduate Medical Sciences, a new virtual teaching style brought with it a number of lessons. For example, carving out social time with students, like Zoom lunches, was an excellent way to share laughs in an otherwise serious time. Some faculty members learned that recording lessons ahead of time worked well, others found that breaking their classes into smaller groups made sessions livelier and more interactive.
Mina Moussavi, PhD, assistant professor of physiology & biophysics, found that scheduling check-in time with students is even more necessary in this new remote world.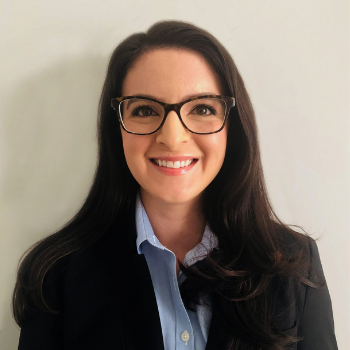 "It has become more imperative to check on students that may be struggling and ensure they have access to additional learning resources and to have frequent virtual check-ins," she said. "My students know that I have an 'open door' policy, and we often have Zoom sessions in the evenings or weekends, whatever works best for their schedule and time zone."
Dr. Moussavi says she was blown away by how motivated her students are, even amid all of the changes that came with 2020.
"Seeing how resilient they have been is one of the positives I will take away from this," she said. "They deserve a round of applause."
LfA offered a variety of experiences for the MD program. First-year students experienced a new collaboration between BUSM and SPH, kicking off with a virtual debate about vaping restrictions. Second-year students had wrapped up classes just as remote learning started and began studying for their national licensing exams. Third-year students were able to partake in a virtual version of their clinical assessments. Faculty designed an elective, Preparing for Fourth Year for the Class of 2020, which focused on themes including skills required for sub-internship, caring for patients with COVID-19 and disaster medicine.
Medical education changed in many ways, big and small. Dr. Garg said changes included faculty creating video content, utilizing small breakout rooms, pairing students with roommates to limit contact with others, and bringing in actors from the College of Fine Arts to act as patients.
According to Dr. Garg, it took teamwork and collaboration to smoothly implement these changes. She noted that many faculty members turned to national organizations, particularly the AAMC, to learn from peer institutions.
Many of the changes made to the MD curriculum over the past year have potential for the future. Still, in-person peer and faculty interaction remain important for medical education, said Dr. Garg.
"What we learned from this period of time is actually the major loss that's been felt by students and faculty by not actually being with each other and engaging," she said. "I think in-person community building is going to be important moving forward."
Students Take Charge
Throughout a year of mandated social isolation, students did not disappear. They stepped up to help the community manage the competing responsibilities and stressors of the pandemic.
Fourth-year medical students graduated a month earlier than anticipated at the Governor's request in an effort work on the front lines.
"Your class is clearly graduating at one of the most medically challenging times of the last century, and will shortly be an important part of our country's response to the COVID-19 challenge," Dean Karen Antman, MD, wrote in a letter to the students. "We are proud of the physicians that you will soon be, and for the role that you will play in the care of your patients."
Medical students helped in other ways, too. When BMC employees were overworked caring for COVID patients, students thought of a creative way to help.
After gathering a team of medical and health professional student volunteers, the students sent out an email asking if frontline workers and clinicians at BMC or Boston Healthcare for the Homeless Program (BCHCP) needed assistance with chores or other tasks. From picking up prescriptions from pharmacies to babysitting and grocery shopping, these students swooped in to help.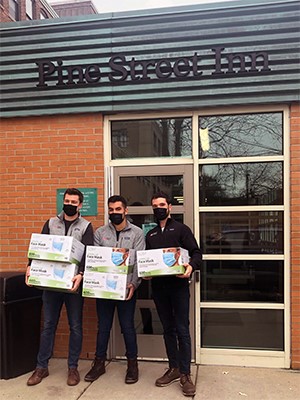 Another group of medical students raised more than $1,000 through its BU Mask Initiative to purchase more than 6,000 disposable masks to be distributed to homeless shelters across Boston to help stop the spread of COVID-19.
And now students are stepping up to vaccinate the public. Spearheaded by Student Affairs, medical, dental and PA student volunteers completed the required vaccination training session and will be able to vaccinate the public at any site throughout the Commonwealth that requests vaccinators. In addition, during the fourth-year Geriatrics clerkship, medical students visit patients who are part of the homecare program and are assisting with COVID-19 vaccines on house calls.
Student organizations, working with the Student Affairs Office, have supported their peers throughout 2020 with virtual event programming. A number of self-care and wellness events were offered in an effort to keep students' morale high and foster a sense of community.
The Medical Campus hosted an inaugural Self-Care Market in December. A generous grant from the Wellbeing Project allowed the four BUMC Student Affairs offices to supply all the self-care treats necessary to keep spirits high ahead of final exams and the holiday break. Approximately 100 students were able to grab goodies — all spaced out with appointment times over a two-hour period, remaining safe and physically distanced.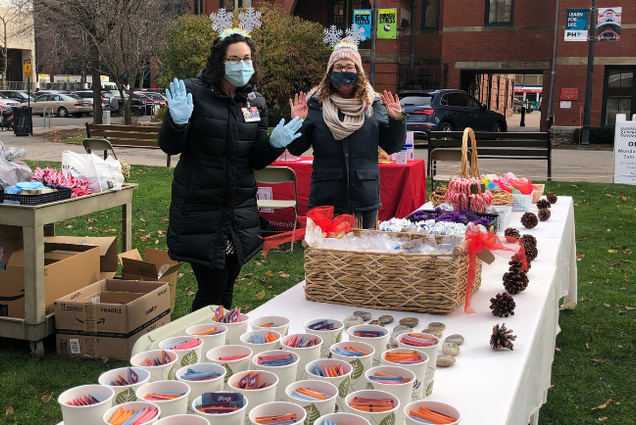 On top of hosting community-building events over Zoom, the Graduate Medical Sciences Student Organization (GMSSO) received a microgrant for a virtual science outreach program with the Dorchester Boys and Girls Club. Four GMS student groups also joined together this winter to host a donation drive for Rosie's Place, a local women's shelter and nonprofit organization.
The BUMC Climate Action group took the initiative to address one of the failures of the COVID-19 pandemic: improper disposal of face masks. Student leaders are working on educational material to display on waste bins on the Medical Campus.
Impact on Admissions
For all the hardship over the last year, there has been some good news – applications to BUSM have reached an all-time high, as more and more people have been inspired to join the healthcare professions. At GMS, applications to master's programs rose by 25 percent in 2020 and MD program applications have increased 27 percent, with 12,024 applications for about 110 seats. This is markedly higher than the national average increase of 18 percent.
"I think the reason we have seen more applicants is that we have this strong focus on social justice," said Dr. Goodell. "Medical school in general is for people who want to help, and at BU I think we're tapping into what a lot of people are feeling, which is wanting to help make things better."
Dr. Goodell noted that BMC's largely underserved and extraordinarily diverse patient population is another reason she believes medical school applicants are considering BUSM for their education, knowing they can really make a difference here.
As things were initially shutting down due to the pandemic, Dr. Goodell decided to ask first-year medical students: "Does this make you want to be a doctor more, or want to be a doctor less?" Overwhelmingly, the answer was "more."
Dr. Goodell added that all of the applicants she interviewed this year were brilliant, motivated and all-around great people who want to take care of others.
"I've been telling people for years that if you feel like the world is going to hell in a handbasket, you should do some medical school interviews," she said.
Written by Sara Frazier.