Challenges and Lessons from Remote Learning in GMS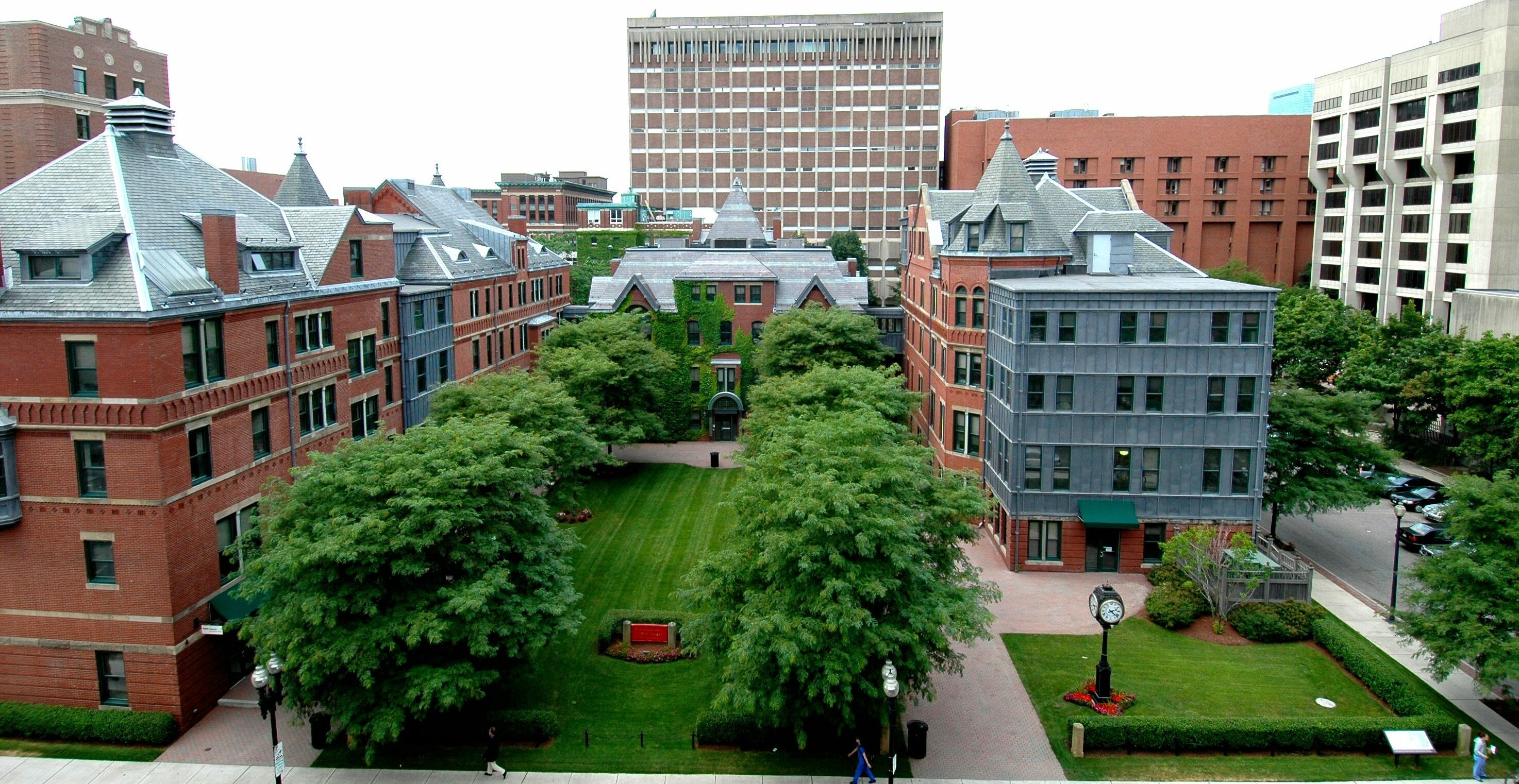 By the first week of March of this year, the potential danger of the rapidly spreading coronavirus had persuaded educators across the country that traditional classroom education was no longer safe. They would have to find another way, one that minimized risk to students, staff and faculty.
At Boston University, leadership moved quickly. On March 11, in a letter to the BU community, President Robert Brown announced that effective Monday, March 16, all classes would be moved to remote learning.  At the School of Medicine, where many of the 17 MS and six PhD programs in the Graduate Medical Sciences included hands-on lab work that would not easily transfer to remote learning, the president's message presented special challenges.
At BU and across America, the immediate and nearly universal move to digital learning has yielded frustration, gratification, and lots of thinking about new—and possibly, better—ways to teach. This story reports on the challenges and lessons that the transition to remote learning revealed to the School of Medicine's Graduate Medical Sciences faculty, who teach across the medical campus, in dental, medical and graduate courses.
Invite Them to Lunch
In the last week in March, Boston University's move to remote learning had relocated Beth Whitney's office to the sun porch of her home in Southborough. Monica Pessina was in her living room in West Newbury, and Maryann MacNeil was in her home office in Amesbury. None of the above had anticipated long-term work from these workspaces, but they were ready to do what needed to be done. After 15 years of working together, the three assistant professors of anatomy & neurobiology knew that it would take more than remote home offices to prevent them from teaching their usual spring semester course in gross human anatomy at the Goldman School of Dental Medicine.
The teaching team spent hours each day brainstorming on Zoom about the best way to teach the remaining second half of the critically important "Head and Neck Module" section of the course. The first half of the course, during which the three professors take turns lecturing on the anatomy of the human body and reviewing the corresponding dissections in the lab, had gone beautifully, and the 114 dental students were eager to move to the next component, where seeing and touching actual structures on cadavers was even more important. With that lab component suddenly impossible, the teaching team raced to find the best ways to remotely teach the fine anatomy of the head and neck. How, for example, could they demonstrate the most certain way to identify the threadlike nerves that are the target of anesthetic injections?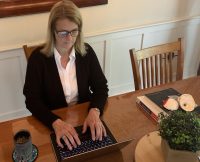 "This part of the class is where students learn how to identify structures and how to locate them on a variety of specimens," says Pessina.  "Students normally spend hours in the lab looking at the different bodies because things don't look the same in every body. It's terribly important that they learn to appreciate these variations."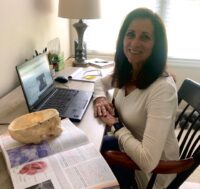 The three colleagues and friends were accustomed to working under pressure. Even in the best of times, they would spend hours each week communicating in person and through email, but the challenge of remote teaching was something they hadn't prepared for. One bit of reassurance, says MacNeil, was their confidence that the Medical Campus Educational Media department was there for them—in one instance, a support staff member had called her to ask what kind of help she might need. The Dental School's Academic Affairs office was similarly supportive, responding almost immediately to their many questions. But despite having all the backup they could wish for, the team had concerns.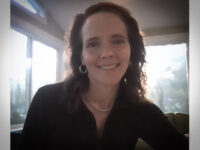 "There was definitely a sense of loss on behalf of the students," says Whitney. "There was a particular loss for the lab experience, which they had all been anticipating as the culmination of the year of study."  Replacing that experience would not be easy. The team's first idea was to go into the lab and take pictures, but the lab was closed. The next option was to learn what was available online.
The team felt it was important to use actual dissection images; animations, they agreed, couldn't lend the same texture and variance as cadaver images. "We were able to find a great online library of dissection images of a very high quality," says Pessina. "After receiving permission to use and edit the photos, we created a custom library for our students. We recorded virtual lab experiences using the images and also distributed the collection to the students for independent study."  They also supplemented these materials with custom videos made using a 3D-anatomy software program.
Within days, the teaching team was lecturing in synchronous Zoom sessions that allowed students to participate in class discussions. They also made videos using an iPad camera in which they sketched anatomical structures and pathways that would have ordinarily been drawn on a classroom chalkboard. Those efforts and more enabled the class to stick with the original syllabus, and the team was convinced that they allowed the academic learning to progress at the customary pace. Still, the professors say, some important aspects of their teaching had been changed, and some revealed.
"Within the first few seconds of my first Zoom lecture," says Whitney, "I looked at a set of black boxes instead of our students' faces and became aware of the feedback I get from students' faces. It really surprised me to learn how much I rely on that nonverbal communication. I was grateful for the few students who turned their camera on."
Pessina gained a similar insight. "I realize now how much the student audience enhances my lectures," she says. "I also realize that I usually lecture standing up, so I started standing during my Zoom lectures and immediately felt more in my zone.  Another thing I never realized was how much I use my hands when teaching. When I watched one of my Zoom lecture recordings at high speed, I was shocked to see my hands moving all over like a third-base coach giving signals."
MacNeil says she missed the easy verbal exchanges that were such a rewarding part of her in-person lectures. "Asking questions via Zoom can be challenging," she says. "In small group sessions, it seems that directly asking questions at specific time intervals works best. In larger classes, the chat function allowed me to address each question. Also, I have to admit that I was initially very challenged by the technology. I learned how to adapt with each audience."
By the end of the semester, all three professors were convinced that their efforts were successful, a conviction that was supported by their students' strong performance on the final exam, which had the same scope and detail as the originally planned exam. They even found a way to reinvent the collegial informal interactions that were so important to the pre-COVID school environment.
"We decided to invite our students to lunch on Zoom, and they showed up," says MacNeil. "We were so happy to see the students informally and to share some laughs."
The Correct Answer Is "Software"
Linda Afifi had an advantage. In her previous teaching position, Afifi had been expected to put much of her teaching online. So in mid-March, when the director of the Human Body Systems course in the Master's of Medical Sciences program learned that all of her teaching would henceforth and immediately be taught remotely, she got down to business, if not business as usual. Business as usual would have brought her to the School of Medicine's state-of-the-art recording studio, but business during the time of coronavirus had closed the studio and kept her home, where available technology was limited to the Camtasia video production software on her laptop.
"It actually worked fine," says Afifi, whose spring semester class in human anatomy, Human Body Anatomy, had 125 graduate students. "The audio isn't as ideal as it would have been if I recorded in the studio, but it was enough to convey the content of my lectures effectively."
Afifi's course was particularly well suited for remote teaching: it had no labs, and its instruction consisted of in-person lectures with additional supplementary pre-recorded videos. "I have limited teaching time with my students, so I substitute a lot of content with online videos," says Afifi. "I find that students want to see videos in tandem with the live lectures. The pre-recorded videos give me the opportunity to elaborate on some principles of anatomy that otherwise would be omitted or briefly explained in an otherwise content-heavy, two-hour weekly lecture."
At the time of transition, Afifi had recorded lectures ready to go for some weeks, and she used Zoom to deliver lectures in other weeks. That worked well, she says. The students asked questions and interacted with her and with each other. What worked less well was her ability to read her students' faces and otherwise sense how well they were learning the material. That important feedback loop is hard enough to read when students appear on camera in Zoom, she says, but it's a non-starter when students don't even turn on their cameras. "When they do that," she says, "I spend a lot of time wondering 'Did they get that?'"
For Afifi, the biggest challenge of remote learning was student assessment. "The big question was how do I administer the exam," she says. "You still want to hold them to the same graduate-level standards, so any open book approach is out of the question. Also, human anatomy is not the kind of course that can be graded by writing papers."
Afifi found the answer in the same place that a great many remote learning questions are answered: in software, specifically in examination software called ExamSoft, which delivers the exam to students and can monitor students with remote proctors, in addition to video and audio recordings.
"Since the proctoring software is sensitive to movement and sounds, students had to give up the use of certain things such as using scrap paper," says Afifi. "Any minor movements would flag their actions, and the red flags would have to be viewed on a case-by-case basis, which leads to delays in final score reports. Despite that change, the students adapted well and performed beyond expectations for these unique circumstances."
Afifi also worried that remote teaching rendered her classes indistinguishable from the forest of anatomy tutorials on YouTube or other online platforms. She took some comfort, she says, from her perception that many students appeared to truly enjoy her Zoom sessions. "I'm quarantined too," she says. "And the longer I'm quarantined, the nicer it is for me to see my students; to have them join me. In class I began to feel that they want that, too. I think, now that they're quarantined at home, they really want that sense of community. I feel that, in these times of isolation, they want to come to a class section and feel connected."
Don't Be Afraid to Change Course
For the seven faculty members in the Physician Assistant's Master's program, the leap to remote learning required more than moving the program's courses to an online format: it required entirely new courses. At the time of transition, 28 students in the class of 2020 were in the midst of clinical rotations and 30 students in the class of 2021 were about to start pre-clinical rotation training, which includes hands on instruction in such things as basic life support and advanced cardiac life support, along with some medical procedures whose teaching necessarily entailed contact with patients.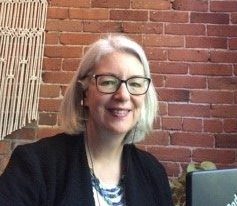 "The 2020 students had done only one week of a four-week block of the clinical component," says program director Susan White. "We had no choice but to replace those clinical rotations."
White's team, which includes Medical Director Melissa Petrillo, Director of Research John Weinstein, Director of Clinical Education Angela Reffel, Director of Didactic Education Aliza Stern, Associate Director of Clinical Education Adam Broughton, and Associate Director of Didactic Education Dan Tzizik, decided to meet daily via Zoom and use Microsoft Teams to work together on projects. Goal number one was to come up with some courses to replace those clinical rotations where students were no longer safe, important courses where students learned from clinical experiences in such areas as internal medicine, pediatrics, family medicine, and surgery.
"We took a look at some of the electives in our program," says White. "We have five electives, and that should have allowed us some play, but we didn't have any electives that were not clinical, so we created some, including a new course in public health. Another speedily created course involved self-directed review of virtual cases, made possible with an app called Full Code.
"Full Code is meant to be an emergency room simulator," says White, "but it has other urgent care cases. It allows you to go in, take a personal history, decide what labs you want to order, what medications you want to give. And for us in the program there is a dashboard that lets us see how students do. Students can run the case over and over again if they don't do the right thing. You can learn a lot from mistakes."
For the incoming class of 2022, which arrived on March 26, the team had to decide how to teach things that had always been taught in person. That list included the physical exam, which in normal times was taught on a week-to-week basis timed to coincide with anatomy lessons about the body parts being examined.
"We decided that we are going to mail them their stethoscope and their otoscope and ophthalmoscope," says White. "We can use video to teach them what to do with it, and if they're able to practice with someone that's fine, but when they come back on campus we'll have to have some small groups to review their learning."
Get Support, Give Support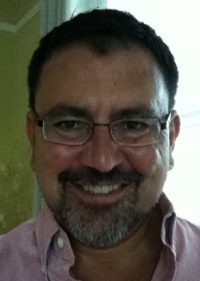 Bob Joseph, a psychologist and cognitive neuroscientist who has taught biostatistics in the School of Medicine's MS in Medical Sciences Program (MAMS) for ten years, was well aware that some of his colleagues had long ago made it a habit to record their lectures and put them online so they would be available to students at all times. He chose not to.
"It seemed very hard to teach that way," says Joseph, an associate professor of anatomy and neurobiology at the School of Medicine and a mentor to graduate students in the MAMS program. "I couldn't imagine not having student interaction and not getting the kind of feedback from students that allows me to gauge their understanding."
By the last week in March, Joseph had no choice but to start imagining exactly that. He began making lists of things he had to do to teach remotely to 130 students. "The first thing I had to do is record lectures on Zoom," he says. "I would go through the lecture material, narrating it from my slides and posting voiceover narration of the slides. I felt like a live Zoom lecture would be too challenging because it would be too hard to field questions from students. Then I started to arrange question and answer sessions, where students could ask questions after they had reviewed the lecture materials, and that worked surprisingly well."
Joseph understood why—while many courses would transfer smoothly to a remote format—his course, biostatistics, was not among them. "I think if I were talking about my real content area, which is cognitive neuroscience, it would have been easier," he says. "But statistics is sequential and logical. It's not very forgiving if you misspeak or leave out a critical point. Sometimes I would start talking and just realize that I would have to start all over again.  I could have used video editing, but I chose to just start again, even though that would take me a lot longer than 60 minutes to record a 60-minute lecture. Eventually, I got used to what felt like speaking into a void."
There was also the problem of exams. Joseph had always used paper exams, and he worried about what might be lost in moving midterms and finals to a remote teaching environment. He had always tried to help students gain the ability to look at statistics and have "an intuitive understanding of how a given statistic works, something that would give students a critical take on statistical tests and their results, whether from their own research or from those reported in the literature." His commitment to that principle, he felt, complicated the transition to ExamSoft's remote proctored testing, which limited students' use of tools to a provided online calculator and notepad. "I did not want to replace the problem solving and more conceptual component of the exams with overly technically or otherwise trivial multiple-choice questions," he says.
Eventually, and with excellent support from the IT department, Joseph managed to design new exams that, using a series of multiple-choice questions to solve a research problem step by step, satisfied his requirements. "By the second exam I got a feel for how to do it," he says. "Now, when we can go back to in-person teaching and exams, I plan to use electronic testing. So the upshot is that it's made me see the advantages of using electronic exams, and I won't be asking TAs to spend a whole week scoring pages of paper-and-pencil tests."
"I think this transition is really important, and I think our success has been amazing," says Joseph. "You wouldn't have imagined that this could have worked. We started to plan for the transition several weeks before in-person teaching was suspended. In retrospect, I think the time that we put into assuring students that everything's going to be OK was really important—they needed to know that our faculty and support teams were doing everything they could to help them to succeed."
Small Groups, Big Interactivity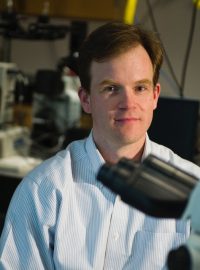 For Chris Gabel, the School of Medicine's move to remote learning presented a double whammy. First, as an advisor to incoming PhD students in the school's Program in Biomedical Sciences (PiBS), he would ordinarily help students navigate laboratory work that is usually done during spring semester. This year, of course, for most students, no lab work was done in the second half of the spring semester.
Second, as an associate professor of physiology and biophysics who taught a spring semester course in cell physiology, Gabel would normally meet once a week for a lecture class, and for breakout sessions led by teaching assistants. This year, there were no classes in the second half of the spring semester.
"In the beginning," he says, "I thought: 'Oh God, how am I going to make this work?' The physical lab work was not possible. That meant the students couldn't do things like microscopy, which involves learning how to use a microscope, looking at samples, getting an image and analyzing it. They could still analyze things, but they couldn't really learn how to use the equipment."
But Gabel did make it work. The scheduled lab rotations continued remotely, mainly as Zoom lab meetings, and the students continued their project lab work by reading relevant sources and doing computational and data analysis. Zoom also became the thoroughfare for communication with the 12 students in his cell physiology course, as well as his teaching assistants. That worked, says Gabel, although in the beginning at least, much of the quick and easy dialogue with students was absent.
"In a live lecture, you can have a complicated back and forth scientific discussion," he says. "That's much harder to do on Zoom, and that back and forth is an important part of learning how to be scientist, so I worried about that. I also worried that people were not absorbing the information as well as they would in a classroom. It's hard to know, because when you give a lecture on Zoom you can end up talking to your computer for an hour."
Gabel would soon learn a few helpful tactics, like breaking the class into smaller discussion groups, adding a bit more interactive structure with specific questions for the students to consider, and including a moderator in the group to help the lecturer field questions from the online chat function in real time—all of which, he says, made the Zoom sessions more lively and effective.
Gabel's students apparently appreciated the effort. Margaret Downs says she was surprised at the ease of the two-way flow of information in the breakout sessions. She says she found professors accessible, and felt that she learned as much remotely as she would have learned in class. "I can't say that anything about it was actually better than in-person classes," says Downs, "but I was surprised at how close it comes to being as good as."
Alex Tavares was skeptical when he learned that classes were going remote, but the transition proved to be seamless. "The lectures were always up on time and they were all clear," he says. "Students could ask always questions throughout the lecture." He points out that there were some unexpected benefits to remote learning. "I think the biggest advantage was that all lectures on Zoom were recorded," he says. "That meant that you could go back and watch the lecture again if there was something you didn't quite get the first time."
Gabel came away convinced that most of his students, and many faculty, have realized the considerable potential of remote learning.  "All of that," he says, "is going to be an advantage going forward."
The World Has Changed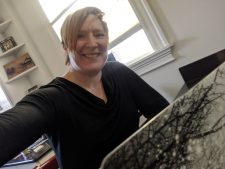 Ann Zumwalt's spring semester course could be expected to offer some excellent lessons about teaching remotely in the age of COVID-19.  Called Teaching in the Biomedical Sciences, it prepares graduate students to design lessons and coursework for medical and graduate biomedical courses. The course's weekly three-hour classes are generally a mix of short lectures and workshops, with students working on both group and individual projects. This spring, the six students in this course were the first class charged with creating lessons that could be taught remotely.
"They really created some amazing lessons," says Zumwalt. "They were incredibly creative and super interactive, and they used online tools in innovative ways."
Zumwalt says one student employed Trello, a popular project management program, to facilitate discussion with the posting of questions and answers; another used Zoom's "annotate" function in an exercise where learners worked together to correctly label images. Others used common quizzing platforms like Kahoot and PollEverywhere for immediate application of the lessons during class time. By exam time, the students' work, as much as her own, had persuaded Zumwalt of the promise of remote learning.
"I was impressed with how much connection you can have on Zoom," says Zumwalt. "But I think the most important thing about this class was something else. It was that in our discussions, we did not just go from 'Okay, we were teaching this class one way this week and now we are doing it this way.' Instead, it was 'Okay, let's acknowledge that the world has changed for all of us, and that we now have to look out for each other in ways that we didn't have to do before.'"
---
Medical Students Find Real Answers in Virtual Rooms
At the School of Medicine, medical students in their second year were fortunate enough to escape major disruption, if only temporarily. Just as all coursework was jumping to digital, "second years" had wrapped up classes and started studying for national licensing exams. When they returned to coursework on May 18, however, they entered into a virtual curriculum that will take them through clerkships discipline until August 17.
Other medical students, meanwhile, found themselves in a variety of newly created learning experiences back in March. Cheryl McSweeney, director of the Essentials of Public Health course, says the School of Medicine entered this spring semester with exciting plans for first-year students, involving a new collaboration with the School of Public Health. "For the first time," she says, "we had planned an interprofessional, case-based educational experience with medical and public health students that was intended to be in person in March."
With that planned in-person experience off the table, faculty used Zoom to present the collaborative event, where local experts debated restrictions on vaping from their varied perspectives.
"Using Zoom breakout rooms, students from both schools were able to consider the public health and medical implications of vaping together," says McSweeney. "They were able to engage in an exchange of ideas across disciplines, despite the physical barriers."
At the end of the third year of medical school, students generally take part in an assessment where they demonstrate their clinical skills, including communication, clinical reasoning, and physical examination, primarily by interacting with standardized patient actors. In the time of remote learning, this was not feasible. So the Medical Education Office at the School of Medicine, through the efforts of Amber Diaz, Christine Phillips, and Joseph Rencic, course co-directors of Doctoring 2, quickly swapped the traditional face-to-face process with a Zoom-enabled experience, one in which assessors, students, and standardized patients all entered a virtual room where students interviewed the patient.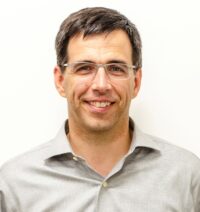 "The virtual approach allowed students to participate in this vital assessment exercise and get faculty feedback in real time," says Rencic. "It felt very close to an actual patient experience in a hospital or office."
For rising fourth-year medical students, who were suddenly unable to enter real clinical environments, faculty designed a new elective called Preparing for Fourth Year. "The goal," says Molly Cohen-Osher, assistant dean of Medical Education for Curriculum & Instructional Design, "was to expand on student's knowledge and skills to better prepare them for their fourth year, sub-internship, and future residency."
The new course used a mix of synchronus and asynchronus work via Zoom and Blackboard, as it focused on the several themes, including knowledge and skills required for sub-internship (a required clinical rotation in the fourth year where the student acts as an intern on the team); knowledge, skills, and attitudes around caring for patients with COVID-19 (including ethics, disparities, and telehealth); knowledge, skills, and attitudes around caring for critically ill patients; communication skills with patients and colleagues (including conversations around death and dying, conflict resolution, giving bad news, and agenda setting); and furthering knowledge of disaster medicine. Students were divided into learning communities that met regularly to discuss their work and to provide mutual support in their new and unusual learning environment.
---
Submitted by Art Jahnke.