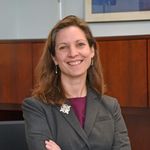 Kristen Goodell, MD | Associate Dean of Admissions
Dear Applicants,
Welcome!  I am so pleased that you are interested in Boston University Aram V. Chobanian & Edward Avedisian School of Medicine.  As the Associate Dean for Admissions here, My goal is to recruit a class of students each year who will excel in medical school and practice, who will contribute to society through their care of patients, contributions to knowledge, and advocacy, and who will enrich the medical profession by bringing a diversity of backgrounds and perspectives.
To do this, we use a holistic review process – which for us means that a human being reads every application, and we have no cut-offs or strict formulas.    Our committee seeks to understand who each applicant is as a person and what they would bring to our school.   We are looking for candidates who are academically talented, thirsty for knowledge, and committed to serving others; in particular those people who are marginalized by our society.  If this sounds like you, please keep reading our website, and take a look at the videos that describe our application process.  If you are not quite ready to apply, you may also be interested in our MS in Medical Sciences Program to enhance your academic and professional readiness for medical school admission.
As a practicing family physician, I am exceedingly proud to work in a system that provides exceptional care without exception, particularly to a diverse group of under served patients.  I know that my clinical work makes a difference, and that makes all the difference to me.   As an Academy Medical Educator (I teach in the "Doctoring" course) I am proud to guide our students as they learn about social determinants of health, develop communication skills at the highest level, and practice the physical exam and clinical reasoning.  As the person who oversees the admissions process, I am happy to share information about our school and look forward to learning about you.
Warm Regards,
Kristen Goodell, MD
Associate Dean of Admissions