Preliminary Program in Medicine
The one year program in medicine at BMC provides residents who are planning to train in other subspecialties with a broad and diverse experience in internal medicine. Preliminary interns are fully integrated into the residency program and complete all the same inpatient rotations as our categorical interns.  We have a diverse patient population at BMC.  Similar to the categorical interns, preliminary interns rotate through the 2 campuses at BMC as well as the West Roxbury VA.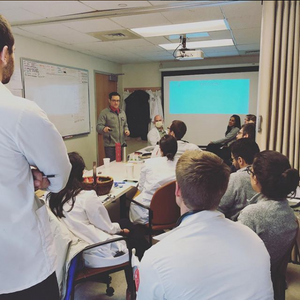 Elective time is integrated throughout the intern year.  Preliminary interns have the option of choosing inpatient or outpatient electives or a research project.
We offer both MICU and CCU blocks for 6-10 weeks total, and an emergency medicine block for 2-4 weeks.  The rest of the year includes general medicine ward time, and multiple inpatient sub-specialty ward rotations (either Heme/Onc, Geriatrics, Cardiology or Renal).
Housestaff from our one-year program have gone on to such specialties as Neurology, Anesthesiology, Physical Medicine and Rehabilitation, Ophthalmology, Dermatology, Radiation Oncology and Radiology.   This internship year allows those going onto subspecialty training the opportunity to have a broad and hands-on exposure to internal medicine.  Those staying on at BMC for further training find the relationships that they developed with internal medicine residents most valuable.
For further information regarding the preliminary program, please contact the program office internalmed.boston@bmc.org