HIV Pathway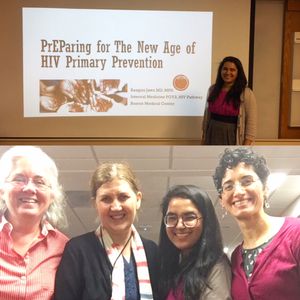 HIV at Boston Medical Center
The HIV Pathway trains physicians in cutting-edge longitudinal care of patients with HIV. Caring for patients at the Center for Infectious Diseases at BMC is a unique opportunity to specialize in team-based HIV medicine as a resident.  Boston Medical Center has one of the largest and most diverse HIV clinics in the Boston area. Of over 1,450 HIV-infected individuals in 2012:
60% were black or African American
20% were Latino
37% were women
43% were foreign-born
Physicians trained in general medicine, infectious diseases, and other subspecialties continue to be vital to the care of patients with HIV; therefore, participants in the HIV pathway will also have a variety of career paths.
HIV Pathway Experience
Residents will develop expertise in management of HIV including anti-retrovirals and HIV-associated co-morbidities and will also become adept at caring for patients in a team which includes care management, social work, addiction treatment, peer advocates, nursing, pharmacy, and mental health providers. Residents will devise and complete a mentored scholarly project related to HIV and obtain eligibility for AAHIVM certification as an HIV specialist.