Surgical Critical Care Fellowship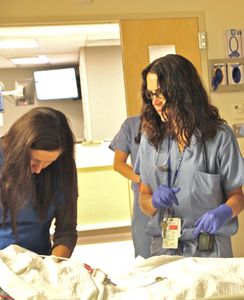 Boston Medical Center (BMC) is a tertiary-care, safety-net hospital, which serves the region's underserved population, including those who are undocumented. BMC has earned verification from the American College of Surgeons as a Level 1 adult trauma center and a Level 2 pediatric center. The hospital is home to the busiest trauma center in New England and sees the highest percentage of penetrating trauma cases in the region.
The Sections of Acute Care and Trauma Surgery/Surgical Critical Care in the Department of Surgery admit approximately 2,400 patients each year. Seven core Surgical Critical Care faculty, all boarded in surgical critical care and with additional qualifications in traumatology and acute care surgery, provide 24/7 services for the institution. Surgeons in the group are full-time faculty members of Boston University Chobanian & Avedisian School of Medicine.
The newly renovated Surgical Intensive Care Unit (SICU) at Boston Medical Center is a 28-bed, state-of-the-art unit that admits more than 1,500 patients annually. The SICU cares for patients with multisystem trauma, neurotrauma, or multisystem organ failure, as well as those who require perioperative hemodynamic monitoring or critical care for a wide range of general, vascular, thoracic, urologic, neurologic, and orthopedic diseases.
The Surgical Critical Care Fellowship offered by the Section of Surgical Critical Care at BMC is an ACGME-accredited one-year clinical fellowship that provides rotations in the surgical, medical, and neurointensive ICUs. In addition, elective rotations in radiology, ultrasound, trauma and acute care surgery, and anesthesia are included. Applicants should be board-eligible in general surgery and will need to be licensed by the state of Massachusetts prior to beginning the fellowship. General Surgery residents must have finished at least three categorical years in an ACGME-, RRC-approved residency program to be considered.
Our patient population provides a unique and robust educational opportunity in the setting of an urban hospital that is well funded and supported by the state's universal health care program, as well as robust philanthropy support and regionally focused federal resource distribution efforts. At the forefront of our institution is awareness of the social determinants of disease. Boston Medical Center has a history of tackling these disparities through programs that have been nationally recognized.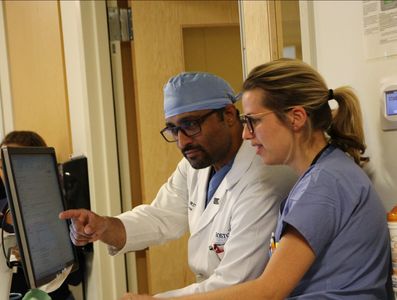 Our mission is to provide exceptional patient care for critically ill and injured patients while increasing the general level of knowledge in this discipline through formal education and independent research. Graduates complete our fellowship as competitive candidates for careers in an academic setting or private practice.
The focus is on training the modern acute care surgeon and surgical intensivist. The BMC/BUSM SICU fellowship offers more operative experience than that afforded by some SICU fellowship programs while still ensuring that all ACGME standards required to qualify for the Surgical Critical Care boards are met. Fellows will develop skills in the care of critically ill patients as well as the administration and management of an intensive care unit. Fellows will also develop skills in the management of acute care surgery patients, and will have the option of being involved in clinical and/or basic science research related to trauma and critical care.
Boston is a busy metropolitan city, offering a wide variety of cultural activities, as well as easy access to four-season recreational opportunities on land, slopes, or sea. With a unique blend of American history and cutting-edge innovation, Boston is an ideal place to live and work.
---
Application Information
To apply, please use the Surgical Critical Care and Acute Care Surgery Fellowship Application Service (SAFAS), which was developed by the Surgical Critical Care Program Directors Society.
Please check back for 2024 Interview Dates.
---
Contact Information
For additional questions or information, please contact Lana Ketlere or 617-638-8442.