10/7/2021 Grand Rounds
Infant Mental Health Practice and Education: Perspectives from South Africa
Speaker: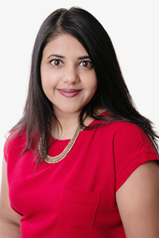 Dr. Anusha Lachman
Child & Adolescent Psychiatrist
MBCHB, FCPSYCH, MMED (Psych), MPhil C&A, Cert Child Psych (cum laude)
Stellenbosch University, Tygerberg Hospital
Cape Town, SA

The legacy of colonial and Apartheid-based education in South Africa manifests in the quality of basic education and inequality that affects tertiary education. The challenge of teaching in an ethnically and culturally diverse classroom cannot be underestimated. This session will use Infant (IMH) and child mental health (CMH) as examples to demonstrate the challenges of teaching, training and research in a field that needs to reflect multicultural sensitivities in a Lower Middle Income Country (LMIC) setting.
Learning Objectives:

1. Describe the imbalances in knowledge about infant mental health in LMIC vs High Income Country.

2. Discuss how the ethnically and culturally diverse population in South Africa will need a multifaceted approach for C/AMH interventions.

3. Review alternative strategies in addressing IMH and C/AMH in LMIC.