Vascular and Endovascular Fellowship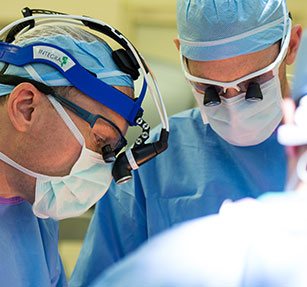 The Division of Vascular and Endovascular Surgery is dedicated to excellence in patient care, teaching, and research. As education is central to our mission, we are committed to educating future vascular surgeons.  The Vascular Surgery Residency Training Program is an Accreditation Council of Graduate Medical Education (ACGME) two-year program that accepts one new resident per year (a total of two residents at any one time).
For over 30 years, the program has been providing trainees with a diverse and challenging clinical and surgical experience supported by innovative didactic and research opportunities. We are proud to maintain a healthy balance between open vascular surgery and endovascular therapy.  We have full access to state-of-the-art endovascular suites and have a robust endovascular practice.  This ensures that upon graduation our trainees are competent in advanced endovascular techniques and complex open vascular surgery.
Trainees participate in several academic endeavors during the course of their training. At the beginning of the residency trainees choose to pursue clinical research projects, present their results at vascular meetings, and author resultant manuscripts. We believe that these experiences are essential to the development and practice of responsible, evidence-based vascular surgery, whether or not a career in academic medicine is ultimately pursued.
We have a robust multidisciplinary academic calendar that includes case conferences, journal clubs, didactic sessions on topics of controversy in vascular surgery, and vascular laboratory conferences. Our trainees are expected to actively participate and play a leadership role in these conferences.