Faculty Research Interests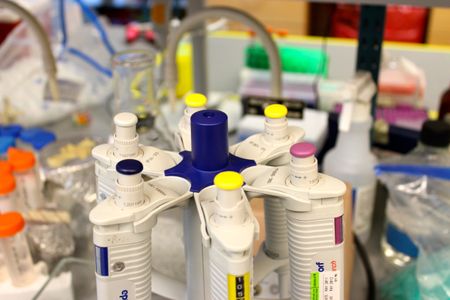 Surgical Research has expertise, resources, facilities, and environment to conduct research in both the basic and the clinical sciences of trauma  and surgical critical care, sepsis, surgical and endocrine oncology, wound healing and abdominal wall reconstruction. Research is multidisciplinary and includes investigators with specialties in surgery, medicine, physiology, pathology, biochemistry, immunology, microbiology, and molecular biology.
Principal investigators supporting major research efforts in the Department of Surgery are:
Tony Godfrey, PhD, Associate Chair, Surgical Research
Dr. Godfrey's research is focused on cancer genetics and molecular pathology. Research projects use state-of-the-art genetic and genomic approaches to address clinical needs in the areas of cancer diagnosis, prognosis and therapy. Currently the major focus of Dr. Godfrey's research is on Barrett's esophagus and esophageal adenocarcinoma; a tumor with rapidly increasing incidence in the United States and other western countries. The Godfrey lab works closely with translational research teams comprised of surgeons, pathologists and oncologists in order to develop new molecular approaches to cancer detection, staging and treatment.
See a listing of Dr. Godfrey's publications on ResearcherID, a service of the Thomson Reuters (Scientific) Inc.
Arthur Stucchi, PhD, Administrative Director, Surgical Research
Dr. Stucchi's research examines postoperative wound healing in the peritoneal cavity which is often complicated by unavoidable iatrogenic trauma to serosal tissues. The subsequent inflammatory response can compromise peritoneal fibrinolysis leading to the inevitable formation of intraabdominal adhesions; perhaps the most frequently encountered complication following any abdominal surgery. Research in the Stucchi lab has focused on the very earliest events in the pathophysiology of adhesion formation in order to identify novel pathways for the prevention of this life-threatening complication.
Peter Burke, MD, FACS
As the Chief of Trauma Services at a busy urban Level-I Trauma Center, Dr. Burke is involved in the daily clinical care of a diffuse population of trauma patients. His clinical practice also extends to the provision of surgical ICU care and the management of trauma and surgical patients during their time in the Surgical Intensive Care Unit (SICU). The Burke lab focuses on research exploring the molecular events surrounding the response to injury. Specifically looking at transcriptional regulatory mechanisms altered during the injury response. Burke's clinical research interests involve developing a better understanding of the overall injury response with a special interest in the nutritional needs of trauma and ICU patients. The effects of metabolic and nutritional support on the inflammatory response and there interactions with other ongoing therapies in ICU patient's remains an area of active and ongoing study.
Hiran Fernando, MBBS, FRCS
As Division Chief of Thoracic Surgery at Boston Medical Center and Professor of Surgery at Boston University School of Medicine, Dr. Fernando has a clinical practice that utilizes minimally invasive approaches to treat lung and esophageal diseases.  His research interests are related to this and are focused in two main areas. The first is the appropriate management of high-risk patients with early stage (potentially curable) lung cancer.  Treatment options for such patients include minimally invasive resection, ablative techniques and sterotactic radiation therapy.  The second area of focus is with gastroesophageal disease, Barrett's Esophagus (BE) and achalasia looking at minimally invasive surgical  or endoscopic approaches for therapy.
Virginia R. Litle, MD, FACS
As an Associate Professor of Surgery in the Division of Thoracic Surgery, Dr. Litle is involved in the daily clinical care of patients with Barrett's Esophagus (BE), gastroesophageal disease, esophageal cancer and lung cancer. As Director of the Barrett's Esophagus Program, Dr. Litle is actively building the Barrett's Esophagus Outcomes databank through which patients undergoing ablation of Barrett's esophagus and anti-reflux procedures are followed for response to treatment. She works with Dr. Tony Godfrey implementing a less invasive approach for surveying patients with Barrett's esophagus involving a sponge for collecting precancerous cells and genetic material to improve the management of patients at risk for the deadly esophageal cancer.
Beda Sarkar, MD, PhD
As an Attending Surgeon in the Section of Acute Care and Trauma Surgery and Laszlo N. Tauber Assistant Professor of Surgery at Boston University School of Medicine, Dr. Sarkar's research examines the negative impact of alcohol on survival in sepsis using a murine model. The projects examine the acute phase response generated in the liver as well as neutrophil phagocytic function which clears the bacterial infection.