Alumni Spotlight: Fall 2018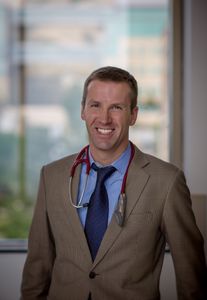 John Ryan, MD
Class of 2008
Chief Resident Class of 2009
Current position:
I am currently Associate Professor, Division of Cardiovascular Medicine, Department of Medicine, University of Utah, Salt Lake City. I am also the Director of the Pulmonary Hypertension Program, the Dyspnea Clinic and the Inpatient Medical Director for Cardiology.
Path to that Position:
After residency I stayed on a for a year as a Chief Resident at BUMC. Then I moved to Chicago to do cardiology fellowship. I did advanced training in heart failure and pulmonary hypertension and then moved to Salt Lake City, Utah to take on my first faculty position here at the University of Utah.
Proudest Professional Accomplishment:
Successfully building the Pulmonary Hypertension program into one of national and international repute.
Current Projects:
I oversee cardiology education for the MS1-4 within University of Utah School of Medicine. I am trying to use the skills I learned at Boston Medical Center to optimize the learning experience for the medical students here in Utah.
Outside of Medicine:
I am married to Jeanna Tachiki, who was RD at BUMC who I met while she worked with Dr. Caroline Apovian.
Fond Memory from Residency/Chief Residency:
Sitting in morning report listening to Joel Caslowitz, MD, share an seemingly endless number of clinical anecdotes, each of which provided a succinct clear teaching point. He is greatest teacher I have ever seen.
Advice for Current Seniors:
You will be successful – it may not be in the field you plan it to be, or in the town that you want it to be, or even in the timeline that you expect, but as long as you continue to strive towards excellence, you will find success.