Housestaff Spotlight: Spring 2018
Amir Meiri, PGY 3 Resident
Specialty
GIM/hospitalist



Pathway
QIPS – Quality Improvement & Patient Safety
Professional Interests
I am interested in a career that balances clinical medicine with administration and policy research. I pursued a career in medicine with the aim to not only help individuals but also groups of patients — populations. Community and public health are intertwined with traditional clinical medicine; understanding the intricacies that affect an individual's access to care and ability to receive adequate care are equally important to knowing how to treat diabetes or hypertension. I want to better understand how to care for patient populations within a hospital community and the greater national community by improving our healthcare system, through payment model reform that focuses on access to care, quality of care, and unique patient characteristics and experiences.
Current Projects
Currently, my major project has been through our resident union, CIR. I am leading a nation-wide recommitment campaign at BMC to help combat a threatened national union environment. There is a US Supreme Court case with an imminent decision result awaiting, which will likely further weaken unions across the country, including CIR. As the CIR Massachusetts Regional Vice President and a member of the CIR Executive Committee, I am helping re-engage our members in MA back into CIR, strengthening our unified voice as house staff.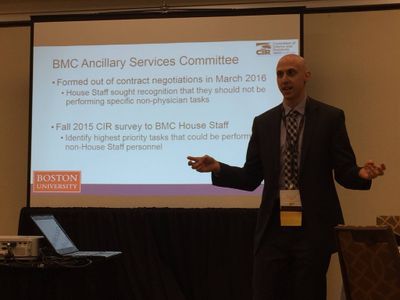 As a Chair of the Ancillary Services ("Scut") Committee, I am working with residents and the BMC administration to help relieve the burden of many of the non-educational "scut" tasks that residents do to provide executional patient care at BMC. We have had much success over the last year helping to streamline many operational and workflow challenges on the inpatient services, including expanding the unit clerk role to include obtaining outside medical records and utilizing our IT system to order discharge follow up appointments for patients, and many more projects down the pipeline.
In addition, I have been involved in the inpatient sepsis quality improvement initiative to improve hospital mortality of patients who develop sepsis while inpatient. With the support of nursing leadership, I helped develop and implement a new Epic order panel to streamline the selection of important tests and medications, in addition to educating staff about sepsis and strategies to recognize sepsis early and treat it more effectively.
I am further developing my research focus to better understand the impact of social determinants of health on health policy. My interest grew out of researching the relationship between social determinants of health and the Hospital Readmissions Reduction Program, culminating in an oral clinical vignette at a national conference. As I prepare for my upcoming GIM fellowship, I have been narrowing my research focus through reviewing the literature regarding understanding the impact of patient characteristics in the evolving field of alternative payment models.
Also, I am working on various reflective narrative pieces with the goal of publication in an online journal or blog.
Favorite experience, case, or project
Beginning residency, I knew I wanted to take on leadership roles and work with administration to help improve hospital workflow and resident well-being. Being part of CIR, our resident union, has allowed me to work towards these goals and has been a great residency experience. I have had the opportunity to work with various administrators within the hospital, providing me with unique insight into the daily operations of our incredible institution.
In addition, my primary care experience in East Boston has also been truly memorable. My preceptors are fantastic role models, highlighting the joys of primary care in an community health center setting. The residents I had the pleasure of working with over the last few years have pushed me to become a better physician. And the extraordinary patient population in East Boston, from native Italian-American Bostonians to diverse immigrants from across the globe, has taught me an incredible amount about humility, goal aspiration, and well-being, for which I am truly appreciative.



One goal you hope to accomplish in the future
Our healthcare system is broken for a variety of reasons – I'd like to contribute to fixing it, through evidence-based policy implementation.
One thing you are going to miss from residency
By far, the people! Residency is a truly unique training experience and working environment. These last nearly three years have been quite a journey, and I couldn't have gotten here without the support of my co-residents. I will miss that camaraderie – from the 3AM night float workouts to the weekend lunch rounds. It has been a blast!