International Graduate Training Program
The mission of the International Graduate Training Program in Dermatology at Boston University is to teach international medical graduates state-of-the-art clinical practice of dermatology and related sciences of cutaneous biology with the goal that graduates will then advance care for patients with skin diseases in their home countries.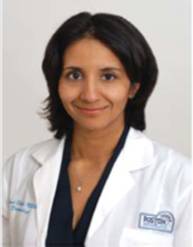 A message from Dr. Debjani Sahni, Director of the International Graduate Program in Dermatology at Boston University School of Medicine:
Thank you for your interest in our International Graduate Program in Dermatology and for visiting our website.
By teaching physicians from around the world, we, the faculty of the Dermatology Department at Boston University School of Medicine, are happy to spread our knowledge to areas of this globe, where dermatologic expertise is scarce or not existent, and through that extent our helping hands to patients with skin diseases in faraway places.
We are proud of our international graduates and their accomplishments, both during the training program and even more so in their professional lives in dermatology after graduation and the return to their home countries. Our international programs are unique in the United States, and maybe even in the world, as we not only teach in the classroom and let our trainees observe in the clinic, but directly involve them in patient care. Under direct faculty supervision, they take medical histories, examine patients, document the visits in electronic medical records, and perform the whole range of dermatologic procedures, including e.g. biopsies, cryotherapy, excisions, laser surgery, etc..
If you decided to join us for one of several different training programs, you would join a growing community of BU-trained dermatologists all over the world. Our student body is highly diverse and so is our teaching faculty with natives from eight different countries. Yes, the admission process is highly competitive and the demands of the program are high. We understand the challenges you face when you come to the US to study, but we also recognize the benefits you will gain from making such a courageous move. We are constantly thriving to further improve these academic programs and to keep them highly rewarding for our students.
Regulatory requirements to practice medicine are changing constantly everywhere, and we know that you may face hurdles at home with recognition of a US-based training. We are constantly working with our students on an individual basis and with authorities in different countries, and I can say that so far we have been quite successful in having our training program recognized in your home countries. We are committed to continue this advocacy on your behalf in the future. We are also very aware that our training is expensive, and that this excludes many potential candidates from joining. We do have a modest scholarship fund, but it is not large enough to provide more than a small partial coverage of the total tuition.
Please look around on this website and do not hesitate to contact us at dadrien@bu.edu, should you have any further questions. We'd be happy to help.
Faculty
Departmental Resources
If you wish to contact a former graduate, e.g. from your own country, we may be able to establish such contact. Just e-mail us at dadrien@bu.edu.
Graduates of our international programs have come from the following countries: Austria, Bahrain, Bangladesh, Brazil, Chile, Egypt, Ethiopia, India, Indonesia, Iraq, Italy, Jamaica, Jordan, Libya, Malaysia, Mexico, Oman, Pakistan, Philippines, Saudi Arabia, Syria, Taiwan, Thailand, United Arab Emirates, and Yemen.
Please click here for a downloadable brochure.
History of the International Graduate Program in Dermatology
The International Graduate Program in Dermatology was founded in 1988 by Drs. Barbara Gilchrest and Amal Kurban, when it all began with a one-year Diploma program. A two-year Master of Science in Dermatology Program was added in 1993 and a four-year Doctorate Program in 1996. Finally, the one year certificate program was established, that is geared particularly to international physicians who have already completed their dermatology training and who seek additional training in the US. All of these programs remain active and open for enrollment.
Until this year (2010), a total of 95 international physicians have received dermatology training within IGPD. The Master of Science in Dermatology Program has been the most popular program with a total of 51 graduates. Ten physicians have earned the highest degree, the Doctor of Science in Dermatology from the Boston University School of Medicine. Physicians have come from 25 different countries and 4 different continents. True to our mission, the vast majority of our former graduates has returned to their home countries and is practicing dermatology there. We at Boston University Dermatology are very proud for the excellent care our former graduates are providing to improve the lives of their patients with skin diseases. This includes quite a few graduates who are now occupying prominent leadership positions as Heads of Dermatology Departments and Professors of Dermatology in academic institutions.
In 2007, after 19 years of service as Director of the International Graduate Program in Dermatology, Dr. Amal Kurban passed on the leadership of this program. Since then, Dr. Ruenger has implemented reforms and updates to all programs, that ensure highest academic rigor and accountability well into the future.
In 2010, Dr. Rhoda Alani became the new Chair of the Dermatology Department. With this transition, renewed academic activities in the Department including research and teaching and recruitment of several new faculty also reinvigorated the International Graduate Training Program, which Dr. Alani and the dermatology faculty fully support.