Spencer Wilson, MD MSc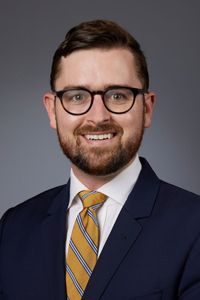 Site: Boston University Chobanian & Avedisian School of Medicine
Research Mentors: David McAneny, MD, FACS and Pam Rosenkranz, RN, BSN, MEd
Area of Research: Surgical quality improvement, with a focus on post-operative urinary tract infection, venous thromboembolism, and frailty; surgical education.
In his position as Research Fellow in Quality and Patient Safety in the Department of Surgery, Dr. Spencer Wilson was responsible for strengthening several initiatives that were designed to reduce the incidence of postoperative complications, with the goal of establishing comprehensive standards for the care for all patients undergoing major operations. As part of this fellowship, he analyzed national and institutional-level outcomes data to better understand complex systems and to identify areas for process improvement. He personally led and managed projects to improve the perioperative care of frail surgical patients, reduce postoperative urinary tract infections, and prevent postoperative pulmonary complications, among others. He has presented his work at the American College of Surgeons (ACS) Clinical Congress, ACS Quality and Safety Conference, the New England Surgical Society, the Massachusetts Chapter of the ACS Annual Meeting, the Massachusetts Quality Improvement Collaborative, and the Association for Surgical Education Conference. At BMC, he served on the Patient Safety Steering Committee, the Hospital Acquired Infections Committee, the C. difficile Prevention Taskforce, and the Housestaff Quality Improvement Council. He is the Service Chair for Socially Responsible Surgery and is a member of the Association for Surgical Education's Committee for Citizenship and Global Responsibility. He has also served on the American Venous Forum's Caprini Risk Score Committee with Dr. Joseph Caprini and was invited to present at the Venous-Lymphatic World International Network Foundation meeting at the World Exposition in Dubai.
Top Three publications:
Wilson SB, Shaikh SP, Rosenkranz P, Rush I, Kandadai P, Wang DS, McAneny D. Multidisciplinary project to prevent postoperative urinary tract infection. Journal of the American College of Surgeons. 2022 Jun 1;234(6):1101-9.
Janeway M, Wilson S,* Sanchez SE, Arora TK, Dechert T. Citizenship and Social Responsibility in Surgery: A Review. JAMA surgery. 2022 Apr 6.
Wilson S, Sutherland E, Razak A, O'Brien M, Ding C, Nguyen T, Rosenkranz P, Sanchez SE. Implementation of a Frailty Assessment and Targeted Care Interventions and Its Association with Reduced Postoperative Complications in Elderly Surgical Patients. Journal of the American College of Surgeons. 2021 Dec 1;233(6):764-75.
*Co-first author
Awards/Grants:
NIH T32 training grant
ASE Future of Surgical Education Essay Winner, 2022
Best Podium Presentation Award, Boston University Grasberger Research Symposium (February 2022)
2021 Boston Medical Center Quality Improvement Grant
Alpha Omega Alpha Honor Society, 2020
Additional Degrees/Education Acquired:
IHI Open Basic Certificate in Quality & Safety (Expected)