Basic and Translational Research
Research is a central mission at Boston University School of Medicine (BUSM) and Boston Medical Center (BMC), where research initiatives are supportive of all aspects of biomedical research, from exploration at the basic science level, to translating fundamental discoveries into treatments that improve human health.
Research also contributes to high quality education, training and development for students, residents and physician scientists. Conducted in an environment that fosters scientific inquiry within traditional surgical disciplines as well as across disciplinary boundaries, the mission  is to foster multidisciplinary research not only within the Department of Surgery but also with investigators from other departments such as Biomedical Engineering. This initiative is the key to translating basic research to the bedside using novel treatment modalities.
Learn more about our faculty's research interests
Research and Innovation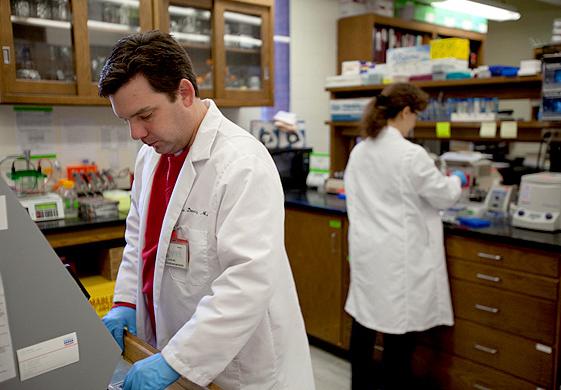 The Department of Surgery has historically made a major commitment to surgical research and has plans for significant expansion. Our extensive research initiatives are both laboratory-and clinically-based, providing research training opportunities to medical students, surgical residents and fellows.
Core facilities include analytical instrumentation, biomedical and cellular imaging, flow cytometry, immunohistochemistry, animal science center, microarray, proteomics, bioinformatics and a transgenic center to name a few. For a full listing of Core Laboratories & Facilities please click here.
Active collaborations with biomedical engineers broaden the opportunities in the areas of surgical devices, tissue engineering for repair and wound healing and drug delivery. Conferences, seminars, guest speakers and training programs are available through these collaborations and formal coursework is available within the School of Medicine and School of Public Health. Affiliations with over 25 Centers and Institutes affords investigators access to leading experts in major medical and surgical disciplines.