Loan Repayment Strategies
In 2021, student loan debt had swelled into a $1.6 trillion crisis in the US.  So, what are some strategies for students who are entering repayment on student loans?
Here are some smart student loan repayment strategies:
Get organized
Keep records of all your loans — along with their amount, terms, payments, and interest rates — in a safe place.
Avoid getting into trouble by automating your payments in bill pay.
Seek forgiveness through government programs
Research the federal programs that can get part of your debt forgiven.
Look into income-driven repayment plans
For recent grads struggling with a low income, income-driven repayment plans are an option.
Public Service Loan Forgiveness options
For those interested in working in not-for-profit, and public service jobs, the Public Service Loan Forgiveness program may be an attractive option. The AAMC provides a helpful tool to summarize the program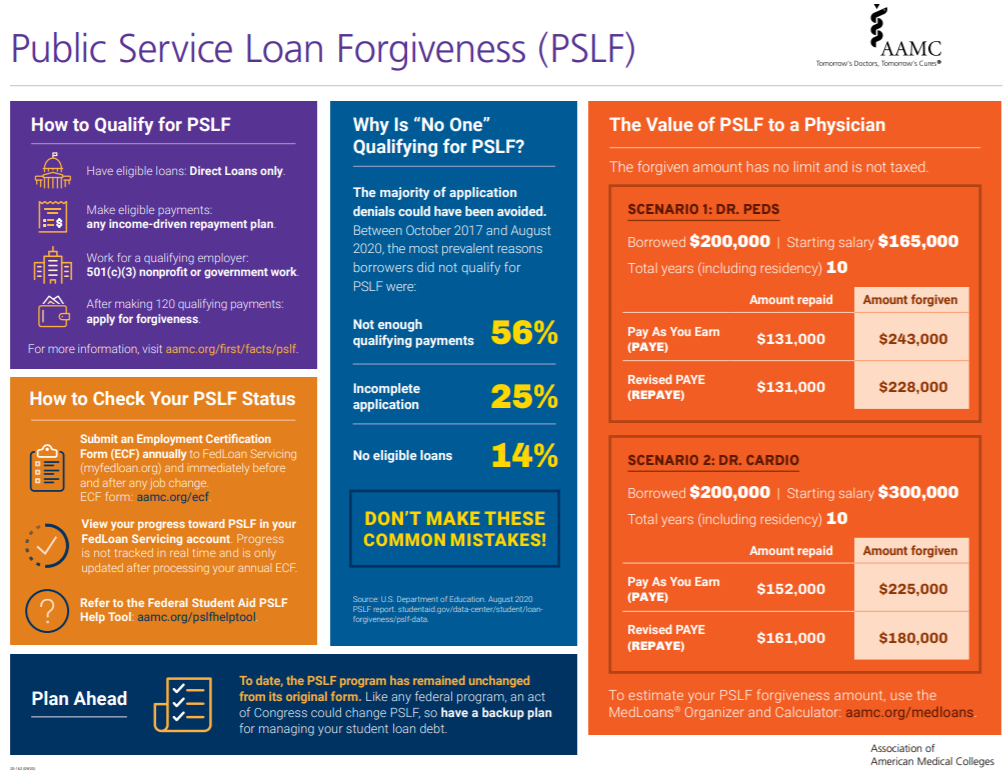 Remember that waiting will cost you
Don't be fooled by the six month grace period you get before you have to start making payments. While you are not required to make payments during the grace period most loans will still be accruing interest.
Refinance and consolidate
Investigate consolidating your loans and refinancing them. You might be able to get a lower rate or longer term — either of which could result in lower monthly payments.
Also, refinancing generally makes you ineligible for income-driven repayment plans and public service loan forgiveness programs.
Accelerate your payoff
Once you've organized, reduced, refinanced, and consolidated — start paying your loans off. You can speed things up by dedicating a small amount — $10 a month is fine, to start — as an additional payment. Be sure to inform your servicer that this is to be applied to the loan's principal — not to your next payment.
When money is tight, you can nix the additional payment. But otherwise, try to stick with it.
Additional Resources
MoneyGeek's Ultimate Guide to Paying Down Student Loan Debt
MoneyGeek's Guide to Student Loan Forgiveness, Cancellation, Discharge and Repayment Plans