Tips for Completing the CSS Profile and FAFSA
We have identified and listed below tips on aspects of the Profile™ and FAFSA forms applicants most frequently find confusing. Before you start filling out the forms we encourage you to review our tips. Helpful explanations of questions asked are also built into the Profile™ and FAFSA forms.
Returning medical students who have received BU need-based scholarship aid in the past are not required to file the Profile™.
Always use your legal name and correct Social Security Number.
Refer to your Social Security Card when completing your Profile™ and FAFSA and ensure that you use your legal name and correct Social Security Number as they appear on your Social Security Card. The student applicant's Social Security Number is required on all applications. Misplaced your Social Security Card?
Include your Social Security Number on your admissions application.
Your Social Security Number (SSN) is required in order for Boston University to receive your Free Application for Federal Student Aid (FAFSA). When completing the admissions application for your program at BUMC, we strongly encourage you to include your Social Security Number when you apply.
If you chose not to, or neglected to include your SSN on the admissions application, please review the Applying for Aid page of your school for further instructions:
BU Chobanian & Avedisian School of Medicine
Graduate Medical Sciences
Goldman School of Dental Medicine
School of Public Health
The SSN not provided on your admissions application will result in potentially significant delays in the review of your financial aid application. 
Filing your CSS Profile™ and FAFSA.
Incoming medical students are required to file both the Profile™ and the FAFSA to apply for BU financial aid. Whenever possible, complete both applications at the same time to avoid providing conflicting information. The FAFSA is required of all students to apply for federal and state financial aid while the Profile™ is required for institutional aid.
Use the IRS Data Retrieval Tool when filing the FAFSA
We encourage you to use the IRS Data Retrieval Tool (DRT) when completing the FAFSA. Using the IRS DRT will make completing the FAFSA easier, ensure that accurate income information is entered on your FAFSA, and simplify the verification process in the event that you are awarded federal financial aid and selected for federal verification.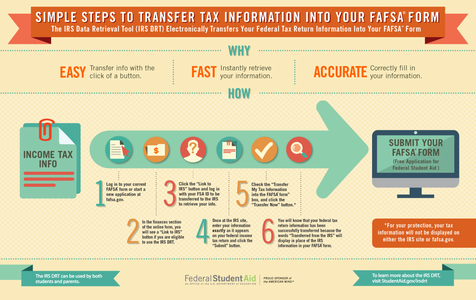 Report tax-deferred contributions to your pension and retirement savings.
Payments to tax-deferred pension and retirement savings plans (paid directly or withheld from earnings) include amounts reported on your W-2 form in box 12a through 12d (codes D, E, F, G, H, and S). The amounts must be reported on your FAFSA and Profile™ as untaxed income. If you overlook reporting this information and are offered financial aid on the basis of that incomplete FAFSA data, we may have to reduce your award later.
How to report business and/or investment farm value on the Profile™ vs. FAFSA.
The value of any family-owned business should always be reported on the Profile™. On the FAFSA, however, do not report the value of a family-owned business if your family owns more than 50% AND the business has 100 or fewer full-time employees. Business and/or investment farm value incudes the market value of land, buildings, machinery, equipment, inventory, etc., less business and/or investment farm debt.
Sign your FAFSA!
To complete your FAFSA, you must sign the application. Processing of your financial aid application will be delayed until a FAFSA has been submitted with both signatures, which may result in a reduction of your award.
Do not update your FAFSA unnecessarily.
Once you have submitted your FAFSA and you have received your Student Aid Report (SAR), please do not make any changes to it unless the SAR instructs you to do so. The information reported on the FAFSA is supposed to be a snapshot in time.
Is there help available while filling out the FAFSA?
Yes, you can call the FAFSA Hotline!  The Department of Education can help answer questions by calling 1-800-433-3243 .  There are also "help & hints" for each question as you complete the FAFSA.