E-Books

To find e-books, enter a title or topic in BU Libraries Search, then under "Filter My Results" in the right-hand column click "Available Online" and "Books/eBooks".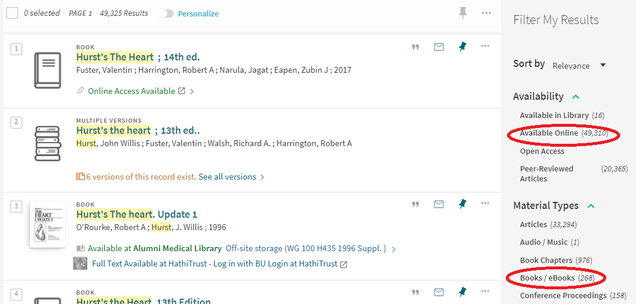 Additional Tools
Note: all the books in the following Medical and Charles River collections can be found through BU Libraries Search as shown above. The links merely provide quick access to some frequently-used collections.
To search for terms/concepts in a number of books at once, please view our most popular electronic book packages below, or see the full list of electronic book packages for more options.
Popular ebook collections:
*Access main UpToDate site while on campus and register for an account using 'Register' in upper right, then install UpToDate mobile app and sign in with your account to use off campus. You will need to re-authenticate while on campus every 90 days. 
View additional Charles River Campus e-book collections.
Contact library staff at refquest@bu.edu if you need help finding a book.