Xiaoling Zhang MD, PhD
Assistant Professor, Biomedical Genetics
Assistant Professor, Biostatistics
72 East Concord Street | (617) 358-3580

zhangxl@bu.edu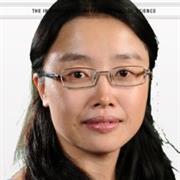 Sections
Biomedical Genetics
Centers
Evans Center for Interdisciplinary Biomedical Research
Biography
Dr. Xiaoling Zhang is an Assistant Professor of Medicine in Biomedical Genetics at the Boston University School of Medicine . She seeks to discover genetic risk factors of complex human diseases, and further to identify their underlying functional mechanisms. She received her doctorate in Bioinformatics from Boston University and her Master's degree in Computer Science from the State University of New York at Buffalo. After being trained in epidemiology genetics and genomics at the NIH-NHLBI Framingham Heart Study, she is actively pursuing the driving force of Alzheimer's disease (AD), and its shared genetic structure and functional pathways with other diseases including cardiometabolic disorders and some type of cancers by integrating genome-wide DNA & RNA sequencing and a variety of functional genomic data.

Her primary research interests focus on: 1) develop methods for analyzing large-scale genetics and genomics data including microarray, genotype and next-generation sequencing data; 2) discover common, low-frequency and rare variants associated with complex diseases and their risk factors; 3) identify and prioritize putative causal genetic variants by integrative genomics study that involves combining biological information from a wide-range of data resources with eQTL analysis, pathway analysis and regulatory network analysis; and 4) translate the above computational findings to the molecular mechanisms underlying human genetic disorders by conducting experimental validation through collaborations.
Education
Medicine, MD, Hubei University of Chinese Medicine, 1995
Health Administration/Informatics, PhD, Boston University, 2009
Computer Science, MS, State University of New York at Buffalo, 2004
Publications
Published on 6/20/2021
Zhang X, Farrell JJ, Tong T, Hu J, Zhu C, Wang LS, Mayeux R, Haines JL, Pericak-Vance MA, Schellenberg GD, Lunetta KL, Farrer LA. Association of mitochondrial variants and haplogroups identified by whole exome sequencing with Alzheimer's disease. Alzheimers Dement. 2021 Jun 20. PMID: 34152079.
Published on 4/27/2021
Patel D, Zhang X, Farrell JJ, Chung J, Stein TD, Lunetta KL, Farrer LA. Cell-type-specific expression quantitative trait loci associated with Alzheimer disease in blood and brain tissue. Transl Psychiatry. 2021 04 27; 11(1):250. PMID: 33907181.
Published on 3/15/2021
Patel D, Zhang X, Farrell JJ, Lunetta KL, Farrer LA. Set-Based Rare Variant Expression Quantitative Trait Loci in Blood and Brain from Alzheimer Disease Study Participants. Genes (Basel). 2021 03 15; 12(3). PMID: 33804025.
Published on 2/10/2021
Zhang X, van Rooij JGJ, Wakabayashi Y, Hwang SJ, Yang Y, Ghanbari M, Bos D, Levy D, Johnson AD, van Meurs JBJ, Kavousi M, Zhu J, O'Donnell CJ. Genome-wide transcriptome study using deep RNA sequencing for myocardial infarction and coronary artery calcification. BMC Med Genomics. 2021 02 10; 14(1):45. PMID: 33568140.
Published on 10/28/2019
Malhotra R, Mauer AC, Lino Cardenas CL, Guo X, Yao J, Zhang X, Wunderer F, Smith AV, Wong Q, Pechlivanis S, Hwang SJ, Wang J, Lu L, Nicholson CJ, Shelton G, Buswell MD, Barnes HJ, Sigurslid HH, Slocum C, Rourke CO, Rhee DK, Bagchi A, Nigwekar SU, Buys ES, Campbell CY, Harris T, Budoff M, Criqui MH, Rotter JI, Johnson AD, Song C, Franceschini N, Debette S, Hoffmann U, Kälsch H, Nöthen MM, Sigurdsson S, Freedman BI, Bowden DW, Jöckel KH, Moebus S, Erbel R, Feitosa MF, Gudnason V, Thanassoulis G, Zapol WM, Lindsay ME, Bloch DB, Post WS, O'Donnell CJ. HDAC9 is implicated in atherosclerotic aortic calcification and affects vascular smooth muscle cell phenotype. Nat Genet. 2019 11; 51(11):1580-1587. PMID: 31659325.
Published on 9/1/2019
Ma Y, Jun GR, Zhang X, Chung J, Naj AC, Chen Y, Bellenguez C, Hamilton-Nelson K, Martin ER, Kunkle BW, Bis JC, Debette S, DeStefano AL, Fornage M, Nicolas G, van Duijn C, Bennett DA, De Jager PL, Mayeux R, Haines JL, Pericak-Vance MA, Seshadri S, Lambert JC, Schellenberg GD, Lunetta KL, Farrer LA. Analysis of Whole-Exome Sequencing Data for Alzheimer Disease Stratified by APOE Genotype. JAMA Neurol. 2019 Sep 01; 76(9):1099-1108. PMID: 31180460.
Published on 8/16/2019
Choi KY, Lee JJ, Gunasekaran TI, Kang S, Lee W, Jeong J, Lim HJ, Zhang X, Zhu C, Won SY, Choi YY, Seo EH, Lee SC, Gim J, Chung JY, Chong A, Byun MS, Seo S, Ko PW, Han JW, McLean C, Farrell J, Lunetta KL, Miyashita A, Hara N, Won S, Choi SM, Ha JM, Jeong JH, Kuwano R, Song MK, An SSA, Lee YM, Park KW, Lee HW, Choi SH, Rhee S, Song WK, Lee JS, Mayeux R, Haines JL, Pericak-Vance MA, Choo ILH, Nho K, Kim KW, Lee DY, Kim S, Kim BC, Kim H, Jun GR, Schellenberg GD, Ikeuchi T, Farrer LA, Lee KH, Neuroimaging Initative AD. APOE Promoter Polymorphism-219T/G is an Effect Modifier of the Influence of APOE e4 on Alzheimer's Disease Risk in a Multiracial Sample. J Clin Med. 2019 Aug 16; 8(8). PMID: 31426376.
Published on 8/2/2019
Zhu H, Tao Q, Ang TFA, Massaro J, Gan Q, Salim S, Zhu RY, Kolachalama VB, Zhang X, Devine S, Auerbach SH, DeCarli C, Au R, Qiu WQ. Association of Plasma Amylin Concentration With Alzheimer Disease and Brain Structure in Older Adults. JAMA Netw Open. 2019 08 02; 2(8):e199826. PMID: 31433485.
Published on 7/1/2019
Guo C, Zhao Z, Chen D, He S, Sun N, Li Z, Liu J, Zhang D, Zhang J, Li J, Zhang M, Ge J, Liu X, Zhang X, Fan Z. Detection of Clinically Relevant Genetic Variants in Chinese Patients With Nanophthalmos by Trio-Based Whole-Genome Sequencing Study. Invest Ophthalmol Vis Sci. 2019 07 01; 60(8):2904-2913. PMID: 31266062.
Published on 5/29/2019
Ma Y, Jun GR, Chung J, Zhang X, Kunkle BW, Naj AC, White CC, Bennett DA, De Jager PL, Mayeux R, Haines JL, Pericak-Vance MA, Schellenberg GD, Farrer LA, Lunetta KL. CpG-related SNPs in the MS4A region have a dose-dependent effect on risk of late-onset Alzheimer disease. Aging Cell. 2019 08; 18(4):e12964. PMID: 31144443.
View full list of 40 publications.