Xiaoling Zhang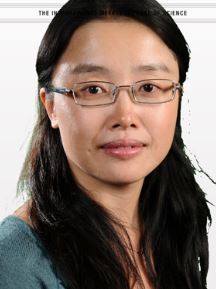 Assistant Professor of Medicine and Biostatistics
Boston University School of Medicine, Section of Biomedical Genetics and
Dept. of Biostatistics, Boston University School of Public Heal
Education
2010-2015 NIH Research Fellow, Cardiovascular Epidemiology and Human Genomics Branch
the NHLBI Framingham Heart Study
2009 PhD Boston University (Bioinformatics)
2004 M.S. The State University of New York at Buffalo (Computer Science)
---
Research Interests
My primary research interests focus on: 1) develop methods for analyzing large-scale genetics and genomics data including microarray, genotype and next-generation sequencing data; 2) discover common, low-frequency and rare variants associated with complex diseases and their risk factors; 3) identify and prioritize putative causal genetic variants by integrative genomics study that involves combining biological information from a wide-range of data resources with eQTL analysis, pathway analysis and regulatory network analysis; and 4) translate the above computational findings to the molecular mechanisms underlying human genetic disorders by conducting experimental validation through collaborations.
---
Selected Publications (*Co-first authorship):
Joehanes R*, Zhang X*, Huan T, Yao C, Ying S, Nguyen Q, Feolo ML, Sharopova NR, Sturcke A, Schäffer AA, Heard-Costa N, Chen H, Liu P, Wang R, Woodhouse KA, Tanriverdi K, Freedman JE, Raghavachari N, Dupuis J, Johnson AD, O'Donnell CJ, Munson P J, Levy D. Integrated Genome-wide Analysis of Expression Quantitative Trait Loci Identifies Putative Disease-Related Genes and Pathways. Nature Communication (under revisions).
Huan T, Rong J, Liu C, Zhang X, Tanriverdi K, Joehanes R, Chen BH, Murabito JM, Yao C, Courchesne P, Munson PJ, O'Donnell CJ, Cox N, Johnson AD, Larson MG, Levy D, Freedman JE. Genome-wide Identification of microRNA Expression Quantitative Trait Loci. Nature Communication. 2015 Mar 20;6:6601. PMID: 25791433 [pubmed]
Zhang X*, Joehanes R*, Chen BH, Huan T, Ying S, Munson PJ, Johnson AD, Levy D, O'Donnell CJ. Identification and characteristics of common genetic variants controlling transcript isoform variation in human whole blood. Nature Genetics. 2015 Apr;47(4):345-52. PMID: 25685889 [pubmed]
Huan T, Liu C, Joehanes R, Zhang X, Chen BH, Yao C, Johnson AD, Munson PJ, Courchesne P, O'Donnell CJ, Levy D. A Systematic Heritability Analysis of the Human Whole Blood Transcriptome. Human Genetics. 2015 Mar;134(3):343-58. PMID: 25585846 [pubmed]
Yao C, Chen BH, Joehanes R, Zhang X, Liu C, Huan T, Cupples LA, Meigs JB, Fox CS, Freedman JE, Courchesne P, O'Donnell CJ, Munson PJ, Levy D. Integromic Analysis of Genetic Variation and Gene Expression Identifies Networks for Cardiovascular Disease Phenotypes. Circulation. 2015 Feb 10;131(6):536-49. PMID:  25533967 [pubmed]
Gottlieb DJ, Hek K, Chen T, Watson NF, Eiriksdottir G, …, Zhang X, …, Völzke H, Mignot E, Tiemeier H. Novel loci associated with usual sleep duration: The CHARGE Consortium Genome-Wide Association Study. Molecular Psychiatry. 2015 Oct;20(10):1232-9. PMID: 25469926  [pubmed]
Zhang X, Gierman HJ, Levy D, Plump A, Dobrin R, Goring HH, Curran JE, Johnson MP, Blangero J, Kim SK, O'Donnell CJ, Emilsson V, Johnson AD. Synthesis of 53 tissue and cell line expression QTL datasets reveals master eQTLs. BMC Genomics. 2014 Jun 27;15:532. PMID: 24973796  [pubmed]
Bis JC, White C, Franceschini N, Brody J, Zhang X, Muzny D, Santibanez J, Gibbs R, Liu X, Lin H, Boerwinkle E, Psaty B, North K, Cupples A, O'Donnell CJ. Sequencing of Two Subclinical Atherosclerosis Candidate Regions in 3,669 Individuals: the Cohorts for Heart and Aging Research in Genomic Epidemiology (CHARGE) Targeted Sequencing Study. Circulation: Cardivascular Genetics. 2014 Jun;7(3):359-64. PMCID:  PMC4112104 [PMC]
Zhang X, Johnson AD, Hendricks AE, Hwang S, Tanriverdi K, Ganesh SK, Smith NL,  Peyser PA, Freedman JE, O'Donnell CJ. Genome-Wide Genetic Analysis of Expression for Genes Implicated in GWAS Studies for Atherosclerotic Cardiovascular Disease and Blood Phenotypes. Human Molecular Genetics. 2014 Feb 1;23(3):782-95. PMID:  24057673 [pubmed]
Zhang X+, Lenburg M, Spira A. Comparison of Nasal Epithelial Smoking-induced Gene Expression on Affymetrix Exon 1.0 and Gene 1.0 ST Arrays. ScientificWorldJournal. 2013; 2013: 951416. (+Corresponding author). PMCID:  PMC3588192  [PMC]
Quinton LJ, Blahna MT, Jones MR, Allen E, Ferrari JD, Hilliard KL, Zhang X, Sabharwal V, Algül H, Akira S, Schmid RM, Pelton SI, Spira A, Mizgerd JP. 2012. Combined hepatocyte-specific targeting of NF-kB RelA and STAT3 abrogates the acute phase response in mice. J Clin Invest. 2012 May;122(5):1758-63. PMID:  22466650 [pubmed]
Zhang X+, Sebastiani P, Liu G, Schembri F, Zhang X, Dumas Y, Langer E, Alekseyev Y, O'Connor G, Brooks D, Lenburg M, Spira A+ (2010). Similarities and differences between smoking-related gene expression in nasal and bronchial epithelium. Physiol Genomics. 2010 March; 41(1): 1–8. (+Co-corresponding authors, spotlighted the significance of this study in Nature's cancer prevention outlook column on March 24, 2011). PMID:  19952278 [pubmed]
Pei J, Zhang X, Cho M, Wang H, Yu PS.  On Mining Maximal Pattern-Based Clusters. Data Mining for Business Applications. 2009; ISBN: 978-0-387-79419-8 e-ISBN: 978-0-387-79420-4, Chapter 3, 31-52.
Yu L, Coelho J, Zhang X, Fu Y, Tillman A, Karaoz U, Fredholm BB, Weng Z, Chen JF. Uncovering multiple molecular targets for caffeine by a drug target validation strategy of combined A2A receptor knockouts and microarray profiling. Physiol Genomics. 2009 May 13;37(3):199-210. PMID:  19258493 [pubmed]
Schembri F, Sridhar S, Perdomo C, Gustafson AM, Zhang X, Ergun A, Lu J, Liu G, Zhang X, Bowers J, Sensinger K, Collins J, Brody J, Getts R, Lenburg M, Spira A. MicroRNAs as modulators of smoking-induced gene expression changes in human airway epithelium. Proc Natl Acad Sci U S A. 2009; 106(7):2319-24. PMID:  19168627 [pubmed]
Zhang X, Liu G, Lenburg M, Spira A. Comparison of Smoking-induced Gene Expression on Affymetrix Exon and 3' based Expression Arrays. Genome Informatics. 2007;18:247-57. PMID:  18546492 [pubmed]
ENCODE Project Consortium, Birney E, Stamatoyannopoulos JA, Dutta A, Guigó R, Gingeras TR, Margulies EH, Weng Z, Snyder M, Dermitzakis ET, ….123 authors…, Zhang X, ….,  170 authors, Lindblad-Toh K, Lander ES, Koriabine M, Nefedov M, Osoegawa K, Yoshinaga Y, Zhu B, de Jong PJ. Identification and analysis of functional elements in 1% of the human genome by the ENCODE pilot project. Nature 2007; 447(7146):799-816. PMID:  17571346 [pubmed]
Pei J, Zhang X, Cho M, Wang H, Yu PS.  "MaPle: A Fast Algorithm for Maximal Pattern-based Clustering (Full paper)".   In Proceedings of the Third IEEE International Conference on Data Mining (ICDM'2003), USA, DOI: 10.1109/ICDM.2003.1250928