Public Health
Violence Intervention Advocacy Program

Boston Medical Center's Violence Intervention Advocacy Program (VIAP) helps guide victims of community violence through recovery from physical and emotional trauma. Using a trauma informed model of care, VIAP empowers clients and families, facilitates recovery by providing services and opportunities. VIAP presents options for families that bring hope and healing to their lives. In turn, this guidance helps strengthen others who are affected by violence and contributes to building safer and healthier communities.
VIAP is a founding member of the National Network of Hospital-based Violence Intervention Programs, and has helped spawn similar programs at other hospitals around the country. Learn more about VIAP and how many patients they've helped.
Project ASSERT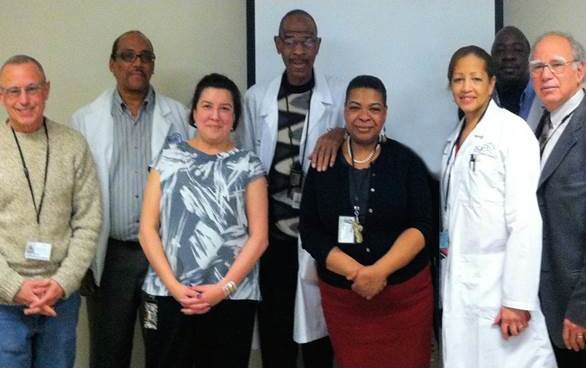 Project ASSERT (Alcohol & Substance Abuse Services, Education, and Referral to Treatment) is a team of peer educators at the Boston Medical Center Emergency Department. Since 1994, Project ASSERT has provided over 100,000 patients with health information and support, and facilitated patient access to primary care, substance treatment, and other services. Project ASSERT's motto is "unconditional service." Recently, Project ASSERT has taken the lead to make substance treatment more accessible to LGBTQ patients and to provide overdose education and naloxone rescue kits, in partnership with the Massachusetts Department of Public Health (MA DPH) and the Boston Public Health Commission (BPHC), to patients with opioid-related ED visits.
Learn more about Project ASSERT and how many patients they've helped.
Watch a video explaining Project ASSERT's history and role in the community.
Watch Dr. Ed Bernstein's presentation on Project ASSERT and opioid overdose prevention at the White House Summit on Heroin and Prescription Drugs. Dr. Bernstein's cutting-edge ED Intranasal Naloxone Kit Distribution efforts has been hailed as an example of "practice-driving policy and scientific research." Advance the cursor to the 29 minute mark to see Dr. Bernstein's presentation.
Watch the Office of National Drug Control Policy Director, Michael Botticelli, commend Project ASSERT during its 20th anniversary celebration.
Read about how our interns join Project ASSERT to learn about the communities we serve during intern orientation here.
Read about Project ASSERT's partnership with the cutting-edge Faster Paths to Treatment Substance Use Disorder Urgent Care Center.
Injury Prevention Center
The Injury Prevention Center (IPC) was created in 2010 by the Department of Emergency Medicine and the Section of Acute Care and Trauma Surgery in order to promote collaborative and innovative research on intentional and unintentional injury, as well as to provide additional services to those who are injured. The IPC was founded with the belief that many injuries are preventable and that treatment of those injuries requires intervention to prevent further injuries.
The BMC Emergency Department is a nationwide leader in injury prevention and research. For more information about the IPC leadership team and faculty, as well as information related to IPC services, research, and initiatives, please refer to our Annual Report.
Domestic Violence and Sexual Assault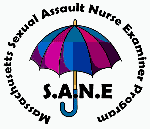 BMC has an active domestic violence intervention program with three advocates. They perform acute safety assessments, offer multi-cultural and multi-lingual trauma informed support services like safety planning and connecting with community services. The ED at BMC has 24/7 sexual assault nurse examiner (SANE) and Boston Area Rape Crisis medical advocate coverage. Advocates are available to assist in supporting and caring for victims of sexual assault. Dr. Judy Linden, who serves as vice chair for education, is a sexual assault examiner for the state of Massachusetts and oversees the training of EM residents in sexual assault evaluation and treatment. Read more about some of Dr. Linden's work in this field.
BMC has a sexual assault follow up clinic (LINK Clinic) operated through the Women's Center. This clinic offers medical follow up, family planning and abortion services, linkages to trauma informed mental health services, legal advocacy, and center for infectious diseases (for patients started on HIV prophylaxis).
Other Social Services at BMC
Boston Center for Refugee Health and Human Rights
Boston Health Care for the Homeless
Faster Paths to Treatment Substance Use Disorder Urgent Care
Food Pantry
Prescribe a Bike
Project TRUST
Founding site of Reach Out And Read
Social Work and Case Management
SPARK Center
Residents can pursue additional projects through CIR's Patient Care Fund
Public & Global Health Newsletter
Our Emergency Department is a leader in Public Health and Global Health on a local, state, and national level. We are proud to publish a newsletter highlighting our cutting-edge scholarship and innovative programs in these fields.
2019 Public & Global Health Newsletter
2018 Public & Global Health Newsletter
2016 Public & Global Health Newsletter
2015 Public & Global Health Newsletter
2014 Public & Global Health Newsletter
2013 Public & Global Health Newsletter
2012 Public & Global Health Newsletter
Global & Public Health College
Residents interested in developing additional expertise in the principles of global and public health can join the Global & Public Health College. Residents will learn how to relate public health principles to the development and management of sustainable projects in resource-limited settings. In addition, residents will develop the knowledge, skills, and experience necessary to succeed in public and global health activities and careers, and become competitive candidates for fellowships and faculty positions in academic emergency medicine programs. Contact the Deans of the College, Gabrielle Jacquet and Elissa Schechter-Perkins, with questions. Read more about the Global & Public Health College Curriculum.
Collaboration with the School of Public Health
Many opportunities exist for interested residents and faculty to collaborate with the Boston University School of Public Health. Residents can participate in public health research as well as help teach courses to MPH students. Read about one MPH student's experience with BMC ED faculty and residents here.
Faculty Leadership