Seminars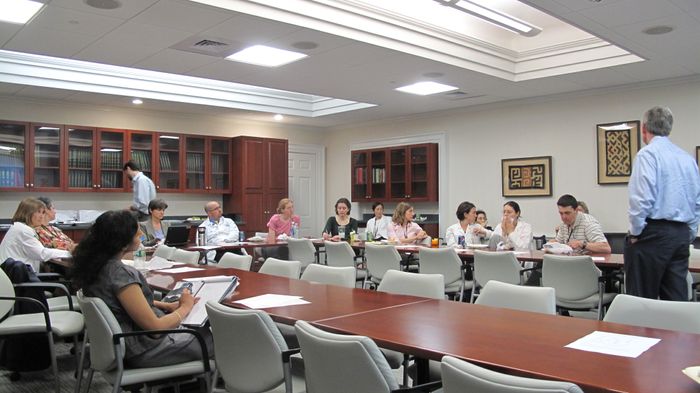 Faculty Development & Diversity Seminars are open to faculty across BUMC & BMC directors, administrative directors, and senior directors, and focus on leadership, education, research, quality improvement, wellness, and academic promotion. In response to faculty demand, new seminar times have been added: 12-1pm and 5-6pm on different days of the week from September through June for CME credit.
2015-2016 Faculty Development & Diversity Seminar Series
All seminars take place in the Wilkins Board Room.
| | | | |
| --- | --- | --- | --- |
| Date | Time | Topic | Facilitator |
| Tuesday, September 22nd, 2015 | 12-1pm | How to Develop a Curriculum with Assessment in Mind | Gouri Gupte |
| Tuesday, September 29th, 2015 | 12-1pm | How to Successfully Secure Foundation Funding | Kirsten Hinsdale |
| Tuesday, September 29th, 2015 | 5-6pm | How to Successfully Secure Foundation Funding | Kirsten Hinsdale |
| Tuesday, October 6th, 2015 | 12-1pm | Finance 101 | John Lindstedt |
| Wednesday, October 14th, 2015 | 7-8am | Finance 101 | John Lindstedt |
| Monday, October 26th, 2015 | 12-1pm | What Makes an Education Project Publishable? | Jay Orlander |
| Tuesday, November 3rd, 2015 | 12-1pm | Dealing with Medical Malpractice Suits | Scott Friedman |
| Tuesday, November 3rd, 2015 | 5-6pm | Giving Effective Feedback | Francine Montemurro |
| Wednesday, November 18th, 2015 | 7-8am | Dealing with Medical Malpractice Suits | Scott Friedman |
| Tuesday, November 24th, 2015 | 12-1pm | CV Boot Camp | Emelia Benjamin, Kitt Shaffer, David Coleman, David Salant |
| Tuesday, December 1st, 2015 | 12-1pm | How to Write a Case Study for Curriculum and Promotion | Laurie Fishman |
| Tuesday, December 1st, 2015 | 5-6pm | How to Write a Case Study for Curriculum and Promotion | Laurie Fishman |
| Tuesday, January 5th, 2016 | 12-1pm | Smashing the Silo: Collaborating Effectively Across Disciplines | Michael Paasche-Orlow |
| Tuesday, January 12th, 2016 | 5-6pm | Smashing the Silo: Collaborating Effectively Across Disciplines | Michael Paasche-Orlow |
| Tuesday, February 23rd, 2016 | 12-1pm | Giving Effective Feedback | Francine Montemurro |
| Monday, February 29th, 2016 | 12-1pm | How to Reinvent Yourself as an Outcomes Researcher | Allan Walkey |
| Monday, February 29th, 2016 | 5-6pm | Strategies for Selecting Your Promotions Letter Writers | Kitt Shaffer |
| Monday, March 21st, 2016 | 12-1pm | Strategies for Selecting Your Promotions Letter Writers | Kitt Shaffer |
| Monday, April 4th, 2016 | 12-1pm | NIH Biosketch Boot Camp | Ellen Jamieson |
| Tuesday, April 5th, 2016 | 5-6pm | Effective Collaborations with Industry | Weining Lu, Mike Pratt, David Lough |
| Tuesday, April 26th, 2016 | 12-1pm | CV Boot Camp | David Coleman, David Salant, Kitt Shaffer, Emelia Benjamin |
| Monday, May 16th, 2016 | 12-1pm | Navigating the Nuances of Electronic Communication with Trainees | MaryAnn Campion |
| Thursday, May 19th, 2016 | 5-6pm | Navigating the Nuances of Electronic Communication with Trainees | MaryAnn Campion |
| Monday, June 6th, 2016 | 12-1pm | Seeing the Quality Improvement Project Around You | James Moses |