Wilson S. Colucci MD
Section Chief, Cardiovascular Medicine
Professor, Cardiovascular Medicine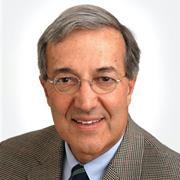 Sections
Cardiovascular Medicine
Centers
Whitaker Cardiovascular Institute
Evans Center for Interdisciplinary Biomedical Research
Biography
Research program studies the basic molecular and cellular mechanisms of myocardial remodeling, and the pathophysiology and treatment of heart failure.
Other Positions
Websites
Education
MD, Boston University, 1975
BS, Union College, 1971
Publications
Published on 1/31/2023
Croteau D, Baka T, Young S, He H, Chambers JM, Qin F, Panagia M, Pimentel DR, Balschi JA, Colucci WS, Luptak I. SGLT2 inhibitor ertugliflozin decreases elevated intracellular sodium, and improves energetics and contractile function in diabetic cardiomyopathy. Biomed Pharmacother. 2023 Apr; 160:114310. PMID: 36731341.
Published on 6/25/2021
Croteau D, Luptak I, Chambers JM, Hobai I, Panagia M, Pimentel DR, Siwik DA, Qin F, Colucci WS. Effects of Sodium-Glucose Linked Transporter 2 Inhibition With Ertugliflozin on Mitochondrial Function, Energetics, and Metabolic Gene Expression in the Presence and Absence of Diabetes Mellitus in Mice. J Am Heart Assoc. 2021 07 06; 10(13):e019995. PMID: 34169737.
Published on 10/20/2020
Goodman JB, Qin F, Morgan RJ, Chambers JM, Croteau D, Siwik DA, Hobai I, Panagia M, Luptak I, Bachschmid M, Tong X, Pimentel DR, Cohen RA, Colucci WS. Redox-Resistant SERCA [Sarco(endo)plasmic Reticulum Calcium ATPase] Attenuates Oxidant-Stimulated Mitochondrial Calcium and Apoptosis in Cardiac Myocytes and Pressure Overload-Induced Myocardial Failure in Mice. Circulation. 2020 12 22; 142(25):2459-2469. PMID: 33076678.
Published on 9/9/2020
Croteau D, Qin F, Chambers JM, Kallick E, Luptak I, Panagia M, Pimentel DR, Siwik DA, Colucci WS. Differential Effects of Sacubitril/Valsartan on Diastolic Function in Mice With Obesity-Related Metabolic Heart Disease. JACC Basic Transl Sci. 2020 Sep; 5(9):916-927. PMID: 33015414.
Published on 7/8/2020
Panagia M, Yang J, Gale E, Wang H, Luptak I, Chen HH, Patel D, Croteau D, Pimentel DR, Bachschmid MM, Colucci WS, Ran C, Sosnovik DE. A novel tracer for in vivo optical imaging of fatty acid metabolism in the heart and brown adipose tissue. Sci Rep. 2020 07 08; 10(1):11209. PMID: 32641756.
Published on 2/17/2020
Panagia M, He H, Baka T, Pimentel DR, Croteau D, Bachschmid MM, Balschi JA, Colucci WS, Luptak I. Increasing mitochondrial ATP synthesis with butyrate normalizes ADP and contractile function in metabolic heart disease. NMR Biomed. 2020 05; 33(5):e4258. PMID: 32066202.
Published on 10/1/2019
Tian R, Colucci WS, Arany Z, Bachschmid MM, Ballinger SW, Boudina S, Bruce JE, Busija DW, Dikalov S, Dorn GW, Galis ZS, Gottlieb RA, Kelly DP, Kitsis RN, Kohr MJ, Levy D, Lewandowski ED, McClung JM, Mochly-Rosen D, O'Brien KD, O'Rourke B, Park JY, Ping P, Sack MN, Sheu SS, Shi Y, Shiva S, Wallace DC, Weiss RG, Vernon HJ, Wong R, Schwartz Longacre L. Unlocking the Secrets of Mitochondria in the Cardiovascular System: Path to a Cure in Heart Failure—A Report from the 2018 National Heart, Lung, and Blood Institute Workshop Circulation. 2019 10 01; 140(14):1205-1216. PMID: 31769940.
Published on 7/9/2019
Luptak I, Morgan R, Baka T, Croteau D, Moverman D, Sarnak H, Kirber M, Bachschmid MM, Colucci WS, Pimentel DR. Genetically targeted fluorescent probes reveal dynamic calcium responses to adrenergic signaling in multiple cardiomyocyte compartments. Int J Biochem Cell Biol. 2019 09; 114:105569. PMID: 31299273.
Published on 7/1/2019
Luptak I, Croteau D, Valentine C, Qin F, Siwik DA, Remick DG, Colucci WS, Hobai IA. Myocardial Redox Hormesis Protects the Heart of Female Mice in Sepsis. Shock. 2019 07; 52(1):52-60. PMID: 30102640.
Published on 6/25/2019
Luptak I, Qin F, Sverdlov AL, Pimentel DR, Panagia M, Croteau D, Siwik DA, Bachschmid MM, He H, Balschi JA, Colucci WS. Energetic Dysfunction Is Mediated by Mitochondrial Reactive Oxygen Species and Precedes Structural Remodeling in Metabolic Heart Disease. Antioxid Redox Signal. 2019 09 01; 31(7):539-549. PMID: 31088291.
View full list of 328 publications.