Weining Lu MD
Associate Professor, Nephrology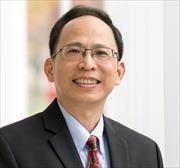 Centers
Evans Center for Interdisciplinary Biomedical Research
Biography
Dr. Lu is a Principal Investigator and Associate Professor of Medicine, Pathology, and Laboratory Medicine at Boston University. He also acts as a Primary Mentor for medical students, graduate students, fellows, and postdocs in the Nephrology Section of the Department of Medicine. Dr. Lu has a long-standing interest in the field of nephrology and genetics, including kidney development, congenital anomalies of the kidney and urinary tract (CAKUT), vesicoureteral reflux (VUR), podocyte biology and injury, ROBO/SLIT signaling, and chronic kidney disease. His major scientific contributions in the field include: (1) the discovery of ROBO2 as one of the causative genes for CAKUT and VUR (OMIM 610878), (2) the identification of SLIT2/ROBO2 signaling as a novel drug target for proteinuric kidney diseases, which negatively regulates nephrin signaling, non-muscle myosin IIA signaling and podocyte adhesions in podocyte biology and injury, (3) the creation of the first animal model for autosomal dominant polycystic kidney disease (PKD1), and (4) the discovery of ZEB2 as one of the causative genes for glomerulocystic kidney disease and its essential role in kidney stromal progenitor cell differentiation and renal fibrosis. In recognition of his seminal contribution to the development of a potential new drug for chronic kidney disease in collaboration with Pfizer, Dr. Lu was named the 2019 Boston University Innovator of the Year, an award bestowed annually on a faculty member who "translates his/her world-class research into inventions and innovations that benefit humankind" (https://www.bu.edu/articles/2019/weining-lu-kidney-researcher-innovator-of-the-year/).

RESEARCH PROGRAM:

The primary research interests of Dr. Lu's laboratory are focused on four scientific areas. 1) Molecular genetics of the kidney and urinary tract development and congenital anomalies of the kidney and urinary tract (CAKUT). 2) Biological function and disease mechanism of kidney and urinary tract birth defect genes and their roles after birth in chronic kidney diseases. 3) SLIT/ROBO and ZEB signaling in kidney and urinary tract development and disease. 4) Discovery and development of novel drug targets and therapeutics for patients with chronic kidney diseases.

Congenital anomalies of the kidney and urinary tract (CAKUT) is a complex birth defect with a diverse phenotypic spectrum, including kidney anomalies (e.g. renal agenesis, multicystic dysplastic kidney, hydronephrosis), and ureteric anomalies (e.g. vesicoureteral reflux, obstructive uropathy) (Ref 1, 2). CAKUT is a genetically heterogeneous disorder with an incidence of 1 in 100 infants and accounts for up to 50-60% of the diagnoses underlying chronic kidney disease in children. CAKUT is also the leading cause and a major risk factor for kidney failure in children and young adults under 40 years old (Ref 3).

Dr. Lu's translational research program has adopted combined human and mouse molecular genetics approaches to identify a number of developmental genes that are important in kidney and urinary tract development and pathogenesis of CAKUT. The first human molecular genetics approach is to study individuals with CAKUT and apparent genetic defects, with the aim of using gene mutations, genomic imbalances and chromosomal rearrangements as signposts to identify disease-causal genes (reverse genetics) (Ref 2). Thereafter, molecular identification and analysis of disease genes as well as mutation studies in affected individuals with a familial pattern of CAKUT will be carried out (forward genetics) (Ref 2, 4). The second approach is to study temporal and spatial expression patterns of disease genes in humans and mouse models. Concurrently, the phenotype of knockout and transgenic mouse models will be studied to more fully elucidate the roles of disease genes in kidney and urinary tract development and disease. Once these disease genes (e.g. ROBO2, SLIT2, ZEB2) are identified, a multidisciplinary research approach will be taken to gain further mechanistic insights (in vivo and in vitro) on the role of these genes in normal and abnormal developmental processes of the kidney and urinary tract, and on the pathogenesis of CAKUT and kidney injury after birth (Ref 5-8). This multidisciplinary approach includes using biomedical research techniques in molecular genetics, developmental biology, protein biochemistry, molecular biology, pathology, and pharmacology. The goal of this research program is to provide new knowledge of the biological mechanism that leads to CAKUT and kidney injury after birth, which has already led to the discovery of novel drug targets and therapeutics for patients with chronic kidney disease (Ref 7-9) (https://www.eurekalert.org/pub_releases/2016-11/bumc-rip_1111516.php & https://www.eurekalert.org/pub_releases/2020-05/buso-rsn050420.php).

Current research projects in Dr. Lu's lab include: (1) development of novel therapeutics for patients with proteinuric kidney diseases, (2) molecular mechanisms of SLIT/ROBO and ZEB signaling in podocyte biology/injury and renal fibrosis, and (3) pathogenesis of VUR and CAKUT and identification of novel causative birth defect genes for CAKUT/VUR in patients. Dr. Lu's research program is supported by grants from the National Institutes of Health (NIH) and Pfizer's Centers for Therapeutic Innovation (CTI).

REFERENCES:
(1). Lu W, Bush KT, Nigam SK. Regulation of ureteric bud outgrowth and the consequences of disrupted development. In Kidney Development, Disease, Repair and Regeneration (ed. Little MH), Pages 209-227 (Elsevier, 2016) (http://www.sciencedirect.com/science/article/pii/B9780128001028000187)
(2). Lu W, van Eerde AM, Fan X, et al. Disruption of ROBO2 is associated with urinary tract anomalies and confers risk of vesicoureteral reflux. Am J Hum Genet 2007; 80:616-632. PMID: 17357069 (http://www.ncbi.nlm.nih.gov/pubmed/17357069).
(3) Calderon-Margalit R, Golan E, Twig G, et al. History of Childhood Kidney Disease and Risk of Adult End-Stage Renal Disease. N Engl J Med 2018; 378(5):4280438. PMID: 29385364 (https://www.ncbi.nlm.nih.gov/pubmed/29385364).
(4) Hwang DY, Kohl S, Fan X, et al. Mutations of the SLIT2-ROBO2 pathway genes SLIT2 and SRGAP1 Confer Risk for Congenital Anomalies of the Kidney and Urinary Tract. Hum Genet 2015; 134(8):905-916; PMID: 26026792 (http://www.ncbi.nlm.nih.gov/pubmed/26026792).
(5). Fan X, Li Q, Pisarek-Horowitz A, et al. Inhibitory effects of Robo2 on nephrin: a crosstalk between positive and negative signals regulating podocyte structure. Cell Reports 2012; 2:52-61. PMID: 22840396 (http://www.ncbi.nlm.nih.gov/pubmed/22840396).
(6). Rasouly HM, Kumar S, Chen S, et al. Loss of Zeb2 in mesenchyme-derived nephrons causes primary glomerulocystic kidney disease. Kidney Int 2016; Aug 30. PMID: 27591083 (http://www.ncbi.nlm.nih.gov/pubmed/27591083).
(7) Fan X, Yang H, Kumar S, et al. SLIT2/ROBO2 signaling pathway inhibits nonmuscle myosin IIA activity and destabilizes kidney podocyte adhesion. JCI Insight 2016, Nov 17; 1(19):e86934. PMID: 27882344 (https://www.ncbi.nlm.nih.gov/pubmed/27882344).
(8) Pisarek-Horowitz A, Fan X, Kumar S, et al. Loss of Roundabout Guidance Receptor 2 (Robo2) in Podocytes Protects Adult Mice from Glomerular Injury by Maintaining Podocyte Foot Process Structure. American Journal of Pathology, 2020; 190(4):799-816. PMID: 32220420.
(https://ajp.amjpathol.org/article/S0002-9440(20)30024-9/pdf).
(9) Beck LH, Berasi SP, J. Copley B, Gorman D, Levy DI, Lim CN, Henderson JM, Salant DJ, Lu W. PODO: Trial Design: Phase 2 Study of PF-06730512 in Focal Segmental Glomerulosclerosis. Kidney Int Rep 2021; published online April 2, 2021. DOI: https://doi.org/10.1016/j.ekir.2021.03.892


VISION STATEMENT of Dr. Lu's laboratory on science and medical education: (1) to advance new knowledge, biomedical innovation, and scientific learning; (2) to promote understanding, collaboration, diversity and inclusion in biomedical research and education; (3) to contribute positively to scientific, medical and biomedical community, and society at large.
CORE VALUES: curiosity, innovation, diversity, equity, inclusion, hard work, perseverance, honesty, fair play, courage, integrity.

CURRENT LAB MEMBERS:

Xueping Fan (PhD, McGill University), Research Scientist and Assistant Professor, 617-414-1772, xpfan@bu.edu.

Sudhir Kumar (DVM, PhD, Ludwig Maximilians University Munich), Research Scientist and Assistant Professor, 617-638-7353, kumars@bu.edu.

Richa Sharma (PhD, SGPGIMS Medical Institute in Lucknow), Postdoc, 617-414-2298, richa26@bu.edu.

Aneesha Pydi (Boston University 7 Year Combined Liberal Arts / Medical Education Program), MD medical student, aneeshap@bu.edu

Rhianna DelBene (Chemistry Major, Boston University College of Arts and Sciences), Undergraduate student, BU Undergraduate Research Opportunities Program (UROP), rdelbene@bu.edu

Jessica Siu (Biology Major, Boston University College of Arts & Sciences), Undergraduate pre-dental student, BU Undergraduate Research Opportunities Program (UROP), jksiu88@bu.edu

Aksel Laudon (Biomedical Engineering Major, Boston University College of Engineering), Undergraduate student, Modular Medical/Dental Integrated Curriculum (MMEDIC) early acceptance program to BUSM MD program, BU Undergraduate Research Opportunities Program (UROP), alaudon@bu.edu


PHD STUDENTS GRADUATED RECENTLY:

Hila Milo Rasouly (PhD, Graduate Program in Genetics and Genomics, Graduate Medical Sciences, Boston University School of Medicine). PhD thesis title: "Discovery and analysis of genes important in kidney development and disease".

Anna Pisarek-Horowitz (PhD, Graduate Program in Molecular Translational Medicine, Graduate Medical Sciences, Boston University School of Medicine). PhD thesis title: "Functional characterization of the SLIT2-ROBO2 signaling pathway in the podocyte".

MS STUDENTS GRADUATED RECENTLY:

Tou S. Thao (MS in Medical Sciences Program, Graduate Medical Sciences, Boston University School of Medicine). MS thesis title: "Functional study of ROBO2 missense mutation identified in patients with congenital anomalies of the kidney and urinary tract (CAKUT)".

Biomedical research projects for students and postdoc are available. For inquiries regarding these research opportunities, please contact Dr. Lu at wlu@bu.edu
Other Positions
Websites
Education
Medicine, MD, Zhejiang University, 1989
Biomedical Sciences, MSc, Northeastern University, 1996
Publications
Published on 4/3/2021
Beck LH, Berasi SP, Copley JB, Gorman D, Levy DI, Lim CN, Henderson JM, Salant DJ, Lu W. PODO: Trial Design: Phase 2 Study of PF-06730512 in Focal Segmental Glomerulosclerosis. Kidney Int Rep. 2021 Jun; 6(6):1629-1633. PMID: 34169203.
Published on 9/4/2020
Connaughton DM, Dai R, Owen DJ, Marquez J, Mann N, Graham-Paquin AL, Nakayama M, Coyaud E, Laurent EMN, St-Germain JR, Blok LS, Vino A, Klämbt V, Deutsch K, Wu CW, Kolvenbach CM, Kause F, Ottlewski I, Schneider R, Kitzler TM, Majmundar AJ, Buerger F, Onuchic-Whitford AC, Youying M, Kolb A, Salmanullah D, Chen E, van der Ven AT, Rao J, Ityel H, Seltzsam S, Rieke JM, Chen J, Vivante A, Hwang DY, Kohl S, Dworschak GC, Hermle T, Alders M, Bartolomaeus T, Bauer SB, Baum MA, Brilstra EH, Challman TD, Zyskind J, Costin CE, Dipple KM, Duijkers FA, Ferguson M, Fitzpatrick DR, Fick R, Glass IA, Hulick PJ, Kline AD, Krey I, Kumar S, Lu W, Marco EJ, Wentzensen IM, Mefford HC, Platzer K, Povolotskaya IS, Savatt JM, Shcherbakova NV, Senguttuvan P, Squire AE, Stein DR, Thiffault I, Voinova VY, Somers MJG, Ferguson MA, Traum AZ, Daouk GH, Daga A, Rodig NM, Terhal PA, van Binsbergen E, Eid LA, Tasic V, Rasouly HM, Lim TY, Ahram DF, Gharavi AG, Reutter HM, Rehm HL, MacArthur DG, Lek M, Laricchia KM, Lifton RP, Xu H, Mane SM, Sanna-Cherchi S, Sharrocks AD, Raught B, Fisher SE, Bouchard M, Khokha MK, Shril S, Hildebrandt F. Mutations of the Transcriptional Corepressor ZMYM2 Cause Syndromic Urinary Tract Malformations. Am J Hum Genet. 2020 10 01; 107(4):727-742. PMID: 32891193.
Published on 3/24/2020
Pisarek-Horowitz A, Fan X, Kumar S, Rasouly HM, Sharma R, Chen H, Coser K, Bluette CT, Hirenallur-Shanthappa D, Anderson SR, Yang H, Beck LH, Bonegio RG, Henderson JM, Berasi SP, Salant DJ, Lu W. Loss of Roundabout Guidance Receptor 2 (Robo2) in Podocytes Protects Adult Mice from Glomerular Injury by Maintaining Podocyte Foot Process Structure. Am J Pathol. 2020 04; 190(4):799-816. PMID: 32220420.
Published on 10/25/2019
Huang M, Zhu S, Huang H, He J, Tsuji K, Jin WW, Xie D, Ham O, Capen DE, Lu W, Paunescu TG, Yang B, Lu HAJ. Integrin-Linked Kinase Deficiency in Collecting Duct Principal Cell Promotes Necroptosis of Principal Cell and Contributes to Kidney Inflammation and Fibrosis. J Am Soc Nephrol. 2019 11; 30(11):2073-2090. PMID: 31653783.
Published on 8/24/2018
van der Ven AT, Connaughton DM, Ityel H, Mann N, Nakayama M, Chen J, Vivante A, Hwang DY, Schulz J, Braun DA, Schmidt JM, Schapiro D, Schneider R, Warejko JK, Daga A, Majmundar AJ, Tan W, Jobst-Schwan T, Hermle T, Widmeier E, Ashraf S, Amar A, Hoogstraaten CA, Hugo H, Kitzler TM, Kause F, Kolvenbach CM, Dai R, Spaneas L, Amann K, Stein DR, Baum MA, Somers MJG, Rodig NM, Ferguson MA, Traum AZ, Daouk GH, Bogdanovic R, Stajic N, Soliman NA, Kari JA, El Desoky S, Fathy HM, Milosevic D, Al-Saffar M, Awad HS, Eid LA, Selvin A, Senguttuvan P, Sanna-Cherchi S, Rehm HL, MacArthur DG, Lek M, Laricchia KM, Wilson MW, Mane SM, Lifton RP, Lee RS, Bauer SB, Lu W, Reutter HM, Tasic V, Shril S, Hildebrandt F. Whole-Exome Sequencing Identifies Causative Mutations in Families with Congenital Anomalies of the Kidney and Urinary Tract. J Am Soc Nephrol. 2018 09; 29(9):2348-2361. PMID: 30143558.
Published on 1/19/2018
van der Ven AT, Kobbe B, Kohl S, Shril S, Pogoda HM, Imhof T, Ityel H, Vivante A, Chen J, Hwang DY, Connaughton DM, Mann N, Widmeier E, Taglienti M, Schmidt JM, Nakayama M, Senguttuvan P, Kumar S, Tasic V, Kehinde EO, Mane SM, Lifton RP, Soliman N, Lu W, Bauer SB, Hammerschmidt M, Wagener R, Hildebrandt F. A homozygous missense variant in VWA2, encoding an interactor of the Fraser-complex, in a patient with vesicoureteral reflux. PLoS One. 2018; 13(1):e0191224. PMID: 29351342.
Published on 1/9/2018
Tumelty KE, Higginson-Scott N, Fan X, Bajaj P, Knowlton KM, Shamashkin M, Coyle AJ, Lu W, Berasi SP. Identification of direct negative cross-talk between the SLIT2 and bone morphogenetic protein-Gremlin signaling pathways. J Biol Chem. 2018 03 02; 293(9):3039-3055. PMID: 29317497.
Published on 4/10/2017
Gore BB, Miller SM, Jo YS, Baird MA, Hoon M, Sanford CA, Hunker A, Lu W, Wong RO, Zweifel LS. Roundabout receptor 2 maintains inhibitory control of the adult midbrain. Elife. 2017 04 10; 6. PMID: 28394253.
Published on 4/5/2017
Vivante A, Mann N, Yonath H, Weiss AC, Getwan M, Kaminski MM, Bohnenpoll T, Teyssier C, Chen J, Shril S, van der Ven AT, Ityel H, Schmidt JM, Widmeier E, Bauer SB, Sanna-Cherchi S, Gharavi AG, Lu W, Magen D, Shukrun R, Lifton RP, Tasic V, Stanescu HC, Cavaillès V, Kleta R, Anikster Y, Dekel B, Kispert A, Lienkamp SS, Hildebrandt F. A Dominant Mutation in Nuclear Receptor Interacting Protein 1 Causes Urinary Tract Malformations via Dysregulation of Retinoic Acid Signaling. J Am Soc Nephrol. 2017 Aug; 28(8):2364-2376. PMID: 28381549.
Published on 12/31/2016
Chen J, Van Der Ven A, Newman J, Vivante A, Mann N, Shril S, Schulz J, Ityel H, Schmidt MJ, Widmeier E, Gileadi O, Sharrocks A, Palmer K, Costantini K, Cebrian C, Thowfeequ S, Wenger RH, Bauer SB, Lee RS, Lu W, Lienkamp SS, Lifton RP, Tasic V, Kehinde EO, Hildebrandt F. ETV4 mutation in a patient with congenital anomalies of the kidney and urinary tract. International Journal of Pediatrics and Child Health. 2016; 2(4):61-71.
View full list of 42 publications.