Thomas T. Perls MD, MPH, FACP
Professor, Geriatrics
Graduate Faculty (Primary Mentor of Grad Students)
72 E. Concord Street | (617) 353-2050

thperls@bu.edu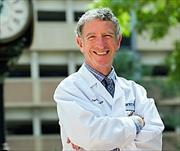 Centers
Evans Center for Interdisciplinary Biomedical Research
Biography
Expertise in epidemiology, genetics of aging and exceptional longevity.

Dr. Perls is among the international leaders in the field of human exceptional longevity. He is founder and director of the New England Centenarian Study, the largest study of centenarians and their families in the world. He is also a principal investigator of the NIA-funded Long Life Family Study. Dr. Perls is also a vocal critic of the "anti-aging" industry.

Dr. Perls is readily available for media interviews and inquiries for presentations. Please call him at 617-638-6688 or via email at thperls@bu.edu.

He has been responsible for numerous novel and pivotal findings in the field:

• Intact cognitive function amongst centenarians may be a function of demographic selection in which younger elderly with poor function die off leaving behind a select group of survivors with lower relative risk for common causes of cognitive impairment such as Alzheimer's disease.

• Twenty percent of female centenarians had children after the age of 40 compared with 5% of women from their birth cohort. The results suggest that women who had children after the age of 40 had a 4 times greater risk of living to 100 or older (Nature).

• Delayed age of menopause and therefore the ability to have more children may be an important genetic selective pressure to evolve genetic variants that slow aging and decrease risk for age related diseases.

• Relative to octogenarians and nonagenarians, Alzheimer's becomes less common amongst centenarians while rarer causes of neuropathology become more common, suggesting that centenarians have a relative resistance to Alzheimer's, which also correlates with the decreased frequency of the apolipoprotein E-4 allele amongst Caucasian centenarians.

• The first to report a series of families that demonstrate remarkable clustering for exceptional longevity (J Amer Geriatrics Society).

• Siblings of centenarians have markedly increased risks for survival to 100 relative to their birth cohort (Lancet and PNAS).

• The children of centenarians have approximately 60% reduced rates of heart disease, stroke, diabetes and hypertension and 80% reduced overall mortality in their early seventies compared to their average birth cohort.

• A substantial proportion of centenarians live with age-related diseases usually associated with significant mortality, for more than 20 years (40%, called survivors), another group have such diseases after the age of 80 (45%, called delayers) and then there are about 15% of centenarians who have none of these diseases at the age of 100 (called escapers). Despite this, more than 90% of centenarians are functionally independent in their early nineties.

• At even older ages however, semi-super-centenarians (ages 105-109 years) and even more so, supercentenarians (age 110+), usually delay such age related diseases towards the ends of their lives. The supercentenarians particularly do this, experiencing such diseases on average in the last 5% of their extremely long lives (J Gerontology, 2012). These findings support for the first time Jim Fries' "compression of morbidity" hypothesis that he proposed in his 1980 New England Journal of Medicine article. The observed homogeneity of this age group in terms of the delay or escape of these diseases is consistent with their being the extreme tail of the population and that they are more likely to have genetic factors in common that confer such an extreme survival advantage.

• Dr. Perls, working with a wide range of disciplines including statisticians, geneticists and computer scientists, has led the production of a landmark article in which a genetic model consisting of 281 genetic markers predicts with 85% accuracy whom in their sample of controls and centenarians is age 105+ years (published this January in PLoS ONE). The accuracy of the model is lower, about 60% for nonagenarians and centenarians at age 100, which supports the hypothesis that the genetic component of survival to older and older age beyond 100 gets progressively stringer. The authors made some additionally important findings: the centenarians have just as many disease-associated genetic variants as people dying at younger ages. Presumably, centenarians are able to survive to much older ages in part because of the presence of longevity associated variants that counter the effects of such disease variants. Particularly for the oldest subjects in the study, most of these 281 markers presumably point to such longevity associated variants, including genes already well known in the biology of aging community such as the Werner's gene, Lamin A (Hutchison Guildford Syndrome) and super oxide dismutase. It's very interesting that there are variants for genes known to cause premature aging that may have the opposite effect and contribute to exceptional longevity.

• In part in order to search for functional variants associated with the SNPs noted in the above model, Dr. Perls also led an effort to whole genome sequence, for the first time, not just one centenarian, but two supercentenarians, a man and woman, both over the age of 114 years (Frontiers in Genetics, January 2012).
Websites
Education
MD, University of Rochester, 1986
MPH, Harvard School of Public Health, 1993
BA, Pitzer College, 1982
Publications
Published on 3/31/2023
Karagiannis TT, Dowrey TW, Villacorta-Martin C, Montano M, Reed E, Belkina AC, Andersen SL, Perls TT, Monti S, Murphy GJ, Sebastiani P. Multi-modal profiling of peripheral blood cells across the human lifespan reveals distinct immune cell signatures of aging and longevity. EBioMedicine. 2023 Apr; 90:104514. PMID: 37005201.
Published on 3/29/2023
Leshchyk A, Xiang Q, Andersen SL, Gurinovich A, Song Z, Lee JH, Christensen K, Yashin A, Wojczynski M, Schwander K, Perls TT, Monti S, Sebastiani P. Mosaic chromosomal alterations and human longevity. J Gerontol A Biol Sci Med Sci. 2023 Mar 29. PMID: 36988570.
Published on 3/29/2023
Leshchyk A, Xiang Q, Andersen SL, Gurinovich A, Song Z, Lee JH, Christensen K, Yashin A, Wojczynski M, Schwander K, Perls TT, Monti S, Sebastiani P. Mosaic chromosomal alterations and human longevity. J Gerontol A Biol Sci Med Sci. 2023 Mar 29. PMID: 36988570.
Published on 2/21/2023
Perls T. Successful aging and its subtypes in centenarians: The Chinese experience. J Am Geriatr Soc. 2023 May; 71(5):1362-1364. PMID: 36810715.
Published on 1/29/2023
Song Z, Gurinovich A, Nygaard M, Mengel-From J, Andersen S, Cosentino S, Schupf N, Lee J, Zmuda J, Ukraintseva S, Arbeev K, Christensen K, Perls T, Sebastiani P. Rare genetic variants correlate with better processing speed. Neurobiol Aging. 2023 May; 125:115-122. PMID: 36813607.
Published on 12/21/2022
Bae H, Gurinovich A, Karagiannis TT, Song Z, Leshchyk A, Li M, Andersen SL, Arbeev K, Yashin A, Zmuda J, An P, Feitosa M, Giuliani C, Franceschi C, Garagnani P, Mengel-From J, Atzmon G, Barzilai N, Puca A, Schork NJ, Perls TT, Sebastiani P. A Genome-Wide Association Study of 2304 Extreme Longevity Cases Identifies Novel Longevity Variants. Int J Mol Sci. 2022 Dec 21; 24(1). PMID: 36613555.
Published on 9/23/2022
Gurinovich A, Li M, Leshchyk A, Bae H, Song Z, Arbeev KG, Nygaard M, Feitosa MF, Perls TT, Sebastiani P. Evaluation of GENESIS, SAIGE, REGENIE and fastGWA-GLMM for genome-wide association studies of binary traits in correlated data. Front Genet. 2022; 13:897210. PMID: 36212134.
Published on 8/23/2022
Sebastiani P, Song Z, Ellis D, Tian Q, Schwaiger-Haber M, Stancliffe E, Lustgarten MS, Funk CC, Baloni P, Yao CH, Joshi S, Marron MM, Gurinovich A, Li M, Leshchyk A, Xiang Q, Andersen SL, Feitosa MF, Ukraintseva S, Soerensen M, Fiehn O, Ordovas JM, Haigis M, Monti S, Barzilai N, Milman S, Ferrucci L, Rappaport N, Patti GJ, Perls TT. A metabolomic signature of the APOE2 allele. Geroscience. 2023 Feb; 45(1):415-426. PMID: 35997888.
Published on 6/13/2022
Barral S, Andersen SL, Perls TT, Bae H, Sebastiani P, Christensen K, Thyagarajan B, Lee J, Schupf N. Association between late maternal age and age-related endophenotypes in the Long Life Family Study. Neurosci Lett. 2022 Jul 27; 784:136737. PMID: 35709880.
Published on 4/1/2022
Wojczynski MK, Jiuan Lin S, Sebastiani P, Perls TT, Lee J, Kulminski A, Newman A, Zmuda JM, Christensen K, Province MA. NIA Long Life Family Study: Objectives, Design, and Heritability of Cross-Sectional and Longitudinal Phenotypes. J Gerontol A Biol Sci Med Sci. 2022 Apr 01; 77(4):717-727. PMID: 34739053.
View full list of 191 publications.