Thomas Ku DO
Voluntary Assistant Professor, General Internal Medicine
72 E. Concord Street | (617) 358-7498

denilo83@bu.edu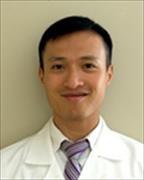 Sections
General Internal Medicine
Biography
Dr. Thomas Ku, DO is an Internal Medicine Hospitalist at Beth Israel Deaconess Hospital-Plymouth and Beth Israel Deaconess Medical Center. He received his Doctor of Osteopathy from Lake Erie College of Osteopathic Medicine in Erie, PA. He completed his Internal Medicine Residency at University of Massachusetts School of Medicine.
Education
Medicine, DO, Lake Erie College of Osteopathic Medicine, 2015
Biochemistry, BS, Stony Brook University, 2008
Publications
Published on 10/24/2019
Pillarsetty N, Jhaveri K, Taldone T, Caldas-Lopes E, Punzalan B, Joshi S, Bolaender A, Uddin MM, Rodina A, Yan P, Ku A, Ku T, Shah SK, Lyashchenko S, Burnazi E, Wang T, Lecomte N, Janjigian Y, Younes A, Batlevi CW, Guzman ML, Roboz GJ, Koziorowski J, Zanzonico P, Alpaugh ML, Corben A, Modi S, Norton L, Larson SM, Lewis JS, Chiosis G, Gerecitano JF, Dunphy MPS. Paradigms for Precision Medicine in Epichaperome Cancer Therapy. Cancer Cell. 2019 11 11; 36(5):559-573.e7. PMID: 31668946.
Published on 1/6/2012
Stelter L, Evans MJ, Jungbluth AA, Zanzonico P, Ritter G, Ku T, Rosenfeld E, Bomalaski JS, Old L, Larson SM. Novel mechanistic insights into arginine deiminase pharmacology suggest 18F-FDG is not suitable to evaluate clinical response in melanoma. J Nucl Med. 2012 Feb; 53(2):281-6. PMID: 22228793.
Published on 9/25/2011
Moulick K, Ahn JH, Zong H, Rodina A, Cerchietti L, Gomes DaGama EM, Caldas-Lopes E, Beebe K, Perna F, Hatzi K, Vu LP, Zhao X, Zatorska D, Taldone T, Smith-Jones P, Alpaugh M, Gross SS, Pillarsetty N, Ku T, Lewis JS, Larson SM, Levine R, Erdjument-Bromage H, Guzman ML, Nimer SD, Melnick A, Neckers L, Chiosis G. Affinity-based proteomics reveal cancer-specific networks coordinated by Hsp90. Nat Chem Biol. 2011 Sep 25; 7(11):818-26. PMID: 21946277.
Published on 3/3/2011
Abou DS, Ku T, Smith-Jones PM. In vivo biodistribution and accumulation of 89Zr in mice. Nucl Med Biol. 2011 Jul; 38(5):675-81. PMID: 21718943.
Published on 12/13/2010
Zhang H, Moroz MA, Serganova I, Ku T, Huang R, Vider J, Maecke HR, Larson SM, Blasberg R, Smith-Jones PM. Imaging expression of the human somatostatin receptor subtype-2 reporter gene with 68Ga-DOTATOC. J Nucl Med. 2011 Jan; 52(1):123-31. PMID: 21149478.
Published on 5/27/2010
Carlin S, Khan N, Ku T, Longo VA, Larson SM, Smith-Jones PM. Molecular targeting of carbonic anhydrase IX in mice with hypoxic HT29 colorectal tumor xenografts. PLoS One. 2010 May 27; 5(5):e10857. PMID: 20523727.
View full list of 6 publications.