Sushrut S. Waikar MD
Section Chief, Nephrology
Norman G. Levinsky Professor, Nephrology
650 Albany St | (617) 638-7330

swaikar@bu.edu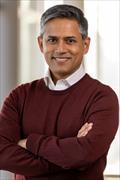 Biography
Sushrut S. Waikar, MD, MPH received a BA in English and Neuroscience at Amherst College, his MD at Yale, and an MPH at Harvard. He is the Norman G. Levinsky Professor of Medicine at Chobanian and Avedisian School of Medicine and Chief of Nephrology at Boston Medical Center. Dr. Waikar's research interests and active projects include epidemiologic, translational, and interventional studies to address novel and clinically important questions in nephrology. Current areas of investigation include optimal diagnostic testing in acute kidney injury and chronic kidney disease; biomarkers of kidney pathology and kidney fibrosis; the identification of relevant targets for interventional trials in kidney disease; and randomized controlled trials. He is a Principal Investigator of several NIH grants including the Kidney Precision Medicine Project (U01 DK133092), Multi-omics and Chronic Kidney Disease: Correlation with Histology (R01 DK108803), Discovery Science Collaborative for CKDu (U01 DK130060), NAD Augmentation to Treat Diabetic Kidney Disease: A Randomized Controlled Trial (U01AG076789) andThe Boston University Kidney and Medical Engineering Program (BU-KIDMEP, R25 DK128858).
Websites
Education
MD, Yale University
MPH, Harvard School of Public Health
English/Neuroscience/Neurology, BA, Amherst College
Publications
Published on 7/19/2023
Lake BB, Menon R, Winfree S, Hu Q, Ferreira RM, Kalhor K, Barwinska D, Otto EA, Ferkowicz M, Diep D, Plongthongkum N, Knoten A, Urata S, Mariani LH, Naik AS, Eddy S, Zhang B, Wu Y, Salamon D, Williams JC, Wang X, Balderrama KS, Hoover PJ, Murray E, Marshall JL, Noel T, Vijayan A, Hartman A, Chen F, Waikar SS, Rosas SE, Wilson FP, Palevsky PM, Kiryluk K, Sedor JR, Toto RD, Parikh CR, Kim EH, Satija R, Greka A, Macosko EZ, Kharchenko PV, Gaut JP, Hodgin JB, Eadon MT, Dagher PC, El-Achkar TM, Zhang K, Kretzler M, Jain S. An atlas of healthy and injured cell states and niches in the human kidney. Nature. 2023 Jul; 619(7970):585-594. PMID: 37468583.
Published on 6/14/2023
Menon R, Otto EA, Barisoni L, Ferreira RM, Limonte CP, Godfrey B, Eichinger F, Nair V, Naik AS, Subramanian L, D'Agati V, Henderson JM, Herlitz L, Kiryluk K, Moledina DG, Moeckel GW, Palevsky PM, Parikh CR, Randhawa P, Rosas SE, Rosenberg AZ, Stillman I, Toto R, Torrealba J, Vazquez MA, Waikar S, Alpers CE, Nelson RG, Eadon MT, Kretzler M, Hodgin JB. Defining the molecular correlate of arteriolar hyalinosis in kidney disease progression by integration of single cell transcriptomic analysis and pathology scoring. medRxiv. 2023 Jun 14. PMID: 37398386.
Published on 6/12/2023
Jiang K, Greenberg JH, Abraham A, Xu Y, Schelling JR, Feldman HI, Schrauben SJ, Waikar SS, Shlipak MG, Wettersten N, Coca SG, Vasan RS, Gutierrez OM, Ix JH, Warady BA, Kimmel PL, Bonventre JV, Parikh CR, Mitsnefes MM, Denburg MR, Furth S. Associations of Biomarkers of Kidney Tubule Health, Injury, and Inflammation with Left Ventricular Hypertrophy in Children with CKD. Kidney360. 2023 Aug 01; 4(8):1039-1047. PMID: 37303083.
Published on 6/4/2023
Sharma K, Zhang G, Hansen J, Bjornstad P, Lee HJ, Menon R, Hejazi L, Liu JJ, Franzone A, Looker HC, Choi BY, Fernandez R, Venkatachalam MA, Kugathasan L, Sridhar VS, Natarajan L, Zhang J, Sharma V, Kwan B, Waikar S, Himmelfarb J, Tuttle K, Kestenbaum B, Fuhrer T, Feldman H, de Boer IH, Tucci FC, Sedor J, Heerspink HL, Schaub J, Otto E, Hodgin JB, Kretzler M, Anderton C, Alexandrov T, Cherney D, Lim SC, Nelson RG, Gelfond J, Iyengar R. Role of endogenous adenine in kidney failure and mortality with diabetes. medRxiv. 2023 Jun 04. PMID: 37398187.
Published on 5/24/2023
Ku E, Del Vecchio L, Eckardt KU, Haase VH, Johansen KL, Nangaku M, Tangri N, Waikar SS, Wiecek A, Cheung M, Jadoul M, Winkelmayer WC, Wheeler DC. Novel anemia therapies in chronic kidney disease: conclusions from a Kidney Disease: Improving Global Outcomes (KDIGO) Controversies Conference. Kidney Int. 2023 May 24. PMID: 37236424.
Published on 5/4/2023
Dubin RF, Deo R, Ren Y, Lee H, Shou H, Feldman H, Kimmel P, Waikar SS, Rhee EP, Tin A, Chen J, Coresh J, Go AS, Kelly T, Rao PS, Chen TK, Segal MR, Ganz P. Analytical and Biological Variability of a Commercial Modified Aptamer Assay in Plasma Samples of Patients with Chronic Kidney Disease. J Appl Lab Med. 2023 May 04; 8(3):491-503. PMID: 36705086.
Published on 4/1/2023
Buckley LF, Schmidt IM, Verma A, Palsson R, Adam D, Shah AM, Srivastava A, Waikar SS. Associations Between Kidney Histopathologic Lesions and Incident Cardiovascular Disease in Adults With Chronic Kidney Disease. JAMA Cardiol. 2023 Apr 01; 8(4):357-365. PMID: 36884237.
Published on 3/15/2023
Hong X, Rosenberg AZ, Heymann J, Yoshida T, Waikar SS, Ilori TO, Wang G, Rebuck H, Pearson C, Wang MC, Winkler CA, Kopp JB, Wang X. Joint associations of pregnancy complications and postpartum maternal renal biomarkers with severe cardiovascular morbidities: A US racially diverse prospective birth cohort study. medRxiv. 2023 Mar 15. PMID: 36993418.
Published on 3/9/2023
Ilori TO, Zhen A, Velani RN, Zhao R, Echouffo-Tcheugui J, Anderson CAM, Waikar SS, Kengne AP. The impact of dietary and lifestyle interventions on blood pressure management in sub-Saharan Africa: a systematic review and metanalysis. J Hypertens. 2023 Jun 01; 41(6):918-925. PMID: 36928004.
Published on 2/22/2023
Schmidt IM, Shohet M, Serrano M, Yadati P, Menn-Josephy H, Ilori T, Eneanya ND, Cleveland Manchanda EC, Waikar SS. Patients' Perspectives on Race and the Use of Race-Based Algorithms in Clinical Decision-Making: a Qualitative Study. J Gen Intern Med. 2023 Jul; 38(9):2045-2051. PMID: 36811702.
View full list of 272 publications.