Sushrut S. Waikar MD
Section Chief, Nephrology
Norman G. Levinsky Professor, Nephrology
650 Albany St | (617) 638-7330

swaikar@bu.edu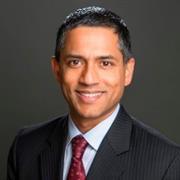 Biography
Dr. Waikar is a clinician-investigator with interest in acute kidney injury (AKI), chronic kidney disease (CKD), renal replacement therapy, and electrolyte abnormalities. Dr. Waikar's research projects include epidemiologic investigations utilizing large databases as well as translational/patient-oriented research projects. Ongoing studies in my research group include: the epidemiology of AKI and hyponatremia; novel blood and urinary biomarkers of AKI and CKD; and small solute flux during hemodialysis and continuous renal replacement therapy. Dr. Waikar's lab has a number of ongoing observational cohorts with biological sample collection in patients with and at risk for AKI and CKD, including in patients undergoing cardiac surgery, cardiac catheterization, intensive care unit hospitalization, cisplatin chemotherapy, and kidney biopsy.
Websites
Education
MD, Yale University, 1998
MPH, Harvard School of Public Health, 2006
English, BA, Amherst College, 1993
Publications
Published on 9/24/2021
Garimella PS, Katz R, Waikar SS, Srivastava A, Schmidt I, Hoofnagle A, Palsson R, Rennke HG, Stillman IE, Wang K, Kestenbaum BR, Ix JH. Kidney Tubulointerstitial Fibrosis and Tubular Secretion. Am J Kidney Dis. 2021 Sep 24. PMID: 34571064.
Published on 9/23/2021
Hsu CY, Yang W, Parikh RV, Anderson AH, Chen TK, Cohen DL, He J, Mohanty MJ, Lash JP, Mills KT, Muiru AN, Parsa A, Saunders MR, Shafi T, Townsend RR, Waikar SS, Wang J, Wolf M, Tan TC, Feldman HI, Go AS. Race, Genetic Ancestry, and Estimating Kidney Function in CKD. N Engl J Med. 2021 Sep 23. PMID: 34554660.
Published on 9/20/2021
Greenberg JH, Abraham AG, Xu Y, Schelling JR, Feldman HI, Sabbisetti VS, Ix JH, Jogalekar MP, Coca S, Waikar SS, Shlipak MG, Warady BA, Vasan RS, Kimmel PL, Bonventre JV, Denburg M, Parikh CR, Furth S. Urine Biomarkers of Kidney Tubule Health, Injury, and Inflammation are Associated with Progression of CKD in Children. J Am Soc Nephrol. 2021 Oct; 32(10):2664-2677. PMID: 34544821.
Published on 9/14/2021
Schwarzschild MA, Ascherio A, Casaceli C, Curhan GC, Fitzgerald R, Kamp C, Lungu C, Macklin EA, Marek K, Mozaffarian D, Oakes D, Rudolph A, Shoulson I, Videnovic A, Scott B, Gauger L, Aldred J, Bixby M, Ciccarello J, Gunzler SA, Henchcliffe C, Brodsky M, Keith K, Hauser RA, Goetz C, LeDoux MS, Hinson V, Kumar R, Espay AJ, Jimenez-Shahed J, Hunter C, Christine C, Daley A, Leehey M, de Marcaida JA, Friedman JH, Hung A, Bwala G, Litvan I, Simon DK, Simuni T, Poon C, Schiess MC, Chou K, Park A, Bhatti D, Peterson C, Criswell SR, Rosenthal L, Durphy J, Shill HA, Mehta SH, Ahmed A, Deik AF, Fang JY, Stover N, Zhang L, Dewey RB, Gerald A, Boyd JT, Houston E, Suski V, Mosovsky S, Cloud L, Shah BB, Saint-Hilaire M, James R, Zauber SE, Reich S, Shprecher D, Pahwa R, Langhammer A, LaFaver K, LeWitt PA, Kaminski P, Goudreau J, Russell D, Houghton DJ, Laroche A, Thomas K, McGraw M, Mari Z, Serrano C, Blindauer K, Rabin M, Kurlan R, Morgan JC, Soileau M, Ainslie M, Bodis-Wollner I, Schneider RB, Waters C, Ratel AS, Beck CA, Bolger P, Callahan KF, Crotty GF, Klements D, Kostrzebski M, McMahon GM, Pothier L, Waikar SS, Lang A, Mestre T. Effect of Urate-Elevating Inosine on Early Parkinson Disease Progression: The SURE-PD3 Randomized Clinical Trial. JAMA. 2021 09 14; 326(10):926-939. PMID: 34519802.
Published on 9/14/2021
Raundhal M, Ghosh S, Myers SA, Cuoco MS, Singer M, Carr SA, Waikar SS, Bonventre JV, Ritz J, Stone RM, Steensma DP, Regev A, Glimcher LH. Author Correction: Blockade of IL-22 signaling reverses erythroid dysfunction in stress-induced anemias. Nat Immunol. 2021 Sep 14. PMID: 34522041.
Published on 9/7/2021
Correa S, Guerra-Torres XE, Ravi KS, Mothi SS, Waikar SS, Mc Causland FR. Risk of Intradialytic Hypotension by Day of the Week in Maintenance Hemodialysis. ASAIO J. 2021 Sep 07. PMID: 34494985.
Published on 9/1/2021
Adler JT, Xiang L, Weissman JS, Rodrigue JR, Patzer RE, Waikar SS, Tsai TC. Association of Public Reporting of Medicare Dialysis Facility Quality Ratings With Access to Kidney Transplantation. JAMA Netw Open. 2021 Sep 01; 4(9):e2126719. PMID: 34559227.
Published on 8/14/2021
Liu J, Tio MC, Verma A, Schmidt IM, Ilori TO, Knauf F, Causland FRM, Waikar SS. Determinants and outcomes associated with urinary calcium excretion in chronic kidney disease. J Clin Endocrinol Metab. 2021 Aug 14. PMID: 34390334.
Published on 7/19/2021
Pfau A, Ermer T, Coca SG, Tio MC, Genser B, Reichel M, Finkelstein FO, März W, Wanner C, Waikar SS, Eckardt KU, Aronson PS, Drechsler C, Knauf F. High Oxalate Concentrations Correlate with Increased Risk for Sudden Cardiac Death in Dialysis Patients. J Am Soc Nephrol. 2021 Sep; 32(9):2375-2385. PMID: 34281958.
Published on 7/15/2021
Kelly YP, Sharma S, Mothi SS, McCausland FR, Mendu ML, McMahon GM, Palevsky PM, Waikar SS. Hypocalcemia is associated with hypotension during CRRT: A secondary analysis of the Acute Renal Failure Trial Network Study. J Crit Care. 2021 Oct; 65:261-267. PMID: 34274834.
View full list of 218 publications.