Sushrut S. Waikar MD
Section Chief, Nephrology
Norman G. Levinsky Professor, Nephrology
650 Albany St | (617) 638-7330

swaikar@bu.edu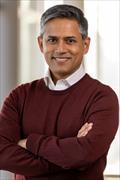 Biography
Sushrut S. Waikar, MD, MPH received a BA in English and Neuroscience at Amherst College, his MD at Yale, and an MPH at Harvard. He is the Norman G. Levinsky Professor of Medicine at Chobanian and Avedisian School of Medicine and Chief of Nephrology at Boston Medical Center. Dr. Waikar's research interests and active projects include epidemiologic, translational, and interventional studies to address novel and clinically important questions in nephrology. Current areas of investigation include optimal diagnostic testing in acute kidney injury and chronic kidney disease; biomarkers of kidney pathology and kidney fibrosis; the identification of relevant targets for interventional trials in kidney disease; and randomized controlled trials. He is a Principal Investigator of several NIH grants including the Kidney Precision Medicine Project (U01 DK133092), Multi-omics and Chronic Kidney Disease: Correlation with Histology (R01 DK108803), Discovery Science Collaborative for CKDu (U01 DK130060), NAD Augmentation to Treat Diabetic Kidney Disease: A Randomized Controlled Trial (U01AG076789) andThe Boston University Kidney and Medical Engineering Program (BU-KIDMEP, R25 DK128858).
Websites
Education
MD, Yale University, 1998
MPH, Harvard School of Public Health, 2006
English/Neuroscience/Neurology, BA, Amherst College, 1993
Publications
Published on 5/4/2023
Dubin RF, Deo R, Ren Y, Lee H, Shou H, Feldman H, Kimmel P, Waikar SS, Rhee EP, Tin A, Chen J, Coresh J, Go AS, Kelly T, Rao PS, Chen TK, Segal MR, Ganz P. Analytical and Biological Variability of a Commercial Modified Aptamer Assay in Plasma Samples of Patients with Chronic Kidney Disease. J Appl Lab Med. 2023 May 04; 8(3):491-503. PMID: 36705086.
Published on 4/1/2023
Buckley LF, Schmidt IM, Verma A, Palsson R, Adam D, Shah AM, Srivastava A, Waikar SS. Associations Between Kidney Histopathologic Lesions and Incident Cardiovascular Disease in Adults With Chronic Kidney Disease. JAMA Cardiol. 2023 Apr 01; 8(4):357-365. PMID: 36884237.
Published on 3/15/2023
Hong X, Rosenberg AZ, Heymann J, Yoshida T, Waikar SS, Ilori TO, Wang G, Rebuck H, Pearson C, Wang MC, Winkler CA, Kopp JB, Wang X. Joint associations of pregnancy complications and postpartum maternal renal biomarkers with severe cardiovascular morbidities: A US racially diverse prospective birth cohort study. medRxiv. 2023 Mar 15. PMID: 36993418.
Published on 3/9/2023
Ilori TO, Zhen A, Velani RN, Zhao R, Echouffo-Tcheugui J, Anderson CAM, Waikar SS, Kengne AP. The impact of dietary and lifestyle interventions on blood pressure management in sub-Saharan Africa: a systematic review and metanalysis. J Hypertens. 2023 Jun 01; 41(6):918-925. PMID: 36928004.
Published on 2/22/2023
Schmidt IM, Shohet M, Serrano M, Yadati P, Menn-Josephy H, Ilori T, Eneanya ND, Cleveland Manchanda EC, Waikar SS. Patients' Perspectives on Race and the Use of Race-Based Algorithms in Clinical Decision-Making: a Qualitative Study. J Gen Intern Med. 2023 Feb 22; 1-7. PMID: 36811702.
Published on 2/10/2023
Mc Causland FR, Hsu JY, Himmelfarb J, Ikizler TA, Raj DS, Mehrotra R, Waikar SS, Kimmel PL, Kliger AS, Dember LM, Charytan DM. Effects of Spironolactone on Arrhythmias in Hemodialysis Patients: Secondary Results of the SPin-D Randomized Controlled Trial. Kidney360. 2023 Apr 01; 4(4):e486-e495. PMID: 36763641.
Published on 1/24/2023
Ilori TO, Solarin A, Manmak M, Raji YR, Braimoh R, Kwakyi E, Umeizudike T, Ajepe T, Bolanle O, Ripiye N, Eduful E, Adebile T, Ijeoma C, Mumuni AA, Chern J, Akinpelu M, Ulasi I, Arogundade F, Salako BL, Gbadegesin R, Parekh RS, Dupuis J, Amira CO, Adu D, Anderson CAM, Ojo A, Waikar SS. Rationale and Design of the Diet, CKD, and Apolipoprotein L1 Study in Low-Income and Middle-Income Countries. Kidney Int Rep. 2023 Apr; 8(4):764-774. PMID: 37069986.
Published on 1/4/2023
Alostaz M, Correa S, Lundy GS, Waikar SS, Mc Causland FR. Time of hemodialysis and risk of intradialytic hypotension and intradialytic hypertension in maintenance hemodialysis. J Hum Hypertens. 2023 Jan 04. PMID: 36599899.
Published on 1/4/2023
Ferkowicz MJ, Winfree S, Sabo AR, Kamocka MM, Khochare S, Barwinska D, Eadon MT, Cheng YH, Phillips CL, Sutton TA, Kelly KJ, Dagher PC, El-Achkar TM, Dunn KW, Knight R, Lecker S, Stillman I, Mcmahon G, Waikar S, Weins A, Hacohen N, Hoover P, Aulisio M, Cooperman L, Herlitz L, O'toole J, Poggio E, Sedor J, Appelbaum P, Barasch J, Bomback A, D'agati V, Kiryluk K, Mehl K, Shang NS, Weng C, Barisoni L, Alexandrov T, Ashkar T, Barwinska D, Dagher P, Dunn K, Eadon M, Ferkowicz M, Kelly K, Sutton T, Winfree S, Menez S, Parikh C, Rosenberg A, Villalobos P, Slack A, Rosas S, Williams M, Azeloglu E, He CJ, Iyengar R, Parikh S, Anderton C, Pasa-Tolic L, Velickovic D, Oliver GH, Ardayfio J, Bebiak J, Brown K, Campbell T, Campbell C, Hayashi L, Jefferson N, Koewler R, Roberts G, Saul J, Shpigel A, Stutzke EC, Wright L, Miegs L, Pinkeney R, Sealfon R, Troyanskaya O, Tuttle K, Goltsev Y, Lake B, Zhang K, Dobi D, Joanes M, Laszik Z, Nolan G, Schroeder A, Balis U, He O, Hodgin J, Kretzler M, Mariani L, Menon R, Otto E, Schaub J, Steck B, Elder M, Hall D, Kellum J, Kruth M, Murugan R, Palevsky P, Randhawa P, Rosengart M, Sims-Lucas S, Stefanick M, Stull S, Tublin M, Alpers C, Boer I, Fullerton M, Himmelfarb J, Mcclelland R, Mooney S, Shankland S, Williams K, Blank K, Dighe A, Carson J, Dowd F, Drager Z, Sharma K, Zhang G, Kermani A, Lee S, Lu C, Miller T, Moe O, Park H, Sambandam K, Sanchez F, Torrealba J, Robert T, Vazquez M, Wang N, Gaut J, Jain S, Vijayan A, Luciano R, Moledina D, Ugochukwu U, Wilson FP. Large-scale, three-dimensional tissue cytometry of the human kidney: a complete and accessible pipeline. Lab Invest. 2021 May; 101(5):661-676. PMID: 36775387.
Published on 12/29/2022
Singh AT, Yen TE, Mothi SS, Waikar SS, Mc Causland FR. Associations of Iron Sucrose and Intradialytic Blood Pressure. Am J Kidney Dis. 2023 Jun; 81(6):647-654. PMID: 36587889.
View full list of 267 publications.