Simeon Kimmel MD, MA
Assistant Professor, General Internal Medicine
801 Massachusetts Ave | (617) 414-2846

sdkimmel@bu.edu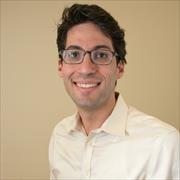 Sections
General Internal Medicine
Centers
Clinical Addiction Research and Education Unit
Biography
Simeon Kimmel is an Assistant Professor of Medicine at Chobanian and Avedisian School of Medicine and an Attending Physician in the Sections of General Internal Medicine and Infectious Diseases at Boston Medical Center and Medical Director of Project TRUST, Boston Medical Center's harm reduction focused drop-in center. He trained in Internal Medicine and Primary Care at Brigham and Women's Hospital before completing a joint fellowship in Addiction Medicine and Infectious Diseases at Boston Medical Center. He also earned a Master's Degree in Medical Anthropology from the Harvard Graduate School of Arts and Sciences. His research focuses on improving retention in treatment with medications for opioid use disorder following serious injection related infections as well as the integration of addiction and harm reduction services with infectious disease care. He was awarded a Career Development Award from NIDA in 2021.
Websites
Education
MD, Harvard Medical School
MA, Harvard Graduate School of Arts and Sciences
Publications
Published on 5/1/2023
Xuan Z, Yan S, Formica SW, Green TC, Beletsky L, Rosenbloom D, Bagley SM, Kimmel SD, Carroll JJ, Lambert AM, Walley AY. Association of Implementation of Postoverdose Outreach Programs With Subsequent Opioid Overdose Deaths Among Massachusetts Municipalities. JAMA Psychiatry. 2023 May 01; 80(5):468-477. PMID: 36920385.
Published on 4/3/2023
Jawa R, Tin Y, Nall S, Calcaterra SL, Savinkina A, Marks LR, Kimmel SD, Linas BP, Barocas JA. Estimated Clinical Outcomes and Cost-effectiveness Associated With Provision of Addiction Treatment in US Primary Care Clinics. JAMA Netw Open. 2023 Apr 03; 6(4):e237888. PMID: 37043198.
Published on 4/3/2023
Harvey L, Kimmel SD, Edelman EJ. Meeting the Moment: More Infectious Disease Physicians Must Be Prepared to Provide Buprenorphine. Clin Infect Dis. 2023 Apr 03; 76(7):1205-1208. PMID: 36695340.
Published on 2/14/2023
Alrawashdeh M, Rhee C, Klompas M, Larochelle MR, Poland RE, Guy JS, Kimmel SD. Association of Early Opioid Withdrawal Treatment Strategy and Patient-Directed Discharge Among Hospitalized Patients with Opioid Use Disorder. J Gen Intern Med. 2023 Feb 14. PMID: 36788169.
Published on 2/7/2023
Cohen SM, Joab R, Bolles KM, Friedman S, Kimmel SD. Ending Medical Complicity With Skilled-Nursing Facility Discrimination Against People With Opioid Use Disorder. Ann Intern Med. 2023 Mar; 176(3):410-412. PMID: 36745883.
Published on 1/10/2023
Fletcher L, Burrowes SAB, Khan GK, Sabin L, Johnson S, Kimmel SD, Ruiz-Mercado G, Pierre C, Drainoni ML. Perspectives on long-acting injectable HIV antiretroviral therapy at an alternative care site: a qualitative study of people with HIV experiencing substance use and/or housing instability. Harm Reduct J. 2023 Jan 10; 20(1):4. PMID: 36627679.
Published on 11/17/2022
Bovell-Ammon BJ, Kimmel SD, Cheng DM, Truong V, Michals A, Vetrova M, Hook K, Idrisov B, Blokhina E, Krupitsky E, Samet JH, Lunze K. Incarceration history, antiretroviral therapy, and stigma: A cross-sectional study of people with HIV who inject drugs in St. Petersburg, Russia. Int J Drug Policy. 2023 Jan; 111:103907. PMID: 36402082.
Published on 7/29/2022
Weisenthal K, Kimmel SD, Kehoe J, Larochelle MR, Walley AY, Taylor JL. Effect of police action on low-barrier substance use disorder service utilization. Harm Reduct J. 2022 Jul 29; 19(1):86. PMID: 35906660.
Published on 6/23/2022
Kim TW, Samet JH, Lodi S, Kimmel SD, Forman LS, Lira MC, Liebschutz JM, Williams EC, Walley AY. Functional Impairment and Cognitive Symptoms Among People with HIV Infection on Chronic Opioid Therapy for Pain: The Impact of Gabapentin and Other Sedating Medications. AIDS Behav. 2022 Dec; 26(12):3889-3896. PMID: 35737281.
Published on 5/18/2022
Datar Y, Yin K, Wang Y, Lawrence KW, Awtry EH, Cervantes-Arslanian AM, Kimmel SD, Fagan MA, Weinstein ZM, Karlson KJ, McAneny DB, Edwards NM, Dobrilovic N. Surgical outcomes of pulmonary valve infective endocarditis: A US population-based analysis. Int J Cardiol. 2022 Aug 15; 361:50-54. PMID: 35597492.
View full list of 44 publications.