Simeon Kimmel MD, MA
Assistant Professor, General Internal Medicine
801 Massachusetts Ave | (617) 414-2846

sdkimmel@bu.edu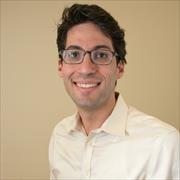 Sections
General Internal Medicine
Centers
Clinical Addiction Research and Education Unit
Biography
Simeon Kimmel is an Assistant Professor of Medicine at Boston University School of Medicine and an Attending Physician in the Sections of General Internal Medicine and Infectious Diseases at Boston Medical Center and Medical Director of Project TRUST, Boston Medical Center's harm reduction focused drop-in center. He trained in Internal Medicine and Primary Care at Brigham and Women's Hospital before completing a joint fellowship in Addiction Medicine and Infectious Diseases at Boston Medical Center. He also earned a Master's Degree in Medical Anthropology from the Harvard Graduate School of Arts and Sciences. His research focuses on improving retention in treatment with medications for opioid use disorder following serious injection related infections as well as the integration of addiction and harm reduction services with infectious disease care. He was awarded a Career Development Award from NIDA in 2021.
Websites
Education
MD, Harvard Medical School
MA, Harvard Graduate School of Arts and Sciences
Publications
Published on 8/1/2021
Dean A, McCallum J, Kimmel S, Venkataramani A. Iowa School Districts Were More Likely To Adopt COVID-19 Mask Mandates Where Teachers Were Unionized. Health Aff (Millwood). 2021 08; 40(8):1270-1276. PMID: 34339251.
Published on 7/1/2021
Joudrey PJ, Adams ZM, Bach P, Van Buren S, Chaiton JA, Ehrenfeld L, Guerra ME, Gleeson B, Kimmel SD, Medley A, Mekideche W, Paquet M, Sung M, Wang M, You Kheang ROO, Zhang J, Wang EA, Edelman EJ. Methadone Access for Opioid Use Disorder During the COVID-19 Pandemic Within the United States and Canada. JAMA Netw Open. 2021 07 01; 4(7):e2118223. PMID: 34297070.
Published on 6/23/2021
Alrawashdeh M, Klompas M, Kimmel S, Larochelle MR, Gokhale RH, Dantes RB, Hoots B, Hatfield KM, Reddy SC, Fiore AE, Septimus EJ, Kadri SS, Poland R, Sands K, Rhee C. Epidemiology, Outcomes, and Trends of Patients With Sepsis and Opioid-Related Hospitalizations in U.S. Hospitals. Crit Care Med. 2021 Jun 23. PMID: 34314131.
Published on 6/1/2021
Kimmel S, Bach P, Walley AY. Treatment of Refractory Opioid Use Disorder : Comparison of Treatment Options for Refractory Opioid Use Disorder in the United States and Canada: A Narrative Review. J Gen Intern Med. 2021 06; 36(6):1793. PMID: 33772440.
Published on 5/10/2021
Kimmel SD, Anderson ES, Larochelle MR. HIV testing among people with and without substance use disorder in emergency departments: A nationwide cohort study. Am J Emerg Med. 2021 Oct; 48:269-272. PMID: 34015610.
Published on 4/27/2021
Burns RH, Pierre CM, Marathe JG, Ruiz-Mercado G, Taylor JL, Kimmel SD, Johnson SL, Fukuda HD, Assoumou SA. Partnering With State Health Departments to Address Injection-Related Infections During the Opioid Epidemic: Experience at a Safety Net Hospital. Open Forum Infect Dis. 2021 Aug; 8(8):ofab208. PMID: 34409120.
Published on 3/15/2021
Kimmel SD, Walley AY, Lodi S, Forman LS, Liebschutz JM, Lira MC, Kim TW, Del Rio C, Samet JH, Tsui JI. Naloxone receipt and overdose prevention care among people with HIV on chronic opioid therapy. AIDS. 2021 03 15; 35(4):697-700. PMID: 33587441.
Published on 1/1/2021
Kimmel SD, Gaeta JM, Hadland SE, Hallett E, Marshall BDL. Principles of Harm Reduction for Young People Who Use Drugs. Pediatrics. 2021 01; 147(Suppl 2):S240-S248. PMID: 33386326.
Published on 1/1/2021
Kimmel SD, Rosenmoss S, Bearnot B, Larochelle M, Walley AY. Rejection of Patients With Opioid Use Disorder Referred for Post-acute Medical Care Before and After an Anti-discrimination Settlement in Massachusetts. J Addict Med. 2021 Jan-Feb 01; 15(1):20-26. PMID: 32675798.
Published on 12/8/2020
Komaromy M, Tomanovich M, Taylor JL, Ruiz-Mercado G, Kimmel SD, Bagley SM, Saia KM, Costello E, Park TW, LaBelle C, Weinstein Z, Walley AY. Adaptation of a System of Treatment for Substance Use Disorders During the COVID-19 Pandemic. J Addict Med. 2020 Dec 08. PMID: 33298750.
View full list of 28 publications.