Sarah Anne Mazzilli PhD
Assistant Professor, Computational Biomedicine
Member, Genome Science Institute
72 East Concord Street | (617) 358-7269

mazzilli@bu.edu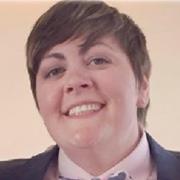 Sections
Computational Biomedicine
Centers
BU-BMC Cancer Center
Evans Center for Interdisciplinary Biomedical Research
Biography
Investigating the molecular events associated with the progression of premalignant squamous lung lesions for targeted chemoprevention.

Lung cancer kills more individuals in the United States annually than breast, colon and prostate cancers combined. Reduction of lung cancer mortality may be achieved by identification of those at the high risk of developing cancer, in addition to finding effective agents in which to intervene in the process. There has been limited success of candidate chemopreventive agents in lung cancer as most have selected based on work in pre-clinical models that do not adequately represent the precancerous and early stage lesions that are the focus in clinical chemoprevention trials for lung cancer. The interests of our laboratory involve developing models to aid in the understanding of the epithelial and immune modulations that are involved in the progression and regression of premalignant squamous lesions to frank lung squamous cell carcinoma with a particular focus on identifying and testing targeted agents on appropriate models that allow for translation to clinical intervention studies. To do this the our lab utilized novel single cell and multiplex imaging technologies to characterize the immune and epithelial alterations enabling lung carcinogenesis and study mechanisms to intercept this process. Our lab also works closely with members of the section of Computational Biomedicine as well as national and international collaborators on the Pre-Cancer Genome Atlas (PCGA) and the NCI- Human Tumor Atlas leading the effort to further understand the molecular underpinnings of lung cancer development to advance early detection and intervention.
Websites
Education
PhD, University at Buffalo, 2014
Natural Science, MS, University at Buffalo, 2007
BS, Bridgewater State University, 2005
Publications
Published on 6/15/2021
Jaleel Z, Blasberg E, Troiano C, Montanaro P, Mazzilli S, Gertje HP, Crossland NA, Platt M, Spiegel J. Association of vaping with decreased vascular endothelial growth factor expression and decreased microvessel density in cutaneous wound healing tissue in rats. Wound Repair Regen. 2021 Jun 15. PMID: 34129265.
Published on 5/4/2021
Tilston-Lunel A, Mazzilli S, Kingston NM, Szymaniak AD, Hicks-Berthet J, Kern JG, Abo K, Reid ME, Perdomo C, Wilson AA, Spira A, Beane J, Varelas X. Aberrant epithelial polarity cues drive the development of precancerous airway lesions. Proc Natl Acad Sci U S A. 2021 May 04; 118(18). PMID: 33903236.
Published on 12/29/2020
Engler AE, Ysasi AB, Pihl RMF, Villacorta-Martin C, Heston HM, Richardson HMK, Thapa BR, Moniz NR, Belkina AC, Mazzilli SA, Rock JR. Airway-Associated Macrophages in Homeostasis and Repair. Cell Rep. 2020 12 29; 33(13):108553. PMID: 33378665.
Published on 4/16/2020
Rozenblatt-Rosen O, Regev A, Oberdoerffer P, Nawy T, Hupalowska A, Rood JE, Ashenberg O, Cerami E, Coffey RJ, Demir E, Ding L, Esplin ED, Ford JM, Goecks J, Ghosh S, Gray JW, Guinney J, Hanlon SE, Hughes SK, Hwang ES, Iacobuzio-Donahue CA, Jané-Valbuena J, Johnson BE, Lau KS, Lively T, Mazzilli SA, Pe'er D, Santagata S, Shalek AK, Schapiro D, Snyder MP, Sorger PK, Spira AE, Srivastava S, Tan K, West RB, Williams EH. The Human Tumor Atlas Network: Charting Tumor Transitions across Space and Time at Single-Cell Resolution. Cell. 2020 04 16; 181(2):236-249. PMID: 32302568.
Published on 12/11/2019
Duclos GE, Teixeira VH, Autissier P, Gesthalter YB, Reinders-Luinge MA, Terrano R, Dumas YM, Liu G, Mazzilli SA, Brandsma CA, van den Berge M, Janes SM, Timens W, Lenburg ME, Spira A, Campbell JD, Beane J. Characterizing smoking-induced transcriptional heterogeneity in the human bronchial epithelium at single-cell resolution. Sci Adv. 2019 12; 5(12):eaaw3413. PMID: 31844660.
Published on 4/23/2019
Beane JE, Mazzilli SA, Campbell JD, Duclos G, Krysan K, Moy C, Perdomo C, Schaffer M, Liu G, Zhang S, Liu H, Vick J, Dhillon SS, Platero SJ, Dubinett SM, Stevenson C, Reid ME, Lenburg ME, Spira AE. Molecular subtyping reveals immune alterations associated with progression of bronchial premalignant lesions. Nat Commun. 2019 04 23; 10(1):1856. PMID: 31015447.
Published on 1/31/2019
Jin C, Lagoudas GK, Zhao C, Bullman S, Bhutkar A, Hu B, Ameh S, Sandel D, Liang XS, Mazzilli S, Whary MT, Meyerson M, Germain R, Blainey PC, Fox JG, Jacks T. Commensal Microbiota Promote Lung Cancer Development via ?d T Cells. Cell. 2019 02 21; 176(5):998-1013.e16. PMID: 30712876.
Published on 5/22/2017
Beane J, Mazzilli SA, Tassinari AM, Liu G, Zhang X, Liu H, Buncio AD, Dhillon SS, Platero SJ, Lenburg ME, Reid ME, Lam S, Spira AE. Detecting the Presence and Progression of Premalignant Lung Lesions via Airway Gene Expression. Clin Cancer Res. 2017 Sep 01; 23(17):5091-5100. PMID: 28533227.
Published on 4/1/2017
Spira A, Yurgelun MB, Alexandrov L, Rao A, Bejar R, Polyak K, Giannakis M, Shilatifard A, Finn OJ, Dhodapkar M, Kay NE, Braggio E, Vilar E, Mazzilli SA, Rebbeck TR, Garber JE, Velculescu VE, Disis ML, Wallace DC, Lippman SM. Precancer Atlas to Drive Precision Prevention Trials. Cancer Res. 2017 Apr 01; 77(7):1510-1541. PMID: 28373404.
Published on 2/1/2016
Campbell JD, Mazzilli SA, Reid ME, Dhillon SS, Platero S, Beane J, Spira AE. The Case for a Pre-Cancer Genome Atlas (PCGA). Cancer Prev Res (Phila). 2016 Feb; 9(2):119-24. PMID: 26839336.
View full list of 12 publications.