Sarah Mazzilli, Ph.D.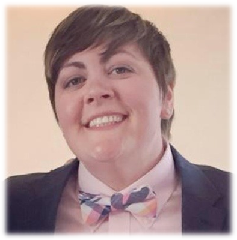 Education
B.S. Biology & Chemistry, Bridgewater State University, Bridgewater, Massachusetts 2005
M.S. Natural Sciences, SUNY –University of Buffalo: Roswell Park Cancer Institute, Buffalo, New York 2007
Ph.D. Molecular Pharmacology & Therapeutics, SUNY –University of Buffalo: Roswell Park Cancer Institute, Buffalo, New York 2013
Contact Information
Email: mazzilli@bu.edu
Office: E635
Phone: 617-358-7269
Research Interests
Investigating the molecular events associated with the progression of premalignant squamous lung lesions for targeted chemoprevention.

Lung cancer kills more than 160,000 individuals in the United States annually. Reduction of lung cancer mortality may be achieved by identification at high risk of developing cancer in addition to effective cancer preventive agents. There has been limited success of candidate chemopreventive agents as most have been assessed in pre-clinical models that do not represent the precancerous and early stage lesions that are examined in clinical chemoprevention trials for lung cancer. Clinical chemoprevention trials in lung cancer often examine the effects of agents on premalignant squamous lesions in patients at risk as such lesions can be regularly monitored by bronchoscopy. My interests and work in the Spira/ Lenburg laboratory involve developing models to aid in the understanding of the molecular events that involved in the progression of premalignant squamous lesions to frank squamous cell carcinoma to identify targets and appropriate models for intervention studies. Utilizing the computational expertise to the group. I am working to further characterize the N-Nitrosotris- (2-chloroethyl) urea chemically induced mouse model of lung squamous cell carcinoma as a model of premalignancy to be used for chemoprevention studies.
Publications
Campbell JD, Mazzilli SA, Reid ME, Dhillon SS, Platero S, et al. (2016) The Case for a Pre-Cancer Genome Atlas (PCGA). Cancer Prev Res (Phila) 9(2):119-124
Mazzilli SA, Hershberger PA, Reid ME, Bogner PN, Atwood K, et al. (2015) Vitamin D Repletion Reduces the Progression of Premalignant Squamous Lesions in the NTCU Lung Squamous Cell Carcinoma Mouse Model. Cancer Prev Res (Phila) 8(10):895-904.
McDowell GS, Gunsalus KT, MacKellar DC, Mazzilli SA, Pai VP, et al. (2014) Shaping the Future of Research: a perspective from junior scientists. F1000Res 3:291.