Sarah King MD
Voluntary Assistant Professor, Geriatrics
Fellow, Geriatrics
72 E. Concord Street | (617) 638-8383

seking@bu.edu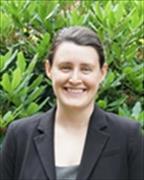 Biography
I grew up in Vermont and went to University of Vermont for undergrad and medical school. I came to Boston Medical Center for residency training in internal medicine. I chose to stay at BMC for my geriatrics fellowship for a variety of reasons. First, I am proud to work at an institution that serves both as an academic medical center, as well as the largest safety net hospital in Boston with a mission that reflects this. Second, I was drawn to the extremely wide variety of clinical experiences offered to geriatric fellows and I know that when I graduate, I will be prepared to care for patients across several sites of care. Third, and perhaps most important, the BU Geriatrics Department is full of amazing people (physicians, nurses, support staff) who are passionate about mentorship, inclusion and creating a new generation of clinically competent geriatricians. I am looking forward to getting to know my panel of patients this year and am particularly thrilled about working with my panel of home care patients. I am excited to be able to improve my ability to be a part of an interdisciplinary team – an essential piece to taking care of older adults. I am particularly interested in quality improvement and am looking forward to participating in QI projects in several different sites of care. Outside of work I enjoy spending time with my partner, John, and our dog Lucy. We enjoy exploring hiking spots and breweries around Boston. I also love cooking, baking bread, running and am enjoying having a small vegetable garden this year.
Websites
Education
MD, University of Vermont, 2017
Biology, BA, University of Vermont, 2011
Publications
Published on 1/1/2020
King S, Caruso L. Boston University Medical Center. Delirium and potentially inappropriate medications among hospitalized older adults. 2020.
Published on 5/14/2017
Phillips JK, Skelly JM, King SE, Bernstein IM, Higgins ST. Associations of maternal obesity and smoking status with perinatal outcomes. J Matern Fetal Neonatal Med. 2018 Jun; 31(12):1620-1626. PMID: 28438062.
Published on 1/1/2016
King S. Improving Pediatric Oral Health through the Primary Care Physician. Family Medicine Clerkship Student Projects. 2016; 137.
Published on 1/21/2015
Chieffe D, Coffin S, King S, Shehab S, Suppan C, Warren G, Wieland R, Pasanen M. The Role of Art in the Patient Experience: An Evaluation of Art from the Heart at UVM Medical Center. Public Health Project Showcase, University of Vermont College of Medicine. 2015.
View full list of 4 publications.