Sarah M. Bagley MD
Assistant Professor, General Internal Medicine
Assistant Professor, Adolescent Medicine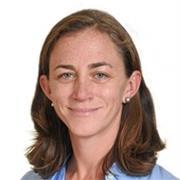 Sections
General Internal Medicine
Centers
Clinical Addiction Research and Education Unit
Biography
Dr. Sarah Bagley is a primary care physician at Boston Medical Center. A graduate of the Georgetown University School of Medicine, the Combined Internal Medicine and Pediatrics Residency at Brown University, and the Boston University Addiction Medicine Fellowship, her particular research interests are in the treatment of opioid use disorders in the adolescent and young adult population and the involvement of the family in addiction care. She sees patients in both General Internal Medicine and the Adolescent Center. She is the Medical Director of the CATALYST Clinic – a clinical program to provide integrated medical and behavioral health care for adolescents and young adults who use substances – and an Attending on the inpatient Addiction Consult Service.
Websites
Education
Medicine-Internal, MD, Georgetown University School of Medicine, 2008
Public Health - Epidemiology, MSc, Boston University School of Public Health, 2017
Classics, BA, Brown University, 2001
Publications
Published on 7/27/2021
Bagley SM, Hadland SE. Addressing multiple overdoses: Opportunities for prevention and innovation. Int J Drug Policy. 2021 Jul 27; 103382. PMID: 34330570.
Published on 7/7/2021
Bagley SM, Chavez L, Braciszewski JM, Akolsile M, Boudreau DM, Lapham G, Campbell CI, Bart G, Yarborough BJH, Samet JH, Saxon AJ, Rossom RC, Binswanger IA, Murphy MT, Glass JE, Bradley KA. Receipt of medications for opioid use disorder among youth engaged in primary care: data from 6 health systems. Addict Sci Clin Pract. 2021 07 07; 16(1):46. PMID: 34233750.
Published on 6/22/2021
Taylor JL, Johnson S, Cruz R, Gray JR, Schiff D, Bagley SM. Integrating Harm Reduction into Outpatient Opioid Use Disorder Treatment Settings : Harm Reduction in Outpatient Addiction Treatment. J Gen Intern Med. 2021 Jun 22. PMID: 34159545.
Published on 6/7/2021
Schoenberger SF, Park TW, dellaBitta V, Hadland SE, Bagley SM. "My Life Isn't Defined by Substance Use": Recovery Perspectives Among Young Adults with Substance Use Disorder. J Gen Intern Med. 2021 Jun 07. PMID: 34100229.
Published on 4/6/2021
Hadland SE, Bagley SM, Gai MJ, Earlywine JJ, Schoenberger SF, Morgan JR, Barocas JA. Opioid use disorder and overdose among youth following an initial opioid prescription. Addiction. 2021 10; 116(10):2790-2800. PMID: 33739476.
Published on 3/23/2021
Bagley SM. I Am Not Burned Out. JAMA. 2021 Mar 23; 325(12):1155-1156. PMID: 33755080.
Published on 3/23/2021
Bagley SM, Hadland SE, Schoenberger SF, Gai MJ, Topp D, Hallett E, Ashe E, Samet JH, Walley AY. Integrating substance use care into primary care for adolescents and young adults: Lessons learned. J Subst Abuse Treat. 2021 10; 129:108376. PMID: 34080547.
Published on 2/1/2021
Lim JK, Earlywine JJ, Bagley SM, Marshall BDL, Hadland SE. Polysubstance Involvement in Opioid Overdose Deaths in Adolescents and Young Adults, 1999-2018. JAMA Pediatr. 2021 Feb 01; 175(2):194-196. PMID: 33226412.
Published on 1/27/2021
Harris MTH, Bagley SM, Maschke A, Schoenberger SF, Sampath S, Walley AY, Gunn CM. Competing risks of women and men who use fentanyl: "The number one thing I worry about would be my safety and number two would be overdose". J Subst Abuse Treat. 2021 06; 125:108313. PMID: 34016300.
Published on 1/1/2021
Hadland SE, Yule AM, Levy SJ, Hallett E, Silverstein M, Bagley SM. Evidence-Based Treatment of Young Adults With Substance Use Disorders. Pediatrics. 2021 01; 147(Suppl 2):S204-S214. PMID: 33386323.
View full list of 47 publications.