Richard M. Sherva PhD
Research Assistant Professor, Biomedical Genetics
Member, Genome Science Institute
72 E. Concord Street | (617) 638-5361

sherva@bu.edu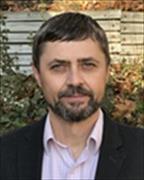 Sections
Biomedical Genetics
Centers
Evans Center for Interdisciplinary Biomedical Research
Biography
My primary interest is in exploring the genetic epidemiology of complex disease using linkage and association methods. I've worked on cardiovascular phenotypes including hypertension, metabolic syndrome, and stroke, as well as psychiatric diseases including addiction and ADHD, with a focus on gene x (gene, environment, drug treatment) interactions. My future work will likely involve pharmacogenetics and personalized medicine, with specific focus on Alzheimer's disease.
Other Positions
Websites
Education
Epidemiology, PhD, University of Minnesota, 2006
Epidemiology, MPH, University of Minnesota, 2001
Biology, BA, Gustavus Adolphus College, 1998
Publications
Published on 6/29/2021
Cox J, Sherva R, Wetherill L, Foroud T, Edenberg HJ, Kranzler HR, Gelernter J, Farrer LA. Genome-wide association study of stimulant dependence. Transl Psychiatry. 2021 06 29; 11(1):363. PMID: 34226506.
Published on 2/28/2021
Sherva R, Zhu C, Wetherill L, Edenberg HJ, Johnson E, Degenhardt L, Agrawal A, Martin NG, Nelson E, Kranzler HR, Gelernter J, Farrer LA. Genome-wide association study of phenotypes measuring progression from first cocaine or opioid use to dependence reveals novel risk genes. Explor Med. 2021; 2:60-73. PMID: 34124712.
Published on 11/3/2020
Quach BC, Bray MJ, Gaddis NC, Liu M, Palviainen T, Minica CC, Zellers S, Sherva R, Aliev F, Nothnagel M, Young KA, Marks JA, Young H, Carnes MU, Guo Y, Waldrop A, Sey NYA, Landi MT, McNeil DW, Drichel D, Farrer LA, Markunas CA, Vink JM, Hottenga JJ, Iacono WG, Kranzler HR, Saccone NL, Neale MC, Madden P, Rietschel M, Marazita ML, McGue M, Won H, Winterer G, Grucza R, Dick DM, Gelernter J, Caporaso NE, Baker TB, Boomsma DI, Kaprio J, Hokanson JE, Vrieze S, Bierut LJ, Johnson EO, Hancock DB. Expanding the genetic architecture of nicotine dependence and its shared genetics with multiple traits. Nat Commun. 2020 11 03; 11(1):5562. PMID: 33144568.
Published on 10/20/2020
Johnson EC, Demontis D, Thorgeirsson TE, Walters RK, Polimanti R, Hatoum AS, Sanchez-Roige S, Paul SE, Wendt FR, Clarke TK, Lai D, Reginsson GW, Zhou H, He J, Baranger DAA, Gudbjartsson DF, Wedow R, Adkins DE, Adkins AE, Alexander J, Bacanu SA, Bigdeli TB, Boden J, Brown SA, Bucholz KK, Bybjerg-Grauholm J, Corley RP, Degenhardt L, Dick DM, Domingue BW, Fox L, Goate AM, Gordon SD, Hack LM, Hancock DB, Hartz SM, Hickie IB, Hougaard DM, Krauter K, Lind PA, McClintick JN, McQueen MB, Meyers JL, Montgomery GW, Mors O, Mortensen PB, Nordentoft M, Pearson JF, Peterson RE, Reynolds MD, Rice JP, Runarsdottir V, Saccone NL, Sherva R, Silberg JL, Tarter RE, Tyrfingsson T, Wall TL, Webb BT, Werge T, Wetherill L, Wright MJ, Zellers S, Adams MJ, Bierut LJ, Boardman JD, Copeland WE, Farrer LA, Foroud TM, Gillespie NA, Grucza RA, Harris KM, Heath AC, Hesselbrock V, Hewitt JK, Hopfer CJ, Horwood J, Iacono WG, Johnson EO, Kendler KS, Kennedy MA, Kranzler HR, Madden PAF, Maes HH, Maher BS, Martin NG, McGue M, McIntosh AM, Medland SE, Nelson EC, Porjesz B, Riley BP, Stallings MC, Vanyukov MM, Vrieze S, Davis LK, Bogdan R, Gelernter J, Edenberg HJ, Stefansson K, Børglum AD, Agrawal A. A large-scale genome-wide association study meta-analysis of cannabis use disorder. Lancet Psychiatry. 2020 12; 7(12):1032-1045. PMID: 33096046.
Published on 10/1/2020
Zhou H, Rentsch CT, Cheng Z, Kember RL, Nunez YZ, Sherva RM, Tate JP, Dao C, Xu K, Polimanti R, Farrer LA, Justice AC, Kranzler HR, Gelernter J. Association of OPRM1 Functional Coding Variant With Opioid Use Disorder: A Genome-Wide Association Study. JAMA Psychiatry. 2020 Oct 01; 77(10):1072-1080. PMID: 32492095.
Published on 6/23/2020
Sherva R, Gross A, Mukherjee S, Koesterer R, Amouyel P, Bellenguez C, Dufouil C, Bennett DA, Chibnik L, Cruchaga C, Del-Aguila J, Farrer LA, Mayeux R, Munsie L, Winslow A, Newhouse S, Saykin AJ, Kauwe JSK, Crane PK, Green RC. Genome-wide association study of rate of cognitive decline in Alzheimer's disease patients identifies novel genes and pathways. Alzheimers Dement. 2020 08; 16(8):1134-1145. PMID: 32573913.
Published on 5/26/2020
Chen J, Loukola A, Gillespie NA, Peterson R, Jia P, Riley B, Maes H, Dick DM, Kendler KS, Damaj MI, Miles MF, Zhao Z, Li MD, Vink JM, Minica CC, Willemsen G, Boomsma DI, Qaiser B, Madden PAF, Korhonen T, Jousilahti P, Hällfors J, Gelernter J, Kranzler HR, Sherva R, Farrer L, Maher B, Vanyukov M, Taylor M, Ware JJ, Munafò MR, Lutz SM, Hokanson JE, Gu F, Landi MT, Caporaso NE, Hancock DB, Gaddis NC, Baker TB, Bierut LJ, Johnson EO, Chenoweth M, Lerman C, Tyndale R, Kaprio J, Chen X. Genome-Wide Meta-Analyses of FTND and TTFC Phenotypes. Nicotine Tob Res. 2020 05 26; 22(6):900-909. PMID: 31294817.
Published on 2/29/2020
Cox JW, Sherva RM, Lunetta KL, Saitz R, Kon M, Kranzler HR, Gelernter J, Farrer LA. Identifying factors associated with opioid cessation in a biracial sample using machine learning. Explor Med. 2020; 1(1):27-41. PMID: 33554217.
Published on 2/16/2020
Munn-Chernoff MA, Johnson EC, Chou YL, Coleman JRI, Thornton LM, Walters RK, Yilmaz Z, Baker JH, Hübel C, Gordon S, Medland SE, Watson HJ, Gaspar HA, Bryois J, Hinney A, Leppä VM, Mattheisen M, Ripke S, Yao S, Giusti-Rodríguez P, Hanscombe KB, Adan RAH, Alfredsson L, Ando T, Andreassen OA, Berrettini WH, Boehm I, Boni C, Boraska Perica V, Buehren K, Burghardt R, Cassina M, Cichon S, Clementi M, Cone RD, Courtet P, Crow S, Crowley JJ, Danner UN, Davis OSP, de Zwaan M, Dedoussis G, Degortes D, DeSocio JE, Dick DM, Dikeos D, Dina C, Dmitrzak-Weglarz M, Docampo E, Duncan LE, Egberts K, Ehrlich S, Escaramís G, Esko T, Estivill X, Farmer A, Favaro A, Fernández-Aranda F, Fichter MM, Fischer K, Föcker M, Foretova L, Forstner AJ, Forzan M, Franklin CS, Gallinger S, Giegling I, Giuranna J, Gonidakis F, Gorwood P, Gratacos Mayora M, Guillaume S, Guo Y, Hakonarson H, Hatzikotoulas K, Hauser J, Hebebrand J, Helder SG, Herms S, Herpertz-Dahlmann B, Herzog W, Huckins LM, Hudson JI, Imgart H, Inoko H, Janout V, Jiménez-Murcia S, Julià A, Kalsi G, Kaminská D, Karhunen L, Karwautz A, Kas MJH, Kennedy JL, Keski-Rahkonen A, Kiezebrink K, Kim YR, Klump KL, Knudsen GPS, La Via MC, Le Hellard S, Levitan RD, Li D, Lilenfeld L, Lin BD, Lissowska J, Luykx J, Magistretti PJ, Maj M, Mannik K, Marsal S, Marshall CR, Mattingsdal M, McDevitt S, McGuffin P, Metspalu A, Meulenbelt I, Micali N, Mitchell K, Monteleone AM, Monteleone P, Nacmias B, Navratilova M, Ntalla I, O'Toole JK, Ophoff RA, Padyukov L, Palotie A, Pantel J, Papezova H, Pinto D, Rabionet R, Raevuori A, Ramoz N, Reichborn-Kjennerud T, Ricca V, Ripatti S, Ritschel F, Roberts M, Rotondo A, Rujescu D, Rybakowski F, Santonastaso P, Scherag A, Scherer SW, Schmidt U, Schork NJ, Schosser A, Seitz J, Slachtova L, Slagboom PE, Slof-Op't Landt MCT, Slopien A, Sorbi S, Swiatkowska B, Szatkiewicz JP, Tachmazidou I, Tenconi E, Tortorella A, Tozzi F, Treasure J, Tsitsika A, Tyszkiewicz-Nwafor M, Tziouvas K, van Elburg AA, van Furth EF, Wagner G, Walton E, Widen E, Zeggini E, Zerwas S, Zipfel S, Bergen AW, Boden JM, Brandt H, Crawford S, Halmi KA, Horwood LJ, Johnson C, Kaplan AS, Kaye WH, Mitchell J, Olsen CM, Pearson JF, Pedersen NL, Strober M, Werge T, Whiteman DC, Woodside DB, Grove J, Henders AK, Larsen JT, Parker R, Petersen LV, Jordan J, Kennedy MA, Birgegård A, Lichtenstein P, Norring C, Landén M, Mortensen PB, Polimanti R, McClintick JN, Adkins AE, Aliev F, Bacanu SA, Batzler A, Bertelsen S, Biernacka JM, Bigdeli TB, Chen LS, Clarke TK, Degenhardt F, Docherty AR, Edwards AC, Foo JC, Fox L, Frank J, Hack LM, Hartmann AM, Hartz SM, Heilmann-Heimbach S, Hodgkinson C, Hoffmann P, Hottenga JJ, Konte B, Lahti J, Lahti-Pulkkinen M, Lai D, Ligthart L, Loukola A, Maher BS, Mbarek H, McIntosh AM, McQueen MB, Meyers JL, Milaneschi Y, Palviainen T, Peterson RE, Ryu E, Saccone NL, Salvatore JE, Sanchez-Roige S, Schwandt M, Sherva R, Streit F, Strohmaier J, Thomas N, Wang JC, Webb BT, Wedow R, Wetherill L, Wills AG, Zhou H, Boardman JD, Chen D, Choi DS, Copeland WE, Culverhouse RC, Dahmen N, Degenhardt L, Domingue BW, Frye MA, Gäebel W, Hayward C, Ising M, Keyes M, Kiefer F, Koller G, Kramer J, Kuperman S, Lucae S, Lynskey MT, Maier W, Mann K, Männistö S, Müller-Myhsok B, Murray AD, Nurnberger JI, Preuss U, Räikkönen K, Reynolds MD, Ridinger M, Scherbaum N, Schuckit MA, Soyka M, Treutlein J, Witt SH, Wodarz N, Zill P, Adkins DE, Boomsma DI, Bierut LJ, Brown SA, Bucholz KK, Costello EJ, de Wit H, Diazgranados N, Eriksson JG, Farrer LA, Foroud TM, Gillespie NA, Goate AM, Goldman D, Grucza RA, Hancock DB, Harris KM, Hesselbrock V, Hewitt JK, Hopfer CJ, Iacono WG, Johnson EO, Karpyak VM, Kendler KS, Kranzler HR, Krauter K, Lind PA, McGue M, MacKillop J, Madden PAF, Maes HH, Magnusson PKE, Nelson EC, Nöthen MM, Palmer AA, Penninx BWJH, Porjesz B, Rice JP, Rietschel M, Riley BP, Rose RJ, Shen PH, Silberg J, Stallings MC, Tarter RE, Vanyukov MM, Vrieze S, Wall TL, Whitfield JB, Zhao H, Neale BM, Wade TD, et al. Shared genetic risk between eating disorder- and substance-use-related phenotypes: Evidence from genome-wide association studies. Addict Biol. 2021 01; 26(1):e12880. PMID: 32064741.
Published on 1/9/2020
Cox JW, Sherva RM, Lunetta KL, Johnson EC, Martin NG, Degenhardt L, Agrawal A, Nelson EC, Kranzler HR, Gelernter J, Farrer LA. Genome-Wide Association Study of Opioid Cessation. J Clin Med. 2020 Jan 09; 9(1). PMID: 31936517.
View full list of 65 publications.