Raphael Szalat MD, PhD
Assistant Professor, Hematology & Oncology
820 Harrison Ave | (617) 638-7011

rszalat@bu.edu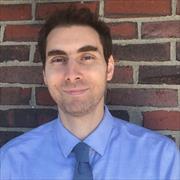 Websites
Education
Medicine, MD, Université Paris-Sorbonne, Paris IV, 2010
PhD, Université Paris-Sorbonne, Paris IV, 2019
Publications
Published on 9/28/2021
Fillmore NR, Cirstea D, Munjuluri A, Yameen H, Yellapragada SV, Do NV, Brophy MT, Szalat RE, Munshi NC. Lack of differential impact of del17p on survival in African Americans compared with White patients with multiple myeloma: a VA study. Blood Adv. 2021 Sep 28; 5(18):3511-3514. PMID: 34428278.
Published on 6/25/2021
Ruiz-Heredia Y, Ortiz-Ruiz A, Samur MK, Garrido V, Rufian L, Sanchez R, Aguilar-Garrido P, Barrio S, Martín MA, Bolli N, Tai YT, Szalat R, Fulciniti M, Munshi N, Martínez-López J, Linares M, Gallardo M. Pathogenetic and Prognostic Implications of Increased Mitochondrial Content in Multiple Myeloma. Cancers (Basel). 2021 Jun 25; 13(13). PMID: 34202390.
Published on 6/1/2021
Fillmore NR, La J, Szalat RE, Tuck DP, Nguyen V, Yildirim C, Do NV, Brophy MT, Munshi NC. Prevalence and Outcome of COVID-19 Infection in Cancer Patients: A National Veterans Affairs Study. J Natl Cancer Inst. 2021 06 01; 113(6):691-698. PMID: 33031532.
Published on 4/29/2021
Hassan H, Szalat R. Genetic Predictors of Mortality in Patients with Multiple Myeloma. Appl Clin Genet. 2021; 14:241-254. PMID: 33953598.
Published on 2/2/2021
Acevedo J, Doros G, Szalat R, Sanchorawala V. Clinical Characteristics, Treatment Regimens, and Survival in Elderly Patients with AL Amyloidosis. Clin Lymphoma Myeloma Leuk. 2021 06; 21(6):425-426. PMID: 33622658.
Published on 7/31/2020
Szalat R, Sarosiek S, Havasi A, Brauneis D, Sloan JM, Sanchorawala V. Organ responses after highdose melphalan and stemcell transplantation in AL amyloidosis. Leukemia. 2021 03; 35(3):916-919. PMID: 32737434.
Published on 7/20/2020
Samur MK, Aktas Samur A, Fulciniti M, Szalat R, Han T, Shammas M, Richardson P, Magrangeas F, Minvielle S, Corre J, Moreau P, Thakurta A, Anderson KC, Parmigiani G, Avet-Loiseau H, Munshi NC. Genome-Wide Somatic Alterations in Multiple Myeloma Reveal a Superior Outcome Group. J Clin Oncol. 2020 09 20; 38(27):3107-3118. PMID: 32687451.
Published on 5/30/2020
Alagpulinsa DA, Szalat RE, Poznansky MC, Shmookler Reis RJ. Genomic Instability in Multiple Myeloma. Trends Cancer. 2020 10; 6(10):858-873. PMID: 32487486.
Published on 12/10/2019
Alagpulinsa DA, Kumar S, Talluri S, Nanjappa P, Buon L, Chakraborty C, Samur MK, Szalat R, Shammas MA, Munshi NC. Amplification and overexpression of E2 ubiquitin conjugase UBE2T promotes homologous recombination in multiple myeloma. Blood Adv. 2019 12 10; 3(23):3968-3972. PMID: 31805191.
Published on 8/30/2019
Rajkumar-Calkins AS, Szalat R, Dreze M, Khan I, Frazier Z, Reznichenkov E, Schnorenberg MR, Tsai YF, Nguyen H, Kochupurakkal B, D'Andrea AD, Shapiro GI, Lazaro JB, Mouw KW. Functional profiling of nucleotide Excision repair in breast cancer. DNA Repair (Amst). 2019 10; 82:102697. PMID: 31499327.
View full list of 41 publications.