Pablo Buitron de la Vega MD, MSc
Assistant Professor, General Internal Medicine
801 Massachusetts Ave | (617) 414-6663

pbuitro1@bu.edu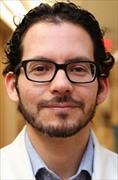 Sections
General Internal Medicine
Centers
Evans Center for Interdisciplinary Biomedical Research
Biography
I am a general internist and preventive medicine physician with a longstanding interest in health care education and the impact of patients' attitudes, health beliefs and social determinants of health (SDOH). I provide clinical care to a majority of Hispanic patients, an underserved population in healthcare.I am also Program Director of the Chobanian and Avedisian School of Medicine (BUSM) Preventative Medicine Residency and an Assistant Professor of Medicine. I am the clinical lead for Boston Medical Center THRIVE, a program that systematically screen patients for SDOH and refers them to resources when requested. Additionally, I am passionate about the use of emerging educational technologies, including virtual worlds, virtual reality, and mind mapping, to develop interdisciplinary experiences to teach about health equity and SDOH.
Education
Medicine-Internal, MD, Pontificia Universidad Católica del Ecuador, 2009
Public Health, MSc, Boston University School of Public Health, 2016
Publications
Published on 4/1/2023
Cordova-Ramos EG, Jain C, Torrice V, McGean M, Buitron de la Vega P, Burke J, Stickney D, Vinci RJ, Drainoni ML, Parker MG. Implementing Social Risk Screening and Referral to Resources in the NICU. Pediatrics. 2023 Apr 01; 151(4). PMID: 36919445.
Published on 1/3/2023
Buitron de la Vega P, Ashe EM, Xuan Z, Gast V, Saint-Phard T, Brody-Fialkin J, Okonkwo F, Power J, Wang N, Lyons C, Silverstein M, Lasser KE. A Pharmacy Liaison-Patient Navigation Intervention to Reduce Inpatient and Emergency Department Utilization Among Primary Care Patients in a Medicaid Accountable Care Organization: A Nonrandomized Controlled Trial. JAMA Netw Open. 2023 Jan 03; 6(1):e2250004. PMID: 36622674.
Published on 6/14/2022
Buitron de la Vega P, Dimitri N, Araujo Brinkerhoff C, Stern A, Damus K, Miselis H, Garg PS, Sarfaty S, Sprague Martinez L. Virtual Reality Simulated Learning Environments: A Strategy to Teach Interprofessional Students About Social Determinants of Health. Acad Med. 2022 12 01; 97(12):1799-1803. PMID: 35703204.
Published on 5/20/2022
McCuistian C, Kimball SL, Buitron de la Vega P, Godfrey LB, Fortuna LR, Valentine SE. Consideration of racism experiences in the implementation of trauma-focused therapy in primary care. Health Serv Res. 2022 Dec; 57 Suppl 2:235-248. PMID: 35521941.
Published on 5/31/2020
Lasser KE, Buitron de la Vega P, Ashe EM, Xuan Z, Alva S, Battisti L, Losi S, Sieber C, Richards C, Sullivan P, Triscari L, Brody L, Roth MT, LeBlanc A, Silverstein M. A pharmacy liaison-patient navigation intervention to reduce inpatient and emergency department utilization among primary care patients in a Medicaid accountable care organization: A pragmatic trial protocol. Contemp Clin Trials. 2020 07; 94:106046. PMID: 32485325.
Published on 4/1/2020
Giraldo P, Hsu HE, Ashe EM, Buitron de la Vega PA, Losi S, Silverstein M, Lasser KE. Provision of Utility Shut-off Protection Letters at an Urban Safety-Net Hospital, 2009-2018. J Ambul Care Manage. 2020 Apr/Jun; 43(2):179-182. PMID: 32073502.
Published on 6/1/2019
Buitron de la Vega P, Losi S, Sprague Martinez L, Bovell-Ammon A, Garg A, James T, Ewen AM, Stack M, DeCarvalho H, Sandel M, Mishuris RG, Deych S, Pelletier P, Kressin NR. Implementing an EHR-based Screening and Referral System to Address Social Determinants of Health in Primary Care. Med Care. 2019 06; 57 Suppl 6 Suppl 2:S133-S139. PMID: 31095052.
Published on 7/10/2018
Buitron de la Vega P, Coe C, Paasche-Orlow MK, Clark JA, Waite K, Sanchez MJ, Armstrong E, Bokhour BG. "It's like a mirror image of my illness": Exploring Patient Perceptions About Illness Using Health Mind Mapping-a Qualitative Study. J Gen Intern Med. 2018 10; 33(10):1692-1699. PMID: 29992428.
Published on 3/13/2018
Quintiliani LM, Murphy JE, Buitron de la Vega P, Waite KR, Armstrong SE, Henault L, Volandes AE, Paasche-Orlow MK. Feasibility and Patient Perceptions of Video Declarations Regarding End-of-Life Decisions by Hospitalized Patients. J Palliat Med. 2018 06; 21(6):766-772. PMID: 29649398.
Published on 1/6/2017
Buitron de la Vega P, Paasche-Orlow MK, Clark JA, Bokhour BG. Using Health Mind Maps to Capture Patient's Explanatory Models of Illness. Boston. 2017.
View full list of 12 publications.