Nahid R. Bhadelia MD, MA
Associate Professor, Infectious Diseases
Faculty, National Emerging Infectious Disease Lab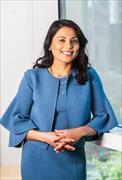 Sections
Infectious Diseases
Centers
Evans Center for Interdisciplinary Biomedical Research
Biography
Dr. Bhadelia is a board-certified infectious diseases physician and an internationally recognized leader in highly communicable and emerging infectious diseases (EIDs) with clinical, field, academic, and policy experience in pandemic preparedness. She is the Founding Director of BU's Center for Emerging Infectious Diseases Policy and Research (CEID). In addition to her role at CEID, she is the associate director of the National Emerging Infectious Diseases Laboratories (NEIDL), a state-of-the-art maximum containment research facility at BU.

Over the last decade, Dr. Bhadelia designed and served as the medical director of the Special Pathogens Unit (SPU), a medical unit designed to care for patients with highly communicable diseases, and a state designated Ebola Treatment Center. She has prior and ongoing experience in health system response to pathogens such as H1N1, Zika, Lassa fever, Marburg virus disease, and COVID-19 at the state, national, and global levels, including medical countermeasure evaluation, diagnostic positioning, infection control policy development, and healthcare worker training. Dr. Bhadelia serves on state, national, and interagency groups focused on biodefense priority setting, development of clinical care guidelines, and medical countermeasures research. She has served as a subject matter expert to the US Centers for Disease Control and Prevention, Department of Defense (DoD), and World Bank.

Dr. Bhadelia has experience with direct patient care, outbreak response, and medical countermeasures research during multiple Ebola virus disease outbreaks in West and East Africa. During the West African Ebola epidemic, she served as a clinician in several Ebola treatment units, working with the World Health Organization and Partners in Health. She currently serves as medical lead of a DoD-funded viral hemorrhagic fever research group in Uganda, entitled Joint Mobile Emerging Disease Intervention Clinical Capability (JMEDICC) program. Dr. Bhadelia codirects the National Institutes of Health's Fogarty International Center–funded research training program in Liberia, entitled Boston University and University of Liberia Emerging and Epidemic Virus Research (BULEEVR). Her research focuses on global health security, as well as identification of safe and effective clinical interventions and infection control measures related to viral hemorrhagic fevers and other emerging infectious diseases.

Aside from her clinical training in infectious diseases, she has a master's degree in international affairs from the Fletcher School of Law and Diplomacy and a background in health and human security with a focus on the impact of pandemics on macro level health indicators and community security. Dr. Bhadelia is also an Adjunct Associate Professor at the Institute of Human Security at the Tufts Fletcher School of Law and Diplomacy, where she teaches a course on human security and emerging infectious diseases.
Websites
Education
MD, Tufts University School of Medicine, 2005
Biology, BS, Tufts University, 1999
Publications
Published on 8/30/2021
Bhatt AS, Adler ED, Albert NM, Anyanwu A, Bhadelia N, Cooper LT, Correa A, DeFilippis EM, Joyce E, Sauer AJ, Solomon SD, Vardeny O, Yancy C, Lala A. Coronavirus Disease-2019 and Heart Failure: A Scientific Statement From the Heart Failure Society of America. J Card Fail. 2021 Aug 30. PMID: 34481067.
Published on 8/22/2021
Gray KL, Walker NF, Martineau F, Bhadelia N, Harmon-Gray WM, Skrip LA, DeMarco J, Konwloh P, Dunbar N. Interruption of tuberculosis detection and care during the Ebola virus disease epidemic (2014-2015) in Liberia: time-series analyses for 2013-2017. Int J Infect Dis. 2021 Aug 22; 112:13-20. PMID: 34433096.
Published on 7/14/2021
Asundi A, O'Leary C, Bhadelia N. Global COVID-19 vaccine inequity: The scope, the impact, and the challenges. Cell Host Microbe. 2021 07 14; 29(7):1036-1039. PMID: 34265241.
Published on 4/9/2021
Yuen RR, Steiner D, Pihl RMF, Chavez E, Olson A, Smith EL, Baird LA, Korkmaz F, Urick P, Sagar M, Berrigan JL, Gummuluru S, Corley RB, Quillen K, Belkina AC, Mostoslavsky G, Rifkin IR, Kataria Y, Cappione AJ, Gao W, Lin NH, Bhadelia N, Snyder-Cappione JE. Novel ELISA Protocol Links Pre-Existing SARS-CoV-2 Reactive Antibodies With Endemic Coronavirus Immunity and Age and Reveals Improved Serologic Identification of Acute COVID-19 via Multi-Parameter Detection. Front Immunol. 2021; 12:614676. PMID: 33897682.
Published on 4/1/2021
Anand P, Zhou L, Bhadelia N, Hamer DH, Greer DM, Cervantes-Arslanian AM. Neurologic Findings Among Inpatients With COVID-19 at a Safety-net US Hospital. Neurol Clin Pract. 2021 Apr; 11(2):e83-e91. PMID: 33842075.
Published on 2/27/2021
Rashid A, Sy KTL, Cabrejas JM, Nichols BE, Bhadelia N, Murray EJ. A clinician's primer on epidemiology for COVID-19. Med (N Y). 2021 Apr 09; 2(4):384-394. PMID: 33681831.
Published on 2/15/2021
DiLorenzo MA, Baker CA, Herstein JJ, Evans L, Lowe JJ, Gibbs SG, Bhadelia N. Institutional policies and readiness in management of critical illness among patients with viral hemorrhagic fever. Infect Control Hosp Epidemiol. 2021 Feb 15; 1-6. PMID: 33583468.
Published on 1/20/2021
Strampe J, Asogun DA, Speranza E, Pahlmann M, Soucy A, Bockholt S, Pallasch E, Becker-Ziaja B, Duraffour S, Bhadelia N, Ighodalo Y, Oyakhilome J, Omomoh EO, Olokor T, Adomeh DI, Ikponwonsa O, Aire C, Tobin E, Akpede N, Okokhere PO, Okogbenin SA, Akpede GO, Muñoz-Fontela C, Ogbaini-Emovon E, Günther S, Connor JH, Oestereich L. Factors associated with progression to death in patients with Lassa fever in Nigeria: an observational study. Lancet Infect Dis. 2021 06; 21(6):876-886. PMID: 33484646.
Published on 10/15/2020
Alwan NA, Burgess RA, Ashworth S, Beale R, Bhadelia N, Bogaert D, Dowd J, Eckerle I, Goldman LR, Greenhalgh T, Gurdasani D, Hamdy A, Hanage WP, Hodcroft EB, Hyde Z, Kellam P, Kelly-Irving M, Krammer F, Lipsitch M, McNally A, McKee M, Nouri A, Pimenta D, Priesemann V, Rutter H, Silver J, Sridhar D, Swanton C, Walensky RP, Yamey G, Ziauddeen H. Scientific consensus on the COVID-19 pandemic: we need to act now. Lancet. 2020 10 31; 396(10260):e71-e72. PMID: 33069277.
Published on 7/25/2020
Sinha P, Mostaghim A, Bielick CG, McLaughlin A, Hamer DH, Wetzler LM, Bhadelia N, Fagan MA, Linas BP, Assoumou SA, Ieong MH, Lin NH, Cooper ER, Brade KD, White LF, Barlam TF, Sagar M. Early administration of interleukin-6 inhibitors for patients with severe COVID-19 disease is associated with decreased intubation, reduced mortality, and increased discharge. Int J Infect Dis. 2020 Oct; 99:28-33. PMID: 32721528.
View full list of 41 publications.