Manish Sagar MD
Associate Professor, Infectious Diseases
Associate Professor, Microbiology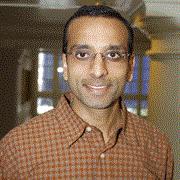 Sections
Infectious Diseases
Biography
Dr. Manish Sagar is an Associate Professor of Medicine at the Boston University School of Medicine. My laboratory is primarily interested in human immunodeficiency virus type 1 (HIV-1) mucosal HIV-1 transmission and antibodies. One of our focus is to understand the biological mechanisms for the selection observed during HIV-1 transmission. Even though chronically infected subjects harbor extensive variants during transmission, only a limited number of viruses are acquired by newly infected partners. Genotypic examination of viruses present in the newly infected subject compared to those circulating in the transmitting partner suggests that the observed genetic bottleneck during transmission is not due to random chance. Laboratory studies explore the hypothesis that during transmission there is selection of specific variants with properties that confer fitness for transmission.

Another focus in the lab is to decipher correlate of immune protection. Even though infants are exposed to infected breast milk, only a small proportion (around 30%) acquire HIV-1 from their infected mother in the absence of antiretroviral protection. We hypothesize that maternally acquired antibodies present in the infant prevent HIV-1 acquisition either through neutralization or antibody dependent cellular cytotoxicity against the variants circulating in the maternal breast milk. Defining the immune correlate of protection will have important implications for HIV-1 vaccine design. Our work focuses on understanding HIV-1 envelope and host antibody evolution and impact on disease pathogenesis.

Dr. Sagar has served on numerous committees including NIH study sections and Doris Duke Charitable Foundation Early Career Development Award Review Committee. He is an active member of the Infectious Diseases Society of America (IDSA).
Other Positions
Education
Medicine, MD, Johns Hopkins University School of Medicine, 1996
BS, Columbia University, 1991
Publications
Published on 6/4/2021
Olson A, Coote C, Snyder-Cappione JE, Lin N, Sagar M. HIV-1 Transcription but Not Intact Provirus Levels are Associated With Systemic Inflammation. J Infect Dis. 2021 Jun 04; 223(11):1934-1942. PMID: 33075121.
Published on 4/9/2021
Yuen RR, Steiner D, Pihl RMF, Chavez E, Olson A, Smith EL, Baird LA, Korkmaz F, Urick P, Sagar M, Berrigan JL, Gummuluru S, Corley RB, Quillen K, Belkina AC, Mostoslavsky G, Rifkin IR, Kataria Y, Cappione AJ, Gao W, Lin NH, Bhadelia N, Snyder-Cappione JE. Novel ELISA Protocol Links Pre-Existing SARS-CoV-2 Reactive Antibodies With Endemic Coronavirus Immunity and Age and Reveals Improved Serologic Identification of Acute COVID-19 via Multi-Parameter Detection. Front Immunol. 2021; 12:614676. PMID: 33897682.
Published on 3/20/2021
Sinha P, Reifler K, Rossi M, Sagar M. Coronavirus Disease 2019 Mitigation Strategies Were Associated With Decreases in Other Respiratory Virus Infections. Open Forum Infect Dis. 2021 Jun; 8(6):ofab105. PMID: 34514014.
Published on 2/24/2021
Sinha P, Jafarzadeh SR, Assoumou SA, Bielick CG, Carpenter B, Garg S, Harleen S, Neogi T, Nishio MJ, Sagar M, Sharp V, Kissin EY. The Effect of IL-6 Inhibitors on Mortality Among Hospitalized COVID-19 Patients: A Multicenter Study. J Infect Dis. 2021 02 24; 223(4):581-588. PMID: 33216906.
Published on 1/4/2021
Sagar M, Reifler K, Rossi M, Miller NS, Sinha P, White LF, Mizgerd JP. Recent endemic coronavirus infection is associated with less-severe COVID-19. J Clin Invest. 2021 01 04; 131(1). PMID: 32997649.
Published on 12/16/2020
Mostaghim A, Sinha P, Bielick C, Knudsen S, Beeram I, White LF, Apovian C, Sagar M, Hochberg NS. Clinical outcomes and inflammatory marker levels in patients with Covid-19 and obesity at an inner-city safety net hospital. PLoS One. 2020; 15(12):e0243888. PMID: 33326480.
Published on 10/21/2020
Stone JH, Frigault MJ, Serling-Boyd NJ, Fernandes AD, Harvey L, Foulkes AS, Horick NK, Healy BC, Shah R, Bensaci AM, Woolley AE, Nikiforow S, Lin N, Sagar M, Schrager H, Huckins DS, Axelrod M, Pincus MD, Fleisher J, Sacks CA, Dougan M, North CM, Halvorsen YD, Thurber TK, Dagher Z, Scherer A, Wallwork RS, Kim AY, Schoenfeld S, Sen P, Neilan TG, Perugino CA, Unizony SH, Collier DS, Matza MA, Yinh JM, Bowman KA, Meyerowitz E, Zafar A, Drobni ZD, Bolster MB, Kohler M, D'Silva KM, Dau J, Lockwood MM, Cubbison C, Weber BN, Mansour MK. Efficacy of Tocilizumab in Patients Hospitalized with Covid-19. N Engl J Med. 2020 12 10; 383(24):2333-2344. PMID: 33085857.
Published on 8/7/2020
Kolluri N, Albarran N, Fan A, Olson A, Sagar M, Young A, Gomez-Marquez J, Klapperich CM. SNAPflex: a paper-and-plastic device for instrument-free RNA and DNA extraction from whole blood. Lab Chip. 2020 09 21; 20(18):3386-3398. PMID: 32766666.
Published on 7/25/2020
Sinha P, Mostaghim A, Bielick CG, McLaughlin A, Hamer DH, Wetzler LM, Bhadelia N, Fagan MA, Linas BP, Assoumou SA, Ieong MH, Lin NH, Cooper ER, Brade KD, White LF, Barlam TF, Sagar M. Early administration of interleukin-6 inhibitors for patients with severe COVID-19 disease is associated with decreased intubation, reduced mortality, and increased discharge. Int J Infect Dis. 2020 Oct; 99:28-33. PMID: 32721528.
Published on 3/2/2020
Thomas AS, Ghulam-Smith M, Olson A, Coote C, Gonzales O, Sagar M. A new cell line for assessing HIV-1 antibody dependent cellular cytotoxicity against a broad range of variants. J Immunol Methods. 2020 05; 480:112766. PMID: 32135162.
View full list of 49 publications.