Manish Sagar MD
Professor, Infectious Diseases
Associate Professor, Virology, Immunology & Microbiology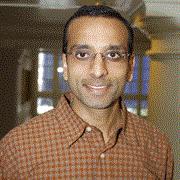 Sections
Infectious Diseases
Biography
Dr. Manish Sagar is a Professor of Medicine at the Chobanian and Avedisian School of Medicine. My laboratory is primarily interested in human immunodeficiency virus type 1 (HIV-1) mucosal HIV-1 transmission and antibodies. One of our focus is to understand the biological mechanisms for the selection observed during HIV-1 transmission. Even though chronically infected subjects harbor extensive variants during transmission, only a limited number of viruses are acquired by newly infected partners. Genotypic examination of viruses present in the newly infected subject compared to those circulating in the transmitting partner suggests that the observed genetic bottleneck during transmission is not due to random chance. Laboratory studies explore the hypothesis that during transmission there is selection of specific variants with properties that confer fitness for transmission.

Another focus in the lab is to decipher correlate of immune protection. Even though infants are exposed to infected breast milk, only a small proportion (around 30%) acquire HIV-1 from their infected mother in the absence of antiretroviral protection. We hypothesize that maternally acquired antibodies present in the infant prevent HIV-1 acquisition either through neutralization or antibody dependent cellular cytotoxicity against the variants circulating in the maternal breast milk. Defining the immune correlate of protection will have important implications for HIV-1 vaccine design. Our work focuses on understanding HIV-1 envelope and host antibody evolution and impact on disease pathogenesis.

Dr. Sagar has served on numerous committees including NIH study sections and Doris Duke Charitable Foundation Early Career Development Award Review Committee. He is an active member of the Infectious Diseases Society of America (IDSA).
Other Positions
Websites
Education
Medicine, MD, Johns Hopkins University School of Medicine, 1996
BS, Columbia University, 1991
Publications
Published on 8/24/2022
Bean DJ, Monroe J, Turcinovic J, Moreau Y, Connor JH, Sagar M. Severe Acute Respiratory Syndrome Coronavirus 2 Reinfection Associates With Unstable Housing and Occurs in the Presence of Antibodies. Clin Infect Dis. 2022 Aug 24; 75(1):e208-e215. PMID: 34755830.
Published on 5/10/2022
Tu JJ, Kumar A, Giorgi EE, Eudailey J, LaBranche CC, Martinez DR, Fouda GG, Moreau Y, Thomas A, Montefiori D, Gao F, Sagar M, Permar SR. Vertical HIV-1 Transmission in the Setting of Maternal Broad and Potent Antibody Responses. J Virol. 2022 Jun 08; 96(11):e0023122. PMID: 35536018.
Published on 5/9/2022
Thomas AS, Coote C, Moreau Y, Isaac JE, Ewing AC, Kourtis AP, Sagar M. Antibody-dependent cellular cytotoxicity responses and susceptibility influence HIV-1 mother-to-child transmission. JCI Insight. 2022 May 09; 7(9). PMID: 35324477.
Published on 1/10/2022
Asundi A, Olson A, Jiang W, Varshney SP, White LF, Sagar M, Lin NH. Integrase Inhibitor Use Associated with Weight Gain in Women and Incident Diabetes Mellitus. AIDS Res Hum Retroviruses. 2022 03; 38(3):208-215. PMID: 34877881.
Published on 12/15/2021
Bean DJ, Sagar M. Family matters for coronavirus disease and vaccines. J Clin Invest. 2021 12 15; 131(24). PMID: 34752421.
Published on 10/19/2021
Thomas AS, Moreau Y, Jiang W, Isaac JE, Ewing A, White LF, Kourtis AP, Sagar M. Pre-existing infant antibody-dependent cellular cytotoxicity associates with reduced HIV-1 acquisition and lower morbidity. Cell Rep Med. 2021 Oct 19; 2(10):100412. PMID: 34755132.
Published on 6/4/2021
Olson A, Coote C, Snyder-Cappione JE, Lin N, Sagar M. HIV-1 Transcription but Not Intact Provirus Levels are Associated With Systemic Inflammation. J Infect Dis. 2021 06 04; 223(11):1934-1942. PMID: 33075121.
Published on 4/9/2021
Yuen RR, Steiner D, Pihl RMF, Chavez E, Olson A, Smith EL, Baird LA, Korkmaz F, Urick P, Sagar M, Berrigan JL, Gummuluru S, Corley RB, Quillen K, Belkina AC, Mostoslavsky G, Rifkin IR, Kataria Y, Cappione AJ, Gao W, Lin NH, Bhadelia N, Snyder-Cappione JE. Novel ELISA Protocol Links Pre-Existing SARS-CoV-2 Reactive Antibodies With Endemic Coronavirus Immunity and Age and Reveals Improved Serologic Identification of Acute COVID-19 via Multi-Parameter Detection. Front Immunol. 2021; 12:614676. PMID: 33897682.
Published on 3/20/2021
Sinha P, Reifler K, Rossi M, Sagar M. Coronavirus Disease 2019 Mitigation Strategies Were Associated With Decreases in Other Respiratory Virus Infections. Open Forum Infect Dis. 2021 Jun; 8(6):ofab105. PMID: 34514014.
Published on 2/24/2021
Sinha P, Jafarzadeh SR, Assoumou SA, Bielick CG, Carpenter B, Garg S, Harleen S, Neogi T, Nishio MJ, Sagar M, Sharp V, Kissin EY. The Effect of IL-6 Inhibitors on Mortality Among Hospitalized COVID-19 Patients: A Multicenter Study. J Infect Dis. 2021 02 24; 223(4):581-588. PMID: 33216906.
View full list of 55 publications.