Katrina Ann Steiling MD
Assistant Professor, Pulmonary, Allergy, Sleep & Critical Care Medicine
Member, Bioinformatics Graduate Program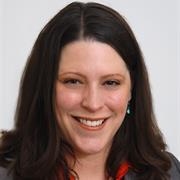 Sections
Pulmonary, Allergy, Sleep & Critical Care Medicine
Centers
BU-BMC Cancer Center
Pulmonary Center
Evans Center for Interdisciplinary Biomedical Research
Biography
Dr. Steiling is a Pulmonary/Critical Care Physician-Scientist with a longstanding interest in improving the ability to effectively detect, treat, and cure smoking-induced lung diseases such as lung cancer and chronic obstructive pulmonary disease (COPD). She completed her fellowship training in Pulmonary and Critical Care Medicine at Boston University Medical Center, and concurrently completed a Master of Science in Bioinformatics through the Boston University College of Engineering.

Dr. Steiling's research centers on improving the diagnosis, treatment and prevention of lung cancer and COPD. Using the airway field of injury hypothesis, which posits that cigarette smoking induces molecular changes throughout the respiratory tract, she has studied alterations in the airway transcriptome that reflect the presence, susceptibility, and progression of smoking-induced lung diseases. She has used whole-genome expression profiling of the bronchial airway epithelium to describe the relationship between upper and lower airway gene expression, and leveraged this information to develop clinically-relevant biomarkers of lung cancer, COPD, and other diseases that affect the lung.

In addition to her translational research, Dr. Steiling has led the implementation of two important clinical programs focused on improving the early detection of lung cancer in at-risk individuals. She founded the Boston Medical Center Lung Nodule Clinic, a sub-specialty referral resource that supports the evidence-based evaluation of incidental pulmonary nodules detected by diagnostic and screening CT scans. She also led the implementation of a multi-disciplinary Lung Cancer Screening Program at Boston Medical Center. Her team was recognized with a 2016 Clinical Quality Improvement Award from the Boston University Medical Center Evans Foundation. She currently co-chairs the Boston Medical Center Lung Cancer Screening Steering Committee.

Dr. Steiling sees patients in the Lung Nodule Clinic, multi-disciplinary Thoracic Oncology Clinic and attends in the Medical Intensive Care Unit at Boston Medical Center.
Other Positions
Education
MD, Boston University School of Medicine, 2002
Health Administration/Informatics, MSc, Boston University, 2010
Psychology, BS, Boston College, 1998
Publications
Published on 3/15/2023
Steiling K, Kathuria H, Echieh CP, Ost DE, Rivera MP, Begnaud A, Celedón JC, Charlot M, Dietrick F, Duma N, Fong KM, Ford JG, Gould MK, Holguin F, Pérez-Stable EJ, Tanner NT, Thomson CC, Wiener RS, Wisnivesky J. Research Priorities for Interventions to Address Health Disparities in Lung Nodule Management: An Official American Thoracic Society Research Statement. Am J Respir Crit Care Med. 2023 Mar 15; 207(6):e31-e46. PMID: 36920066.
Published on 11/28/2022
Liu A, Siddiqi N, Tapan U, Mak KS, Steiling KA, Suzuki K. Black Race Remains Associated with Lower Eligibility for Screening Using 2021 US Preventive Services Task Force Recommendations Among Lung Cancer Patients at an Urban Safety Net Hospital. J Racial Ethn Health Disparities. 2022 Nov 28. PMID: 36441493.
Published on 8/23/2022
Kathuria H, Gunawan A, Spring M, Aijaz S, Cobb V, Fitzgerald C, Wakeman C, Howard J, Clancy M, Foreman AG, Truong V, Wong C, Steiling K, Lasser KE, Bulekova K, Wiener RS. Hospitalization as an opportunity to engage underserved individuals in shared decision-making for lung cancer screening: results from two randomized pilot trials. Cancer Causes Control. 2022 Nov; 33(11):1373-1380. PMID: 35997854.
Published on 4/4/2022
van Nijnatten J, Brandsma CA, Steiling K, Hiemstra PS, Timens W, van den Berge M, Faiz A. High miR203a-3p and miR-375 expression in the airways of smokers with and without COPD. Sci Rep. 2022 Apr 04; 12(1):5610. PMID: 35379844.
Published on 10/14/2021
Poulson MR, Kenzik KM, Singh S, Pavesi F, Steiling K, Litle VR, Suzuki K. Redlining, structural racism, and lung cancer screening disparities. J Thorac Cardiovasc Surg. 2022 06; 163(6):1920-1930.e2. PMID: 34774325.
Published on 7/20/2021
Akpoviroro O, Asokan S, Steiling K, Rebello A, Burks EJ, Litle VR, Suzuki K. Lung Cancer Risk in Suspicious Lung Nodules With Negative Positron Emission Tomography. Ann Thorac Surg. 2022 Jun; 113(6):1821-1826. PMID: 34297988.
Published on 7/19/2021
Singh S, Pavesi F, Steiling K, Asokan S, Espinosa C, Cabral HJ, Burks EJ, Meister A, Akpoviroro O, Buck A, Drozdowicz K, Litle VR, Suzuki K. Risk Factors for Lung Cancer in an Underrepresented Safety-Net Screening Cohort. Clin Lung Cancer. 2022 03; 23(2):e165-e170. PMID: 34393063.
Published on 7/12/2021
Gazourian L, Regis SM, Pagura EJ, Price LL, Gawlik M, Lamb C, Rieger-Christ KM, Thedinger WB, Sanayei AM, Long WP, Stefanescu CF, Rizzo GS, Patel AS, Come CE, Thomson CC, Pinto-Plata V, Steiling K, McKee AB, Wald C, McKee BJ, Liesching TN. Qualitative coronary artery calcification scores and risk of all cause, COPD and pneumonia hospital admission in a large CT lung cancer screening cohort. Respir Med. 2021 09; 186:106540. PMID: 34311389.
Published on 5/10/2021
Becker EJ, Faiz A, van den Berge M, Timens W, Hiemstra PS, Clark K, Liu G, Xiao X, Alekseyev YO, O'Connor G, Lam S, Spira A, Lenburg ME, Steiling K. Bronchial gene expression signature associated with rate of subsequent FEV1 decline in individuals with and at risk of COPD. Thorax. 2022 01; 77(1):31-39. PMID: 33972452.
Published on 4/28/2021
Crable EL, Feeney T, Harvey J, Grim V, Drainoni ML, Walkey AJ, Steiling K, Thurston Drake F. Reply to "Augmenting Follow-up of Incidental Findings". J Am Coll Radiol. 2021 08; 18(8):1057-1058. PMID: 33932345.
View full list of 43 publications.