Karen H. Antman MD
Provost, Dean's Office
Dean, Dean's Office
72 E. Concord Street | (617) 358-9600

kha4@bu.edu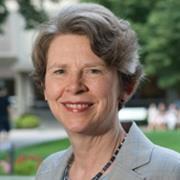 Sections
Hematology & Medical Oncology
Biography
Dr. Karen Antman, an internationally recognized expert on breast cancer, mesotheliomas and sarcomas, is Provost of the Medical Campus and Dean of Boston University Chobanian & Avedisian School of Medicine since 2005. Dr. Antman previously served as Deputy Director for Translational and Clinical Sciences at the National Cancer Institute of the National Institutes of Health (NIH) (2004-5) and before that as Wu Professor of Medicine and Pharmacology and Director of the Herbert Irving Comprehensive Cancer Center at Columbia University College of Physicians and Surgeons, where she also co-directed the cancer care service line at New York Presbyterian Hospital. Dr. Antman was voted 1993 Senior Faculty Teacher of the Year by medical residents. She also served on the faculty of Harvard Medical School from 1979 to 1993, and had hospital appointments at Brigham and Women's Hospital and Dana-Farber Cancer Institute in Boston.

Based on her group's translational research, Dr Antman developed now standard regimens for the treatment of sarcomas and mesotheliomas as well as regimens for breast cancer and supportive care of patients receiving chemotherapy including pharmacology, growth factors and mobilization of peripheral blood derived stem cells for blood and marrow transplant. Dr. Antman also is outspoken on public health policy issues. She has written extensively about impediments to clinical research on cancer, and she has testified before Congress on the need for federal research dollars to support cancer research with articles in the medical literature (as well as Vogue and Readers Digest). She has written more than 300 journal papers and edited five textbooks and monographs, many with multiple editions.

She is a member of PBK and the Institute of Medicine. She has served as President of the American Society of Clinical Oncology in 1994-5, the American Society of Blood and Marrow Transplant in 1996-7, and the American Association for Cancer Research in 2003-4.

She has more than 300 publications and is the editor of 5 textbooks and monographs (Asbestos related malignancies, Sarcomas of Bone and Soft Tissue, High-dose cancer therapy: pharmacology, hematopoietins and stem cells (3 editions), and Molecular Targeting in Oncology).

She serves on the Administration Board of the American Association of Medical Colleges Council of Deans, the Journal of the American Medical Association Oversight Committee, the International Editorial Board of Lancet, and on the board of the Educational Commission for Foreign Medical Graduates (ECFMG). She has served as an associate editor of the New England Journal of Medicine, and on the Council of the National Institutes of Health's Fogarty International Center.

She has published reviews and editorials on medical policy and the impact of research funding and managed care on American clinical research and testified before congressional subcommittees on eight occasions on National Institutes of Health (NIH) appropriations and medical policy.
Other Positions
Websites
Education
MD, Columbia University College of Physicians and Surgeons, 1974
Chemistry, BS, Muhlenberg College, 1970
Publications
Published on 11/1/2018
Collins ME, Rum S, Wheeler J, Antman K, Brem H, Carrese J, Glennon M, Kahn J, Ohman EM, Jagsi R, Konrath S, Tovino S, Wright S, Sugarman J. Ethical Issues and Recommendations in Grateful Patient Fundraising and Philanthropy. Acad Med. 2018 11; 93(11):1631-1637. PMID: 30024472.
Published on 7/1/2018
Kerschner JE, Hedges JR, Antman K, Abraham E, Colón Negrón E, Jameson JL. Recommendations to Sustain the Academic Mission Ecosystem at U.S. Medical Schools. Acad Med. 2018 07; 93(7):985-989. PMID: 29538107.
Published on 5/1/2018
Antman K. Building on #MeToo to Enhance the Learning Environment for US Medical Schools. JAMA. 2018 May 01; 319(17):1759-1760. PMID: 29610835.
Published on 6/1/2017
Bharel M, Antman K, Berman H, Dimitri D, Flier J, Flotte T. In Reply to Manion and Khan. Acad Med. 2017 06; 92(6):725-726. PMID: 28557909.
Published on 10/1/2016
Antman KH, Berman HA, Flotte TR, Flier J, Dimitri DM, Bharel M. Developing Core Competencies for the Prevention and Management of Prescription Drug Misuse: A Medical Education Collaboration in Massachusetts. Acad Med. 2016 Oct; 91(10):1348-1351. PMID: 27532868.
Published on 7/23/2015
Tefferi A, Kantarjian H, Rajkumar SV, Baker LH, Abkowitz JL, Adamson JW, Advani RH, Allison J, Antman KH, Bast RC, Bennett JM, Benz EJ, Berliner N, Bertino J, Bhatia R, Bhatia S, Bhojwani D, Blanke CD, Bloomfield CD, Bosserman L, Broxmeyer HE, Byrd JC, Cabanillas F, Canellos GP, Chabner BA, Chanan-Khan A, Cheson B, Clarkson B, Cohn SL, Colon-Otero G, Cortes J, Coutre S, Cristofanilli M, Curran WJ, Daley GQ, DeAngelo DJ, Deeg HJ, Einhorn LH, Erba HP, Esteva FJ, Estey E, Fidler IJ, Foran J, Forman S, Freireich E, Fuchs C, George JN, Gertz MA, Giralt S, Golomb H, Greenberg P, Gutterman J, Handin RI, Hellman S, Hoff PM, Hoffman R, Hong WK, Horowitz M, Hortobagyi GN, Hudis C, Issa JP, Johnson BE, Kantoff PW, Kaushansky K, Khayat D, Khuri FR, Kipps TJ, Kripke M, Kyle RA, Larson RA, Lawrence TS, Levine R, Link MP, Lippman SM, Lonial S, Lyman GH, Markman M, Mendelsohn J, Meropol NJ, Messinger Y, Mulvey TM, O'Brien S, Perez-Soler R, Pollock R, Prchal J, Press O, Radich J, Rai K, Rosenberg SA, Rowe JM, Rugo H, Runowicz CD, Sandmaier BM, Saven A, Schafer AI, Schiffer C, Sekeres MA, Silver RT, Siu LL, Steensma DP, Stewart FM, Stock W, Stone R, Storb R, Strong LC, Tallman MS, Thompson M, Ueno NT, Van Etten RA, Vose JM, Wiernik PH, Winer EP, Younes A, Zelenetz AD, LeMaistre CA. In Support of a Patient-Driven Initiative and Petition to Lower the High Price of Cancer Drugs. Mayo Clin Proc. 2015 Aug; 90(8):996-1000. PMID: 26211600.
Published on 5/27/2015
Levine AS, Alpern RJ, Andrews NC, Antman K, Balser JR, Berg JM, Davis PB, Fitz JG, Golden RN, Goldman L, Jameson JL, Lee VS, Polonsky KS, Rappley MD, Reece EA, Rothman PB, Schwinn DA, Shapiro LJ, Spiegel AM. Research in academic medical centers: two threats to sustainable support. Sci Transl Med. 2015 May 27; 7(289):289fs22. PMID: 26019216.
Published on 12/2/2009
Stiff PJ, Agovi MA, Antman KH, Blaise D, Camitta BM, Cairo MS, Childs RW, Edwards JR, Gale RP, Hale GA, Lazarus HM, Arora M. High-dose chemotherapy with blood or bone marrow transplants for rhabdomyosarcoma. Biol Blood Marrow Transplant. 2010 Apr; 16(4):525-32. PMID: 19961947.
Published on 8/17/2009
Chabot JA, Tsai WY, Fine RL, Chen C, Kumah CK, Antman KA, Grann VR. Pancreatic proteolytic enzyme therapy compared with gemcitabine-based chemotherapy for the treatment of pancreatic cancer. J Clin Oncol. 2010 Apr 20; 28(12):2058-63. PMID: 19687327.
Published on 1/1/2008
Duley L, Antman K, Arena J, Avezum A, Blumenthal M, Bosch J, Chrolavicius S, Li T, Ounpuu S, Perez AC, Sleight P, Svard R, Temple R, Tsouderous Y, Yunis C, Yusuf S. Specific barriers to the conduct of randomized trials. Clin Trials. 2008; 5(1):40-8. PMID: 18283079.
View full list of 200 publications.