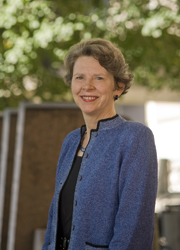 BU Medical Campus Provost
Dr. Karen H. Antman
The Office of the Provost of the Medical Campus is responsible for the operation of the Boston University Medical Campus.
(BUMC) and the health-related schools located on the Medical Campus:
More than 3,000 Medical Campus faculty provide educational programs for 3,300 MD, dental, and graduate students, and care for a diverse population of patients at Boston Medical Center (BMC) as well as at other surrounding hospitals and clinics. Faculty, students, and staff competed successfully for more than $355.24 million in funded research in FY 2011.
Our core mission is training the next generation of physicians, dentists, and scientists. Health sciences education has changed substantially. Although computerization facilitates learning, more information exists to be mastered. Boston University provides today's health sciences students with distinguished and committed faculty, thoughtful and humanistic mentoring, state-of-the-art learning facilities, and clinical experiences in one of New England's most respected teaching hospitals, as well as in other locations in the Boston area and internationally. We remain committed to providing future doctors, dentists, scientists, and public health professionals with an outstanding education in both science and humanism.
The campus has a mission of service to its community as well as a well-established Global Health Initiative. As part of this mission, we have the largest trauma center in New England and outstanding research programs in cardiology, cancer, neuroscience, infectious diseases, and dental medicine. Additionally, faculty and students run a medical clinic that serves refugees from war-torn countries.